I ran down to the freezer to get a bag of green beans and a wave of despair and dismay washed over me. There is so much food in this house! How are we ever going to eat it?
I feel guilty for saying this—there are so many people out there starving, and here I am fussing about my larder's bounty.
Don't get me wrong. I am very thankful for all that I have. This is how it should be at this time of year, after the harvest has been brought in; the shelves groaning under the weight of the jarred produce and freezers so full you can hardly close them. So it's not that I'm ungrateful; it's just that I'm daunted. I'll need to stay super-focused and employ all my creative powers in order to use up the buckets of potatoes, baskets of apples, containers of pesto and grape pie filling and Swiss chard and strawberries.
As I worked in the kitchen this morning, mixing up a new batch of rosemary-olive oil bread, I pondered what I should make for lunch. The potatoes were weighing heavily on my mind, and I had a jar of creme fraiche in the fridge that I had made last week. Hmm, what to do with potatoes and creme fraiche? Then I recalled my Aunt Valerie saying that she sometimes grates up a couple potatoes and uses them for a quiche crust instead of the standard flour-oil crust. I consulted with Simply in Season and sure enough, they had a potato crust recipe—just some grated raw potatoes, the peels still on, and mixed with a little oil, and then pressed into the pie pan.

I went right to work, grating the potatoes and then, for the filling, mixing up some eggs with the creme fraiche. I added cheddar cheese, some browned sausage that I had in the freezer, and then, at the last minute, I sauteed up an onion and added that, too. The end result was a simple, hearty, flavorful meal that the kids (most of them, anyway) loved. I liked the edge of the crust best of all because the grated potato pieces got all crispy-crunchy, like stick potato chips. We nearly finished the whole thing off in one sitting—there's only one little piece left over.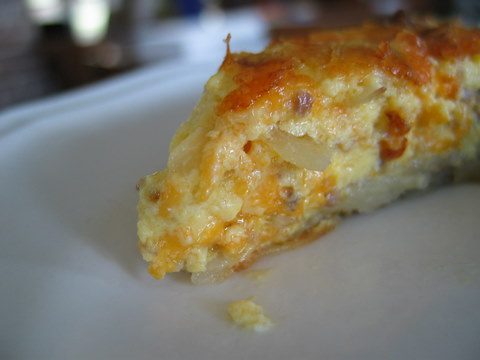 So, three potatoes down, about five bushels to go. I don't think we can eat that much quiche, so I'm going to need some help here, dear readers. Please enlighten me: What smarty-pants ways do you employ in order to use up all those potatoes you have stashed down cellar? (Just so you know, that last line is not a typo—it's how I talk.)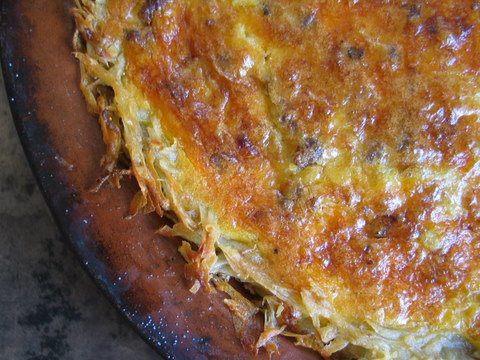 Sausage Quiche with Potato Crust
(The crust recipe is adapted from Simply In Season.)
3 medium-sized potatoes
2-3 tablespoons canola oil
5 eggs, beaten
2 cups cheddar cheese, grated
1 cup creme fraiche (or a mixture of cream and milk)
1 onion, chopped and sauteed in a bit of oil
1 cup sausage, browned
salt and black pepper
For the crust:
Wash three medium potatoes, grate them, and toss with several tablespoons of oil, a sprinkling of salt, and some black pepper. Press the potatoes into the bottom and up the sides of a large pie plate and bake at 400 degrees, on the bottom rack (to make it good and crispy), for about 15 minutes.
For the filling:
Mix together the eggs, creme fraiche, cheese, onion, and sausage. Add some salt and pepper. Pour the mixture over the hot potato crust and return the quiche to the oven for another 20-30 minutes, or until the center is set and the pie is golden-brown.