Here is the pumpkin bread that I told you would be coming.

It's not made with pumpkin, but with sweet potato, and enlivened with cumin and toasted pumpkin seeds. The last time I made this recipe it got rave reviews and everyone scarfed it down, but this time it is languishing, half-eaten, on the kitchen counter.
It is all my fault. I decided that the bread didn't really need to take two days to make—I could just rush it through if I cut back on the proofing times just a little. So I did, and while the final product has good flavor, the texture is too dense and heavy. So please learn from my mistake: do not skimp on the proofing times, and you shall be richly rewarded (with scarf-able bread) for your honesty and integrity.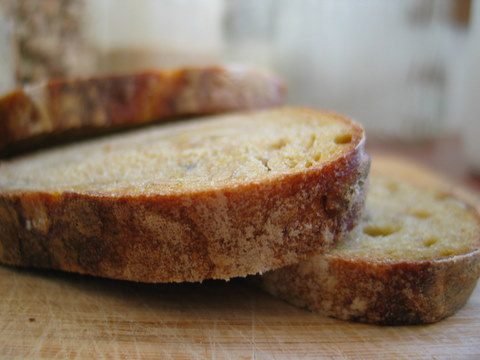 Pumpkin Bread
Adapted from The Breads from the La Brea Bakery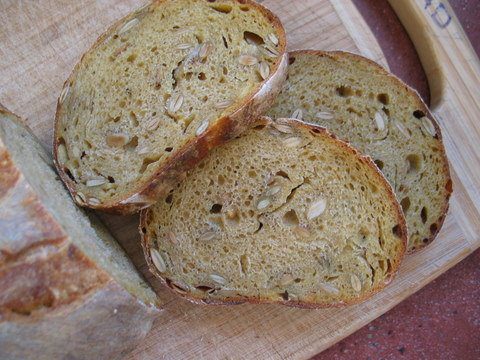 Start the bread in the late afternoon or early evening so that it can ferment in the fridge overnight.
Two medium-sized sweet potatoes, or one big clunker
1 1/3 cups (7 ounces) shelled raw pumpkin seeds
1 ½ cups (12 ounces) cold water
1 cup (8 ounces) white starter
5 tablespoons raw wheat germ
1 teaspoon ground cumin
3 1/4 cups (1 pound and 2 ounces) white bread flour
1 1/4 cups (7 ounces) whole wheat flour
1 tablespoon sea salt
Bake the potatoes in the oven,

and then peel them and scoop out 1 1/4 cups (10 ounces) of the pulp and set it aside.

Put the pumpkin seeds on a cookie sheet and toast them in a 350 degree oven for 10-15 minutes until they are golden brown. It's important to get them all nice and toasty-brown because then they will taste lighter and crunchier once they are baked into the bread. Set them aside.

Mix together the water, starter, wheat germ, cumin, and flours, and knead well. Let the dough rest for twenty minutes, add the salt, and knead for another 5 minutes. Add the pumpkin seeds and knead for another two minutes, or until the seeds are well-incorporated. Place the dough in a greased bowl, cover with a shower cap and let it ferment in the fridge for about 10 hours.
In the morning, cut the dough into two equal pieces and shape into loaves. You can make the bread into standard loaves, or boules, depending on your preference. I think they would also make fine dinner rolls.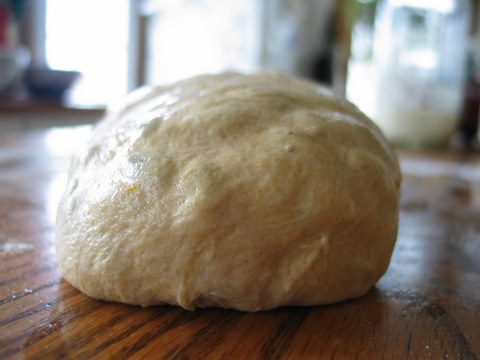 If you make elongated boules, lay them smooth-side down on a flour-dusted cloth that has been placed on a cookie sheet. Pull the cloth up around the edges of the loaves to provide a separation between them and to help them keep their shape.

Once your bread loaves/boules/rolls are shaped, cover the loaves with shower caps (or if you're using cookie sheets, slip the pan into a garbage, or big zip-lock, bag) and put them in the fridge to proof for another 6-10 hours.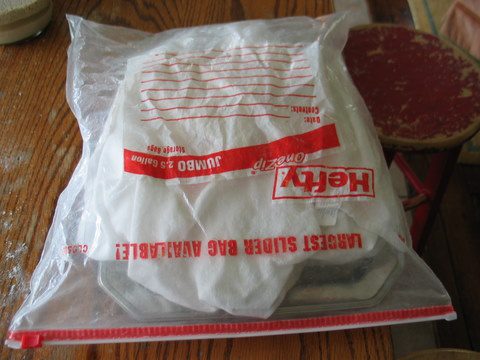 Take the bread out of the fridge (now you are on late afternoon/evening of day two) and remove the plastic and cover the loaves with a cloth. Allow the dough to proof on the counter for one to two hours (till the dough reaches about 60 degrees). Dock the bread and bake in a hot oven, about 400 or 450 degrees, for about 30-40 minutes (less if you made rolls).