He's 35 years old today. Getting ancient, I'd say. He goes around complaining about his aching hip and his sore back and he's not faking it, either. If he continues on this way he'll be a real mess by the time he's a teetery-tottery old man. But I'll still love him. And I'll still fix him an apple pie for his birthday, if that's what he asks for.

We just had an apple pie earlier this week, so I guess the fact that he's calling for an encore means that it passed his taste-bud test. The birthday pie is cooling on the stove top, so the pictures here are of the first pie.

Apple Pie
The recipe was discovered and adapted from Better Homes and Gardens New Cook Book by none other than the Birthday Boy himself. We've been making it for years now. (Do you hear me? The way I said that makes me sound like I'm at least 75 years old!)
Tart apples, about 5-10, depending on the size of them
2/3-1 cup sugar, depending on the tartness of the apples
1/4-1/3 cup flour
1 teaspoon cinnamon
a couple pinches of nutmeg
some butter, for dabbing on top of the apples
more sugar and a bit of cream, for adorning the top crust
a double 9-inch pie crust
To prepare the apples, wash, core, peel, and slice them. I then mound the apple slices in the pie plate itself, to make sure I have the proper amount. Heap them up good, because the apples will condense as they bake.

Dump the apples into a mixing bowl, and rinse and dry the pie plate. In a small bowl, mix together the sugar, flour, cinnamon, and nutmeg. Pour the mixture over the apple slices and gently toss the apples until they are coated with the spicy sweetness.

Put the bottom crust in the pie plate and fill the plate with the apples. Dot the top of the apples with pats of butter (1-2 tablespoons).

Lay the top crust (in which you have cut some decorative slits to let the steam escape) over the apples,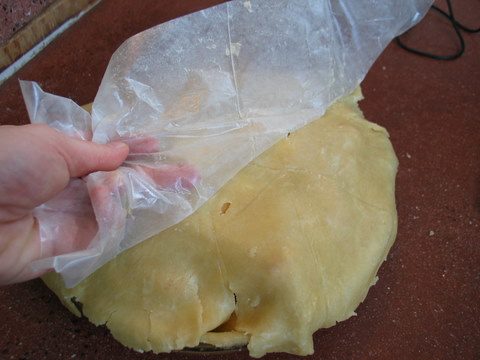 and crimp the edges to seal.

Brush the top of the pie (not the crimped edges, though) with cream and liberally sprinkle with sugar. Set the pie on the bottom rack of the oven which has been preheated to 400 degrees and bake for 25-40 minutes. The crust, both the top and bottom, should be a (dark) golden brown.

You can test to see if the apples are tender by piercing them with a knife through one of the steam slits. If the crust edges get brown too quickly, lay a piece of tinfoil lightly over the pie.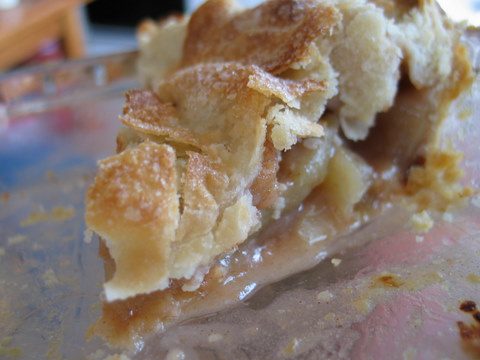 Serve the pie, still slightly warm, with a dollop of vanilla ice cream. Leftovers, with a tall glass of cold milk, make a good breakfast.