I am not one to play around with recipes much. I like to follow the directions exactly as is. I'm just not a risk-taker, I guess. Does that mean I'm boring? Maybe, but I'm also consistent.

The one thing that keeps me from appearing too boring is that I try new things. And that's interesting, right? I figure if I try out lots and lots of different recipes no one will ever catch on to the fact that I'm not thinking for myself, creating original recipes. (Or have you all figured that out already and are tittering to each other behind your fingers? Please don't answer that question.)
Anyway, all that boring blather just to say that I tried something different with the whole wheat sourdough bread. I'm proud to say that my little experiment was successful.

Tinkering with Silverton's golden recipes gave me a little adrenaline boost and made me all happy inside. As The Pioneer Woman would say, it made my skirt fly up.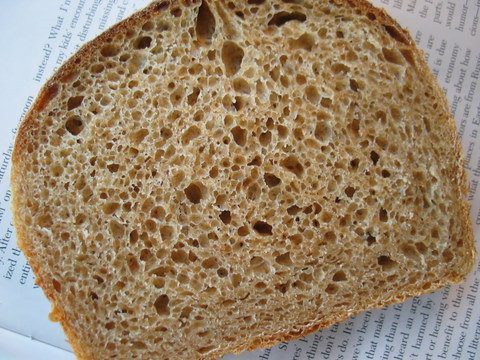 What I did different was this (it's really not much so you must promise not to laugh at me): I shaped the bread into loaves instead of boules, proofed them in heavily-greased bread pans (first out on the counter, then overnight in the fridge, and back out on the counter the next morning), and then baked them in a 400 degree oven for about 35 minutes—no flipping them around, only a tiny dock-slash down the backbone, no spritzing the oven with water.

The result was a normal enough looking loaf of bread, one that did not sink and go flat (I decided that was a problem), with a very moist and chewy crumb and without a hard, tough-crunchy crust, something that has understandably been bothering my children.