I'm bo-o-o-o-r-r-r-ed! There's nothing to do-o-o-o!
I used to sing the I'm Bored Song to my mom back in the day when I was a kid and I can still hear my mother's blunt response, "If you can't find something to do, then I'll find something for you." You can bet I skedaddled.
But now there is no one to boss me around. It's kind of sad, really. I have books to read, of course. Dreams From My Father for book club, and Delivered From Distraction which just came in the mail today (though I think "Delivered From Boredom" would be a bit more appropriate for right now), and The Miracle At Speedy Motors, just for fun. See the problem is that nothing has to be done right now. I work best under pressure and when there is no pressure, I have no drive to get stuff done.
So I blog. And I boss you around.
Are you sufficiently bored by all my whining? Or are you bored because it's raining outside and there's nothing to do-o-o-o? All righty then! I have something for you to do. And since there's only about three more hours till supper time, you best be getting your tail in gear.
Remember those multi-colored peppers that I got for free? After giving a bunch away to some friends and family, I heeded my Girlfriend Kris's suggestion and made a pasta dish with peppers and onions. You probably have peppers lurking about the house somewhere, don't you? If not, then in two days there will be the Farmers' Market, so plan to head over there to buy yourself a couple dandies. Then make this dish, okay?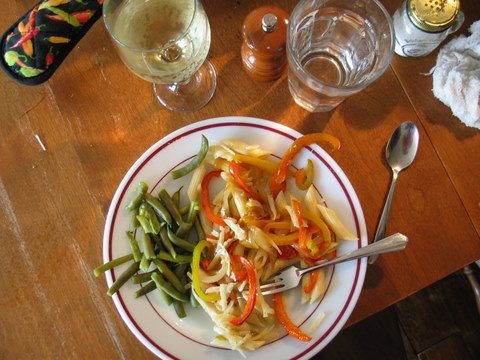 Pasta with Sauteed Peppers and Onions
1 pound pasta (penne works well)
3 large yellow, orange, and/or red peppers, cut into thin strips
1 large onion, cut into thin wedges
olive oil
salt
pepper
about one cup of freshly grated Parmesan
Cook the pasta in a large kettle of salted water. While it is cooking, put a couple tablespoons of olive oil in a large skillet that has been heated to medium-high heat. Add the peppers and onions and saute until tender, turning down the heat if the veggies start to scorch. Sprinkle them with salt and black pepper.
Reserve about a half cup of the pasta's cooking water and then drain the pasta. Put the pasta back in the kettle, sprinkle about half of the Parmesan over the pasta and dribble in the reserved cooking water, all the while gently stirring the pasta.
Plate the pasta, scoop a generous portion of peppers and onions over each serving, and sprinkle more grated Parmesan over the top.

But wait! I'm still bored. Telling you what to do didn't help me much. Sniffle. Oh yes, I promised Miss Becca Boo that I would put make-up on her. There's no better time then the present, I guess. Toodles!