Yesterday I lied. I said that I was "still down, sort of". There ended up being no "sort of" in sight. Once I finished my post, I went back to bed and spent the rest of the day there, sleeping off and on, too headachy to even read. Then I fell asleep with The Baby Nickel and slept the whole night, too. I don't think I've had that much sleep in ages.
I got up at six this morning and have been on the go, albeit a bit slowly and gingerly, ever since. I washed the kitchen floor, put two trays of Romas in the oven to roast, made breakfast and lunch, got a French toast casserole in the fridge for tomorrow's breakfast, made mustard eggs, read to Miss Becca Boo and Yo-Yo Boy (we're reading Pinky Pye by Eleanor Estes), collected seeds from my heirloom lettuce, and so on.
Obviously, we skipped church. I wasn't feeling that good.
I'm going to tell you about the smashed potatoes next, but before I do, I have a trivia question for you. When I boil my red beets, the edges turn yellow-ish.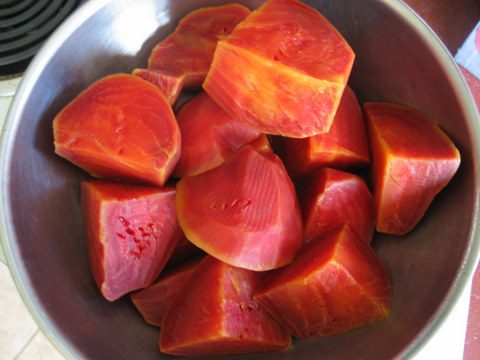 But, after letting them sit for an hour or so, the red color comes back into them.

Why is that? Is it because the boiling water just sucks the color out of them and then as they cook they keep bleeding red from the middle outward? Is it the type of beet I have? Any scientific reason for this? Anyone?
Okay, now on to the smashed potatoes.
Smashing Potatoes
I read about these potatoes on Sarah's blog, and she says she read about them in some fancy cooking magazine, as well as on the Pioneer Woman's website. I'm not going to give exact measurements since it's really more of process then a recipe. I hope that doesn't frustrate you too much.
These potatoes go with anything—eggs at breakfast, hamburgers, corn-on-the-cob and tomato sandwiches, salads, spicy red beans, and they make an excellent snack when dipped in ketchup, or gobbled up plain (I had made the potatoes, the ones in the following photographs, for an after-work, pre-supper snack). You can bake them with fresh herbs, or serve them up with sour cream, salsa, bacon, and black olives. I'm sure you'll get a chance to eat them a variety of different ways, because once you have tried them, you will make them again and again and again and…. Yep, that many times. No joke.

12-24 smallish potatoes, about the size of golf balls (this time around I used French fingerlings)
olive oil
coarse salt
black pepper
Wash the potatoes (no need to peel them) and cook in boiling water till tender. At this point you can continue on with the recipe, or you can store them in the refrigerator until a later time that's more convenient for you. (Or, if you're like me, you'll boil up a big kettle of them so you have them ready to go whenever you get hit with a craving.)

Coat a heavy-bottomed ban with olive oil, and sprinkle it with some coarse salt and black pepper (this helps the potatoes to keep from sticking to the pan, as well as giving flavor to the bottom side). Set the potatoes on the pan, leaving ample space between each potato.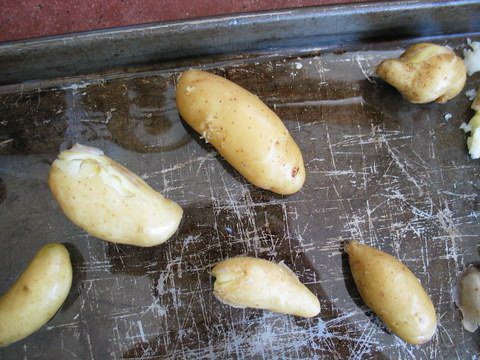 Using a potato smashing device, roughly smash each potato.

The goal here is to get the potatoes mashed fairly thin. If they crumble apart, just push them back together with your fingers.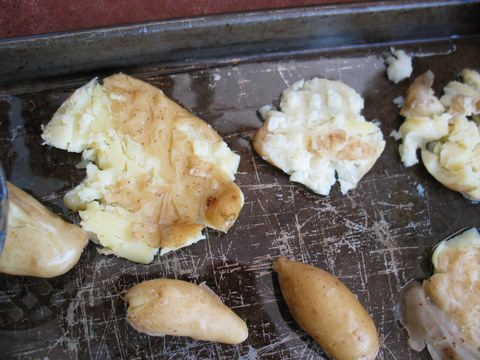 Generously drizzle olive oil on top of each potato (about one teaspoon per potato) and sprinkle them with more salt and pepper.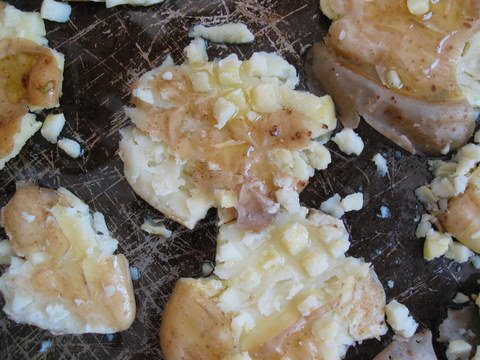 Bake the potatoes on the bottom rack of your oven, preheated to 400 degrees, until the undersides are crispy and golden brown (10-15 minutes). Flip the potatoes over and continue baking until the other side is also nicely browned. Serve hot.