I really should not be typing now. There's a lot of work that needs to be done.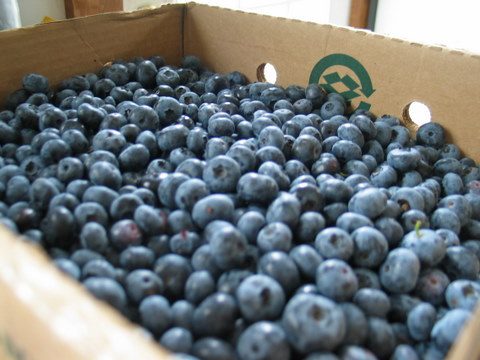 I picked blueberries this morning and came home with 16 quarts (my girlfriend Laurel helped me pick after she got all that she wanted for their family, bless her heart) that now need to be picked over, canned, frozen, and dried.
I need to bake chocolate chip cookies and make tuna salad. I need to pick potato bugs (the kids like them fried in butter with sea salt sprinkled on top—just kidding), hoe the beans, pick some rhubarb, weed and mulch the rose bed, mow the yard.
And this evening I am planning to go pick cherries (sweet, wax, and sour) and buy some apricots, too. Then there will be more jam and drying and canning. I will not get near everything done, but I bet you'd be impressed if I did.
About the blueberries, I'm wanting to can some—does anybody have any advice about this? I've never done it before. Just put them in jars with water and sugar and process? And how does freezer blueberry jam turn out? Or is it better to do cook jam?