My husband woke early Wednesday morning, anxious that the digger that had been ordered, sight unseen, wouldn't be big enough. Unable to go back to sleep, he went out to the living room and read a little Job. This is called foreshadowing.
The poor guy's stress level was already quite high:
*The cement blocks he'd ordered hadn't come in. (Still haven't.)
*The property was without electricity (and would probably continue to be without it for another few weeks).
*The volunteer trailer was sucking up resources and time, and it still wasn't ready. Plus, the trailer severely cut into much-needed space on the already-small property: When the cement blocks would finally arrive, finding a place to put them (and the sand and the gravel and the rebar, etc) would be a struggle.
*Everyone was clamoring to see progress, and the first official volunteers would be arriving on Saturday. Pressure was mounting.
So that morning, while waiting for the probably too-small digger, my husband worked on wiring the electrical post. Needing some more supplies, he went to Home Depot.
After searching for out-of-stock items in roped-off aisles (while moving merchandise, they completely shut down the aisles), he, in hopes of escaping more quickly, chose self-checkout. But then the item he was scanning wouldn't scan. At the breaking point, he took his bucket full of selected items back to the aisle from whence they came, set it down, and left the store.
At noon, it briefly poured rain and water streamed into the trailer through the windows. One more thing to add to the to-do list.
The lunch he and the kids had packed wasn't big enough. My older son called me: "Papa's having a hard time. You might want to make something nice for supper."
When the digger finally arrived (five hours late), my husband's worst fears were confirmed. Ancient and small, it had only a piddly 8-inch bucket. He'd be better off digging the footers with a spoon.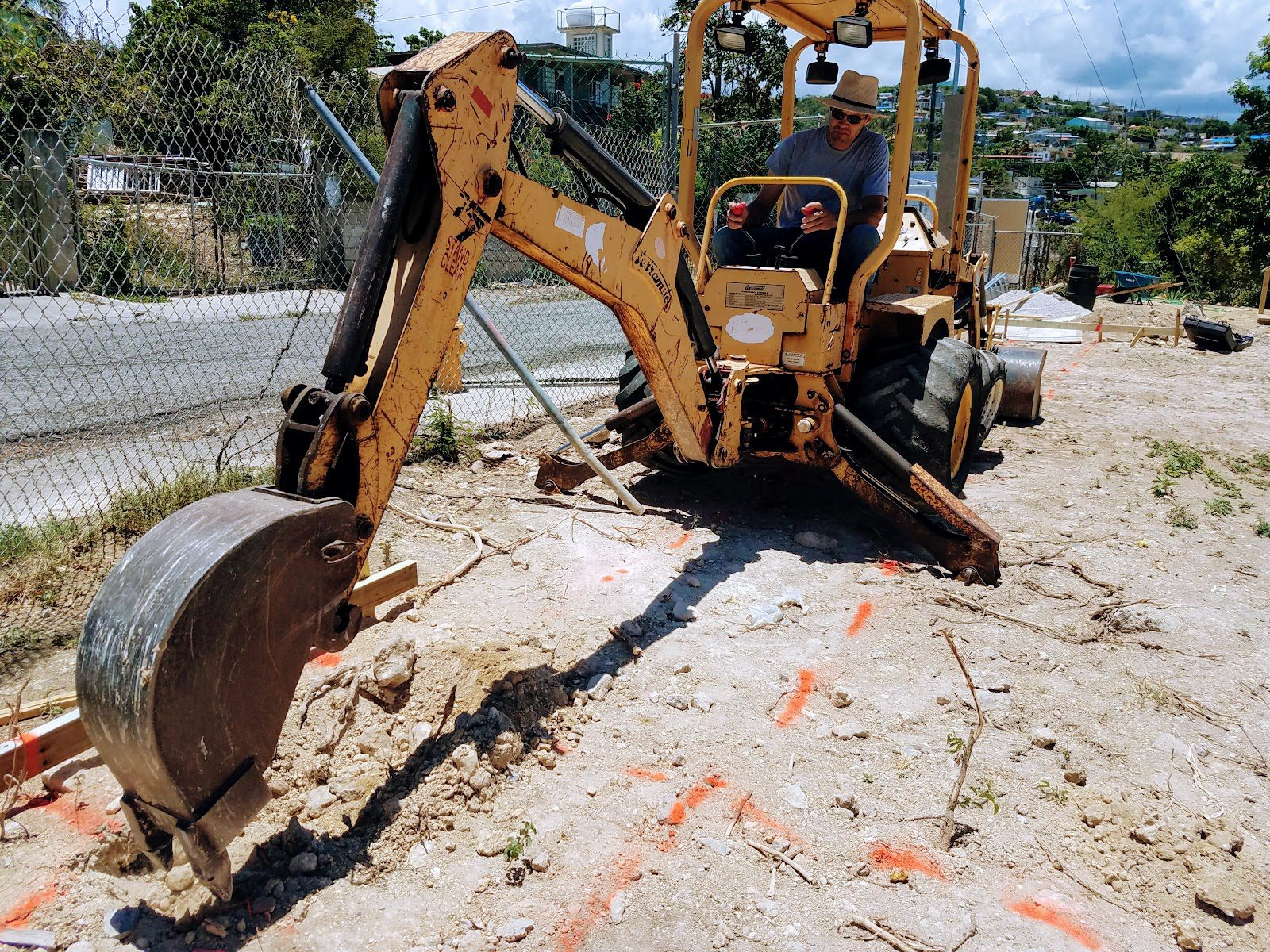 He took a stab at digging anyway, jouncing around the lot while the rest of us took videos and laughed until we cried. I forwarded one of the videos to Chiro with the caption: "John says he's seen better in a junkyard."
The laughter didn't last for very long. My husband was on a fast downward spiral into abject misery. Trapped and powerless, he felt like a failure. He was wasting everyone's time. He couldn't do this.
I, of course, knew this was absolutely not true. Tomorrow will be better, I told him, and then to drive the point home I sang a few bars of Mama Said. It didn't help much. When one is firmly entrenched in The Pit, there's not much to be said. So I went home and ordered my younger daughter to make some dough — we'd be having pizza for supper.
My husband finally had to admit defeat and call for the guy to come pick the digger up. Then, right before closing time, he and I drove to the little shop for the refund. There we learned that they couldn't give us a receipt but, If you follow me, I'll take you to business headquarters, the employee said cheerfully. Sighing heavily, we climbed back into our van and meekly followed him to a neighboring town fifteen minutes away where they printed a receipt for us.
"I can not wait for this day to be over," my husband said.
The next morning, the video of my husband lurching around on the decrepit digger surfaced on the church's group message system with a note, the gist of which was, Pray for him. And then Lery posted a photo of a toddler perched on a plastic toy backhoe with the caption, "This would've done a better job," and suddenly, we were laughing — even my husband — and the cloud began to lift.
We — the locals and us — were in this together. Things would get better, and in the meantime, they had our back. It'd be okay.
Chiro made some calls and three days later a guy with a real digger showed up.
And volunteers!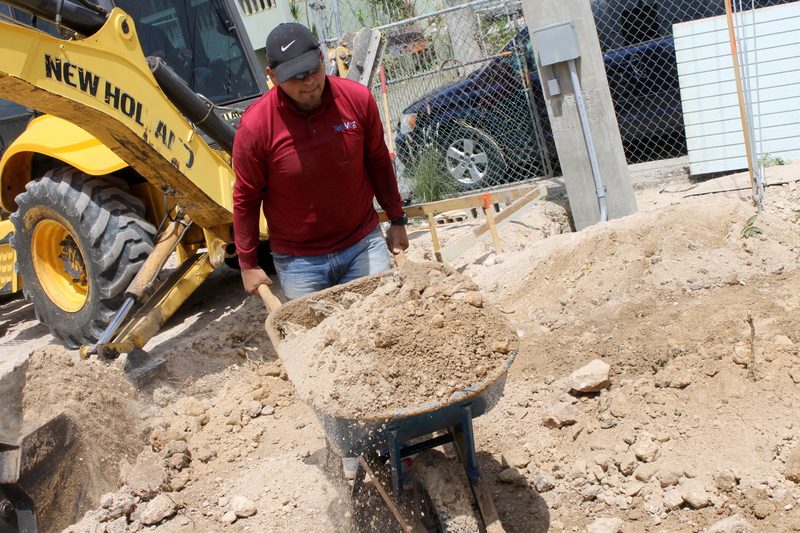 Several hours and a bunch of dirt later, we had footers, glory hallelujah.
The ball is starting to roll!
This same time, years previous: this is us, brown sugar rhubarb muffins, a better grilled cheese sandwich, the quotidian (6.2.14), the quotidian (6.3.13), of a sun-filled evening, the best chocolate ice cream ever.