I've mentioned before that our church has a mentoring program for children grade six through grade twelve. This year, all four of our children are in the program — our oldest in twelfth and our youngest in sixth — so to celebrate, we invited all four of the mentors, and their spouses, over for dinner.
What with all the schedules to be considered, finding a date was a minor miracle. First we settled on a date in May, but then when we decided to go to Puerto Rico, we had to do calendar contortionism all over again. Everyone hung in there, patiently batting around date possibilities, until finally we landed on one (one!) free evening that suited everyone, whew.
The meal was simple — soup, bread, salad, cake — and all fourteen of us smooshed around our dining room table (afraid that, extended so far, the table might cave, my husband hammered in a reinforcement at the last minute). We didn't have enough soup bowls, two of the kids were in the middle of a silent war, and we ran out of regular-sized water glasses, but oh well. This was us, chipped plates, bad attitudes, and all.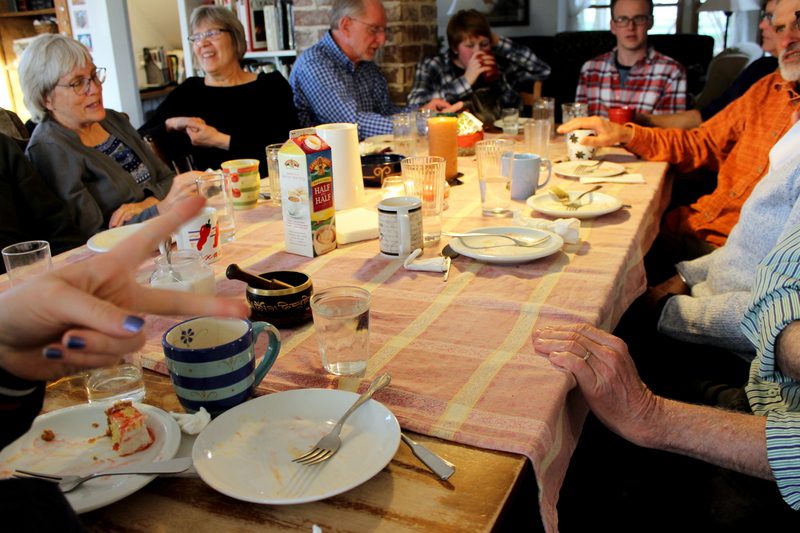 Before the prayer song, I made a little welcome speech and promptly teared up. These four couples have been such an integral part of our life, even before they became mentors for our children. For example, here's just a smattering of the ways they (in one configuration or another) have been involved in our lives:
Counseling us on whether or not to get married.
Attending our wedding.
Being present at some of the children's births.
Supporting and advocating for us while we volunteered overseas.
Visiting us in Nicaragua and Guatemala, sometimes more than once.
Participating in the same small group.
Helping us find our house.
Traveling to see us when my husband was diagnosed with cancer.
Being feet-on-the-ground when we had parenting troubles.
Helping us move.
They have washed our windows and brought us food and written references. They have listened to us and counseled us and encouraged us. And now, on top of all that, they are taking the time and energy to mentor our children.
For these dear people, we are profoundly grateful.
This same time, years previous: in the night air, with an audience, joining the club, nutmeg coffee cake, picking us up, chocolate mayonnaise cake, chocolate-covered peanut butter eggs.