The first day of Spring. A big storm — our first in two years! — looms, but all day, only rain, a fine sleet, or a few snow flurries.
Just for fun, a few of the day's hits:
***
First, four hours at Panera, writing. A piece of baguette (a little larger than normal, thank you, Panera workerman) and two coffees. Back home, a quick early lunch (cabbage — the children gag it down) and then the three younger kids (my older son is at classes) and I head to town on a quest: books and ice cream.
***
In the car, my older daughter plugs her phone into the car stereo. Sixteen Going On Seventeen blares and the kids sing along.
Totally unprepared are you
To face a world of men
Timid and shy and scared are you
Of things beyond your ken —
Suddenly I bellow: BULL. SHIT.
The kids scream — Mom! — and shriek with laughter.
"You can sing the song as long as you understand it's a complete lie," I say. "Have I made my point?"
Yes, they giggle, and I have a hunch that from now on when they hear that song, they will also hear my voice in the back of their heads calling bullshit.
It's a good feeling.
***
At Dairy Queen, the kids get their free first-day-of-spring cones.
***
At the library, each of us collects an armful of books. I pick out some read alouds, a few books I think the younger two might enjoy, some cooking material, a book on writing, and every single book on Puerto Rico I can find — so many that when I try to carry them, a bunch of them crash to the floor, oops.
***
We stop at Kline's for a second round of cones: today only 75 cents in honor of their 75th anniversary, mint cookies and cream.
***
On a whim, I pull into Gift and Thrift — Summer clothes, I say, Puerto Rico's going to be hot — and within minutes we've appropriated three of the four dressing rooms, swapping clothes and modeling for each other, affirming and critiquing, no minced words.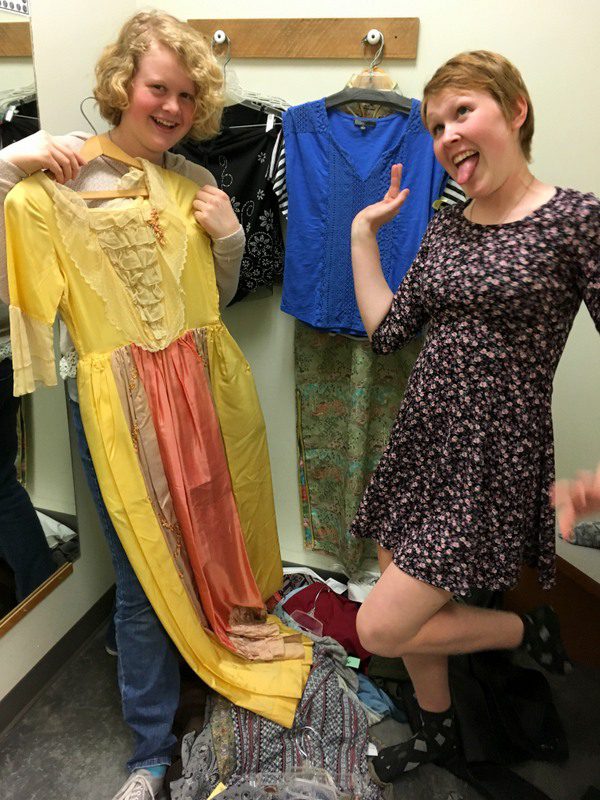 I find two dresses and a pair of sandals. My son finds five pairs of shorts and a scooter (only four dollars, so fine). Eventually the situation devolves into vintage gowns and halter tops, so we leave.
***
We stop into Food Lion for a red onion, cilantro, and milk, and my son spends the rest of his gift card money (y pico) on two chocolate bars, and, on the drive home — along the side of the road, plow trucks idle hopefully — he feeds us pieces.
***
At home, the junky weather has lifted so I go on a run. Halfway, I spy an approaching bicyclist. Right before I get to him, he pulls over to the ditch. Idiot, I think. You have plenty of space to get around me, and then I realize it's my husband, how sweet!
***
Back at the house, the boys are working on a welding project…
Charlotte is feasting on a bunny, and Alice is sulking (maybe because Charlotte won't share)..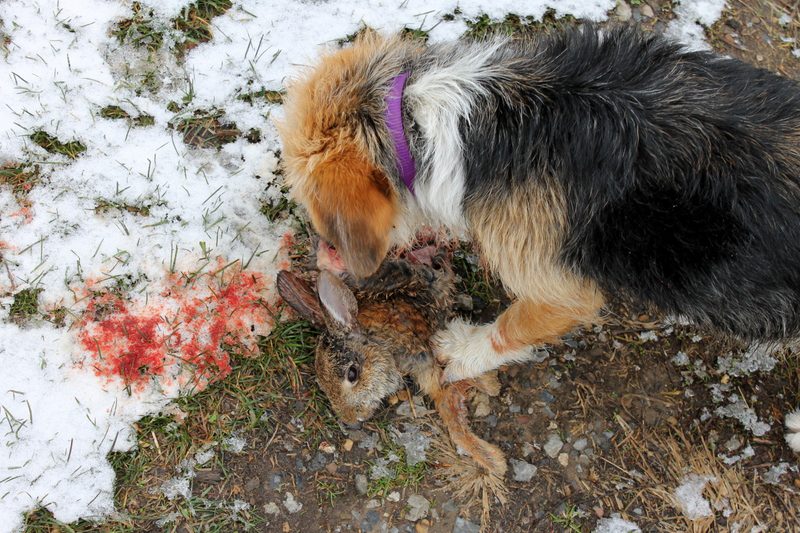 at our house, Easter bunnies don't stand a chance

and the girls are making a peanut butter cream pie…

***
Supper is chili cheese dogs, peas, chips. We linger at the table while I read aloud from one of the Puerto Rican travel books I checked out.
***
Mom comes over to grind wheat and then scandalizes my husband by cleaning off the table with the vacuum.
She doesn't wash it afterward, either.
***
All evening, we read (though the youngest is sad because he wants to play games and no one will join him).
I read to the younger two from A Day No Pigs Would Die, and then the kids head to their rooms to continue reading and I make hot chocolate with whipped cream and flip through a couple Cook's Illustrated magazines (making exciting plans for the next day's cooking ventures) and then start Annie Dillard's The Writing Life. It's so good! I laugh out loud, interrupting my husband's reading every two minutes with excerpts.
This same time, years previous: the quotidian (3.20.17), pop quiz: what did you eat for lunch?, the quotidian (3.21.16), piggies!, over the moon, roasted vegetables, getaway, butterscotch pudding.