Last week my older son went over to his grandparents' house to get some help with his chemistry. When he came back home, he was bald.
The younger kids freaked, covering their eyes and carrying on like they'd seen a monster. And then my older daughter walked in and stopped dead in her tracks.
He was going bald anyway, and there was pretty much nothing he can do to cover it up. Just flaunt it, I suggested. There are lots of handsome, bald men. It's nothing to be ashamed of.
Apparently, he takes me seriously.
And then, a couple days later, my younger son decided to cut his hair. He messed around with a pair of scissors for a while.
But then he got tired of that and switched to the cutters.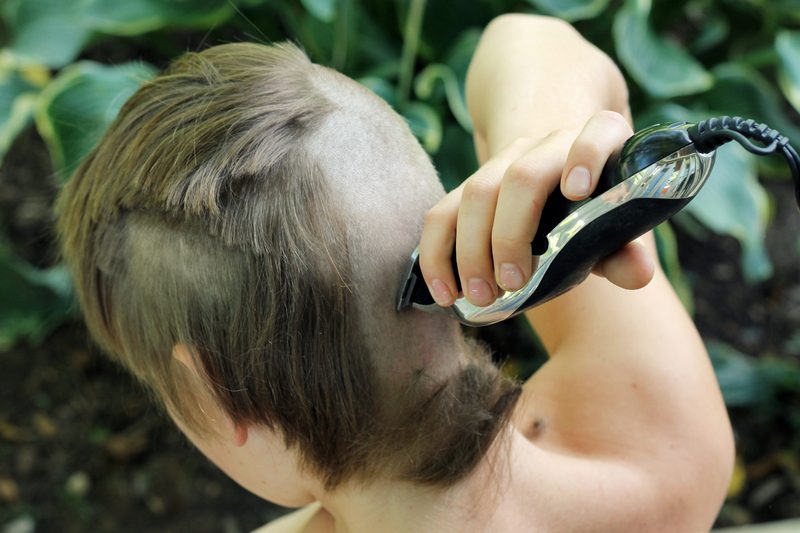 He says his head feels wet all the time, from the cool air, and he's taken to wearing a stocking cap to keep warm, but over all, he's pleased as punch with his new look.
Really! He is!
When my younger son started chopping off his hair, I suddenly got worried that my older son would be annoyed that his brother was copying him. So I texted him, just to give him a heads up.
My older son was cool with it, though.
Brotherly baldies for the win!
PS. When he read this post, my older son said, "That's why you texted me? Why would I be annoyed? That's dumb."
This same time, years previous: what they talked about, lemon butter pasta with zucchini, homemade ricotta.