What with my huge pie obsession, I tend to forget about galettes. I'm not sure why, though. Galettes are so super easy. Sexy, too. If pies and galettes were sisters, pie would be the earnest, ethical one, all rosy-cheeked and freckled and wholesome. Galette would be the one with tousled beach hair, dark red lipstick, and ripped jeans. She'd have a throaty laugh, and most days she'd go braless. (The pie sister wears a bra, always—one hundred percent cotton with a sweet trim of lace.)
So anyway, I make pies and I make pies and then, suddenly, it hits me—oh, galettes!—and then in my rush to remedy, I overcorrect and end up making an obscene number of galettes. (Though can there be such a thing as too many galettes? Seems doubtful.)
The other day when I popped in to see my mom, I took along a piece of galette for her to sample. She ate half of it, moaning and sighing all the while, and then, regretfully, she set the other half aside for my father.
"Good grief," I said, laughing at her theatrics. "Just eat it. He'll never know."
"Oh, no, I couldn't do that," she said. (My mother has always suffered from an overly developed sense of fairness.)
My father walked in the door just as I was heading out. "Don't you want to stay to watch him eat it?" my mother called after me. As though me watching him eat would heighten my galette-sharing pleasure, silly mama.
I served the galette to my writing group, too. They called it "ridiculous," as in, it's so good it's ridiculous. Which is true, if I do say so myself. The first time I made one, I think I ate nearly an entire half. Or maybe it was nearly an entire whole, hmmm? I guess we shall never know….
A couple things to keep in mind. Because the fruit to pastry ratio in a galette is about one to one, both components are showcased, so it's crucial that both be utterly delectable. I recently discovered a sour cream pastry that I've become quite partial to.
It's not that much different from my classic butter pastry, but the sour cream does make the pastry a little softer and more tender. I love it.
As for the fruit, since the galette requires only several pieces, use the ripest, most delicious fruit you can get your grubby paws on. Nectarines are awesome. (I have two more disks of pastry in and the last of the nectarines banging around in the fridge, awaiting some oven magic.) (Oo, and now I'm back from Costco with a box of plums! How about a nectarine plum galette?!)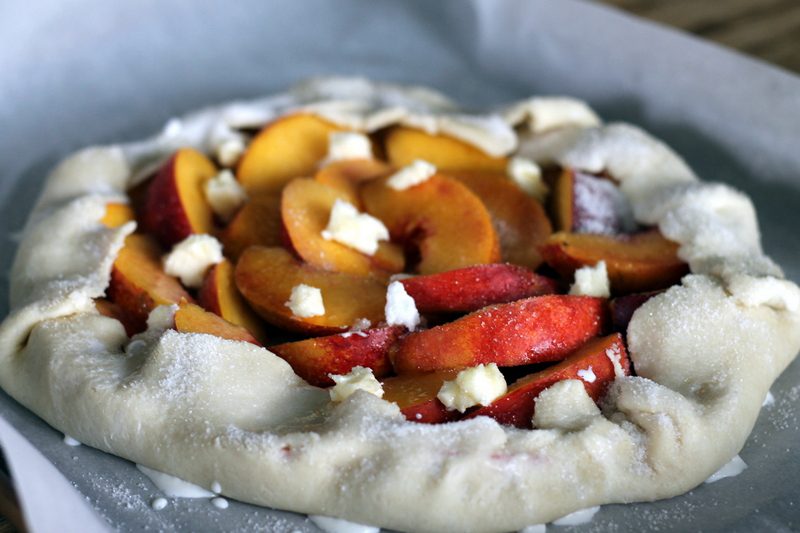 I like to arrange the sliced fruit in a circle, so their curved backs form the outside edge and their soft insides face the very center. This way, the galette ends up looking sort of like a rose. Also, the pastry doesn't get jabbed and broken by the fruit's sharp edges, so there is less pastry breakage and subsequent leakage of juices (though that always seems to happen one way or another and shouldn't be much minded).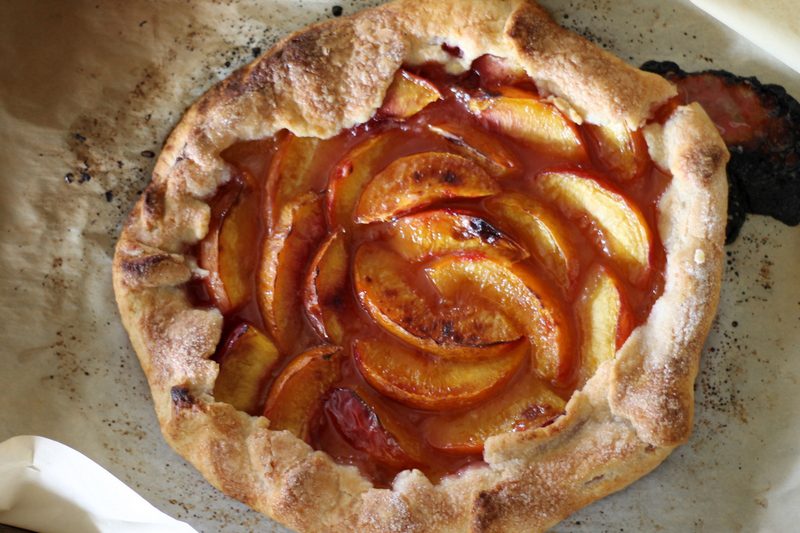 Galettes must be served with whipped cream. About this I am most stern. They are too delicate to withstand the intensity and density of ice cream, and even though an unadorned wedge of galette is quite delicious on its own, when capped with a billow of whipped cream, it gets elevated to a whole new level. Crispy, flaky pastry, jammy fruit, whipped cream, oo-la-la. It's a perfect trinity of utmost ridiculous deliciousness.
Fresh Nectarine Galette
½ recipe of sour cream pastry (see below)
3-4 nectarines, pitted and thickly sliced
3-5 tablespoons sugar
1-2 tablespoons butter
1 tablespoon half-and-half
whipped cream, for serving
Roll the pastry into a large circle and place it in a sided baking sheet that's been lined with parchment paper. Sprinkle a tablespoon of sugar over the entire pastry, except for the outer inch.
Arrange the nectarine slices atop the sugar, starting at the outside and moving inward, until the entire pastry is covered in a single layer of fruit. Sprinkle another 1-2 tablespoons of sugar on top, and dot with butter.
Fold the edge of the pastry up over the fruit, trying not to tear the pastry. If it looks craggy and imperfect, you've done it right. Brush the pastry with the half-and-half and sprinkle with another tablespoon of sugar.
Bake the galette at 400 degrees for 30-45 minutes, or until the edges are golden brown and the top of the fruit is just beginning to blacken. Cool to room temperature before slicing in wedges and serving with whipped cream.
Sour Cream Pastry
From Simply Recipes.
2 cups flour
1 teaspoon salt
2 teaspoons sugar
2 sticks butter, cubed
½ cup sour cream
Measure the first four ingredients into a food processor and pulse to combine. (The butter should still be slightly chunky.) Add the sour cream and pulse until the mixture begins to come together.
Dump the pastry out onto the counter, divide in half and shape each half into a disk. Wrap with plastic and store in the fridge (or freezer) until ready to use.
This same time, years previous: family extended, the quotidian (8.24.15), that special date, he got me, summer's end, fourteen years, so why did I marry him?