It was such a weird, messed-up weekend.
Friday night when my husband got hit by that stomach bug…
it had a dizzying effect
…the younger two kids were with friends in Richmond (until Saturday night—and, we learned later, my younger daughter spent the entire outing being sick) and my older daughter hosted a movie marathon.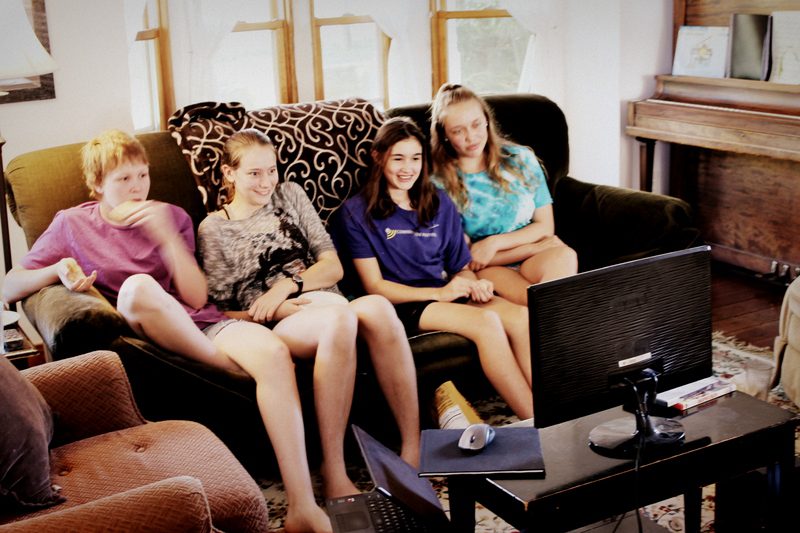 Saturday, I woke up energized but as the day progressed, I began to feel the downward suck of my husband's inertia. Maybe I was getting sick, too? So for lunch I had watermelon and coffee ice cream with caramel sauce, and then my daughter and I watched Parks and Rec for three hours straight.
Late afternoon we paused for brats, and later there was more watermelon and peanut butter crackers, and an episode of The Newsroom because we were already complete zombies so why not.
also consumed: leftover pizza
Sunday, we skipped church, you're welcome, Church. I fluttered about in the garden for a bit, and my husband rallied enough to clean out the car before crashing on the sofa once again. The kids swam in our neighbors' new pool.
And I spent the rest of the day working in the kitchen: potato salad, granola, boiled eggs, and grilled chicken. I made a chocolate cake to go with the leftover icing that's been living in the fridge for months and month, and then, while it was still warm, I threw caution to the wind and tore into the cake, ripping off great hunks of fresh deliciousness to eat out of hand.
My younger son begged to bake something (of course), so I let him make grilled flatbread which was beyond delicious and now I'm dreaming of having friends over for nothing more than grilled flatbread and wine. (Okay, maybe a little more, like say, a salad, perhaps, and some sausages since the grill will already be hot.)
Considering the lurking stomach bug, it was a real ballsy move, all that food.
Anyway, the sickies are on the mend, and the rest of us are still healthy.
Here's to hoping we stay that way!
This same time, years previous: the summer's first trip, smash hit, berry almond baked oatmeal, cottage potatoes, homemade yogurt.