For this birthday, only the girls were at home (the younger son was at camp and the older one in Peru), but we squirreled away slices of birthday cake for the missing boys and invited the grandparents for dinner and had a jolly good time anyway.
After she finished unwrapping her gifts, I looked at her pile of presents—a mane comb, horse shampoo and conditioner, mosquito repellent, etc—and laughed. "If I'd gotten these gifts when I was your age," I said, "I would've cried. And not from happiness, either." I don't think the two of us could be more different if we tried.
That evening before supper, she got goats. They weren't a gift—she was paying for them herself—but she was so excited about them that she worked Velvet in the mid-afternoon blistering heat just to pass the time until my husband got home from work and they could go pick up the goats.
She named the kids Angelica and Peggy (name that play!). Angelica has a bizarre bleat that starts low and then soars way high in an operatic wail, making us laugh and prompting my kids to sing back. It's quite the racket.
We gave our daughter cow bells—but no collars, oops—for one of her birthday presents. For one of the goats, she fashioned a collar from one of my husband's old belts, but for now the other goat is still bell-less.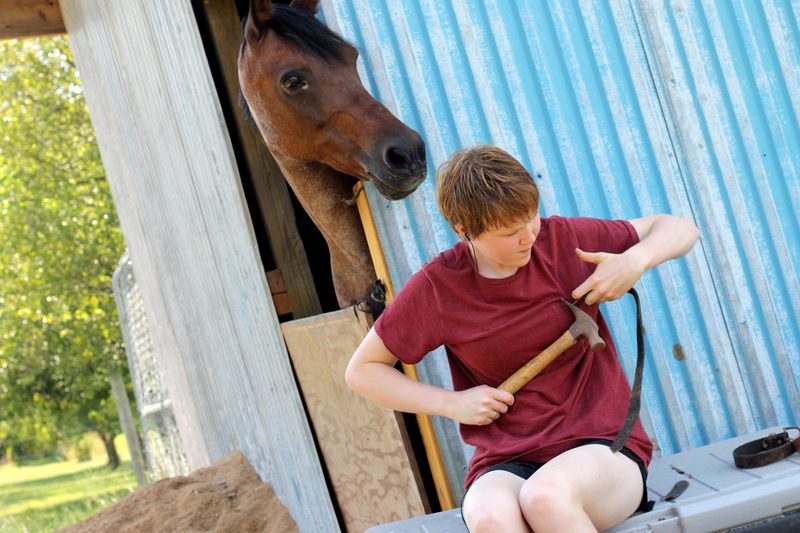 I'm sure she'll come up with something soon enough.
This same time, years previous: in the kitchen, the quotidian (7.20.15), statements, whole wheat zucchini bread, shrimp with coconut milk, alfredo sauce.