Talk about last minute, right?
It was (another) low-key gardening year. A late frost eliminated peaches and nectarines, we decided we're not eating much applesauce anymore, and I still have green beans from two years ago (they are severely freezer burned and, by this point, probably completely devoid of nutrients—plus, in order to make them palatable, they must be cooked for forever—but I don't care because cooking them till kingdom come is easier than planting more).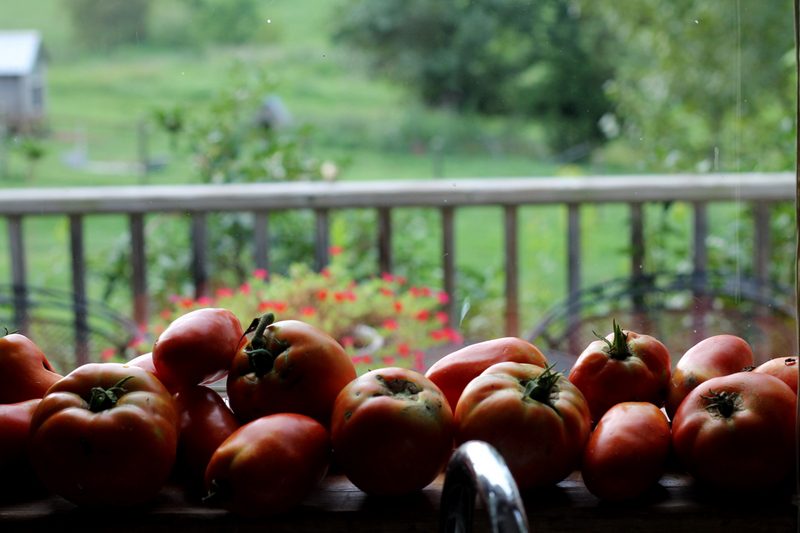 Stats:
strawberries, frozen, sliced: 16 quarts
sour cherries, frozen: 2 quarts
pesto with walnuts and olive oil: 10 half-pints
pumpkin seed pesto with butter: 3 half-pints
pesto torte, two: 16 slices
green peppers, sauteed and frozen: 6 half-pints
salsa: 20 quarts and 1 pint
canned tomatoes: 10 quarts and 2 pints
corn, frozen: 20 quarts and 14 pints
tomato juice, raw, canned: 15 quarts
oven-roasted tomatoes: 3 quarts
roasted tomato and garlic pizza sauce: 12 pints
roasted tomato sauce: 19½ pints
grape jelly: 9½ pints
applesauce: 15 quarts
Notes:
*Just did one bushel of Gingergold apples. No sugar added. It's a nice sauce.
*I'm going through the green peppers pretty quickly.
*There is no way we're going to have enough salsa.
*I missed nectarines. Hopefully next year….
*The grape crop was piddly. We hand-picked individual grapes, just enough to make a couple batches of everyone's favorite jelly.
*No red raspberries worth speaking of. Perhaps I need to start a new patch?
*We had lots of zucchini, rhubarb, asparagus, and lettuce for fresh eating.
*I planted some fall lettuce. Not much came up, but what did lasted forever. I should try it again next year.
*We seem to always have crazy-good crops of tomatoes. Not sure why this is because we don't do anything and other gardeners (in our vicinity) seem to have trouble. Keeping my fingers crossed.
*Dad hauled in many loads of horse manure, so next year's garden should be lush.
*I hate weeding the strawberries. HATE IT.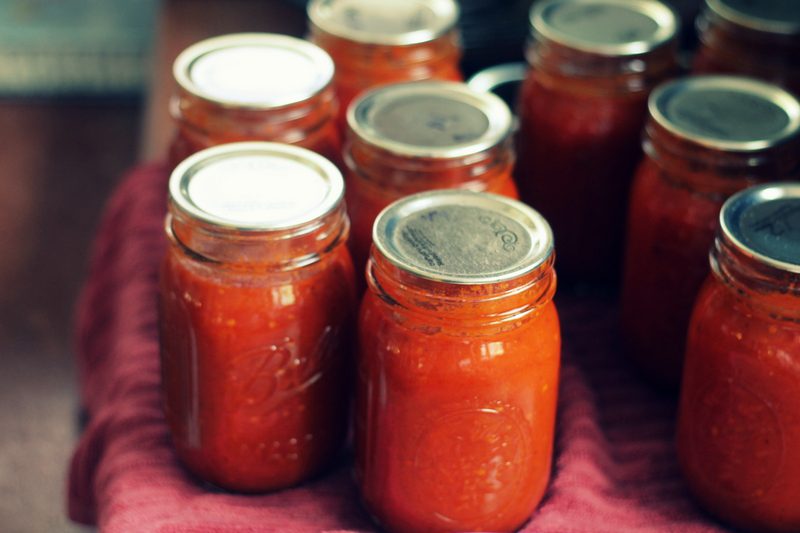 PS. Those photos! That color! Suddenly I'm craving summer….
This same time, years previous: old-fashioned sour cream cake donuts, 2015 book list, 2014 book list, the quotidian (12.23.13), cheese ball, hot buttered rolls, giant sausage and leek quiche, bacon jalapeno cheese ball, Christmas 2010, spaghetti carbonara, and windows at dusk-time.