A number of weeks ago, at a baby shower at church, one of my friends and I got to talking about food (no surprise there). Many years ago, this friend asked me to watch her toddler son for her. Now I don't remember if I watched him a number of times, or just once, but what I do remember is the lunch(es) she packed for him: containers full of curried lentils, cooked baby carrots, whole grains. The food was homemade, well-seasoned, and loaded with veggies. The kid scarfed it down.
I was impressed because:
a) she worked full-time and prioritized home-cooked meals
b) she cooked real real food, and
c) her food choices demonstrated complete disregard for pickiness, go Mama.


Ever since then, I've enjoyed hearing what she's feeding her family.



So that Sunday afternoon, while stuffing my face with candy corn and pretzels, I plied her with my whatcha-been-makin' question. She listed off the old regulars (can't even recall what they were, they were so ordinary—probably chili or lentils), but when she mentioned a Thai chicken curry that her whole family loves, I zeroed in.
She rattled off the ingredients—boneless chicken, peanut butter, fish sauce, cilantro, coconut milk, Thai curry paste, etc.—and then the cooking method which couldn't be more simple: just three hours in a crock pot, bam. I was sold.
That night I typed "Thai chicken curry" into Google's search bar, skimmed through several recipes, selected the one that sounded the most similar, and then sent my friend the link. "Is this it?" I asked.
"Yes," she said.
"I'm doubling it," I wrote back.
I've since made the curry twice. The first time I thought it too saucy, so last week I made it again, this time with half the coconut milk and none of the broth, and it was just right, hip-hip!
On Saturday afternoon, while a couple college students perched on kitchen stools and regaled me with their adventures, I heated up individual bowls of rice, curry, and roasted veggies for a photo shoot.
It's rare that I photograph food out of context—ie, without intending to immediately eat it afterwards—but now that darkness comes early, natural light is in short supply. But then, whaddya know, the girls agreed to share the food so the photography shoot wasn't out of context after all.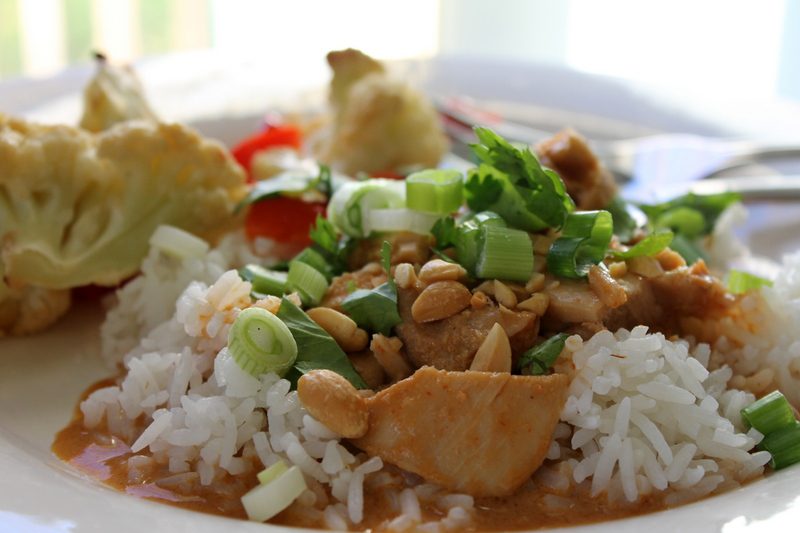 Thai Chicken Curry
Adapted from the blog Show Me The Yummy.
I've recorded the recipe as we like it: doubled and with the adjusted quantities (more lime juice, no broth, less coconut milk, more meat, etc).
The sauteed red pepper is a wonderful addition. This last time I roasted it, along with a head of cauliflower, and served it alongside the curry.
½ cup each creamy peanut butter and fresh lime juice
¼ cup each fish sauce, brown sugar, and red curry paste
8 cloves garlic, minced
1 14-ounce can coconut milk
1 teaspoon ground ginger
½ teaspoon red pepper flakes
4-5 pounds boneless, skinless chicken thighs and legs
required (don't doubt!) toppings: fresh cilantro, green onion, chopped peanuts
optional (but highly recommended!) topping: sauteed red bell pepper
Measure everything (but the chicken and toppings) into a bowl and whisk to combine. Pour into a crock pot. Add the chicken. Cook on low heat for 3 hours (it seems like it can't possibly be enough time, but it is—any longer and the chicken gets mushy), stirring once or twice.
Remove the chicken from the crock pot, cut into bite-sized pieces, and return to the crock pot. Taste the curry, adding salt and black pepper, if you wish.
Serve the curry over rice and pass the toppings.
This same time, years previous: the quotidian (11.16.15), I will never be good at sales, gravity, refrigerator bran muffins, the wiggles, why I'm glad we don't have guns in our house, the quotidian (11.16.11), and chicken salad.