I've been meaning to tell you about this bean and veggie salad for a couple weeks now. A friend posted a link to the recipe on Facebook with the words, "PSA for all the gardeners who have more cucumbers than they know what to do with: This is delicious!"
I didn't have too many cucumbers—I didn't plant any this year—but I did have all the ingredients on hand, including the tail end of an ancient jar of orange marmalade.
It's a super simple salad to pull together: tomatoes, cucumbers, corn, black beans, onions, and then the dressing. Actually, it's less of a salad and more of a southwestern relish. The second time I made it, I doubled the recipe and made piles of cheesy tortilla chips to serve alongside. That's all we had for supper that night, not counting the ice cream cones we had later (I think).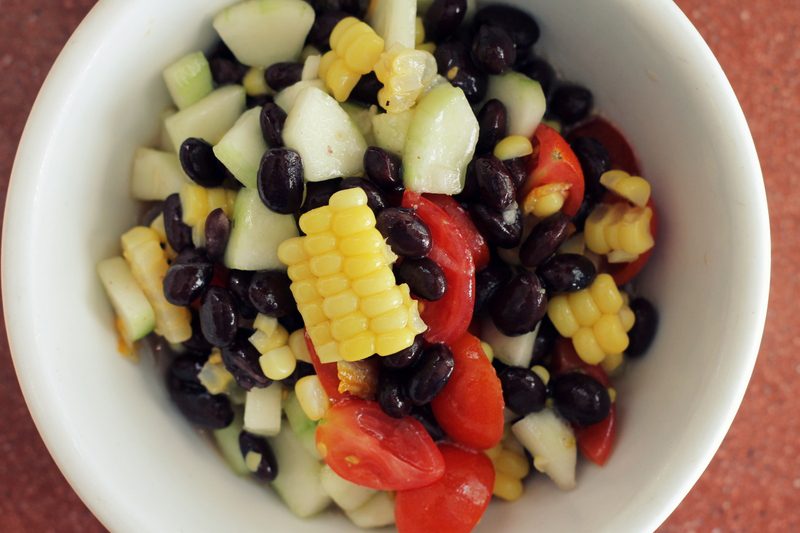 Black Bean and Veggie Salad
Adapted from Allrecipes.
Suggestions: increase the heat with a minced jalapeno, stir in some chunks of grilled chicken or sausage, add cooked quinoa, feta, fresh cilantro or parsley, green peppers, etc. Leftovers make great lunches, so start with a double batch.
Tip: The juicier the tomato, the soupier the salad. If you want the salad to have less liquid, de-seed your tomatoes or use paste tomatoes. (Or—this just occurred to me—what if you added some salsa and omitted the tomatoes all together? Just an idea…)
1 15-ounce can black beans, drained
1 cucumber, quartered lengthwise and sliced
1 cup each chopped tomatoes and corn
1/3 cup red (or regular) onion, minced
3 tablespoons olive oil
4 teaspoons orange marmalade
1 tablespoon fresh lemon juice
1 teaspoon honey
½ ample teaspoon ground cumin
dash of hot pepper flakes
salt and black pepper
Mix together the beans and veggies. In a small bowl, whisk together the olive oil, marmalade, lemon juice, honey, cumin, salt, pepper, and hot pepper. Pour the dressing over the veggies and toss well. Taste, adding more salt and pepper as needed.
This same time, years previous: nectarine bourbon pie, in defense of battered kitchen utensils, the quotidian (9.16.13), making my children jump, goodbye summer, hello fall, a new day dawning, splat, and Greek pasta salad.