It was a smaller gathering this year, thanks to a number of scheduling conflicts, but we still managed to whoop it up real good. People commented that the days seemed to go on forever, what with all the different activities, meals, and hosting locations (we moved between my parents' house, my brother's house, and our house). I took about a half million photos, and now that I have to sift through them, I'm overwhelmed. Serves me right, I guess.
The menu was low-key. Most foods were made ahead of time, so mealtimes didn't feel like any big deal. And the dishes were simple and fairly light, so (for me, anyway) overeating wasn't a problem. I did hear tell that the fresh donuts tripped a few people up….
Lunch: butter chicken and brown rice, greens with fresh lemon, applesauce, green beans, na'an.

Snack: ice cream cones.
Supper: hot dog roast, bean salad, slaw, Moroccan carrot and chickpea salad, chips.
Snack (for those sleeping at my house, anyway): cheesy tortilla chips and salsa, apples, nuts.
Breakfast: granola bar (French chocolate, regular, pecan), yogurt, fresh and canned fruits, coffee.
Lunch: giant salads, donuts, coffee.
This side of the family is high-energy. Conversations are intense and people are always doing things, zipping from one activity to the next. (I, on the other hand, spent all of Saturday afternoon with my butt glued to the sofa, visiting with whoever plopped down beside me.) It's fun to observe how things get instigated: someone says, Hey, let's do… and, just like that, the forces are rallied.
Things that happened: a wax fireball, kickball, creek play, (dry?) fly fishing, card games, singing, frisbee, horse riding, water balloon fights, water balloon toss, photography, fresh donuts, tree excavation, a Trump appearance ('twas fairly traumatizing), baby holding, 5K, finger rockets, trampoline jumping, napping, pontificating, and so on.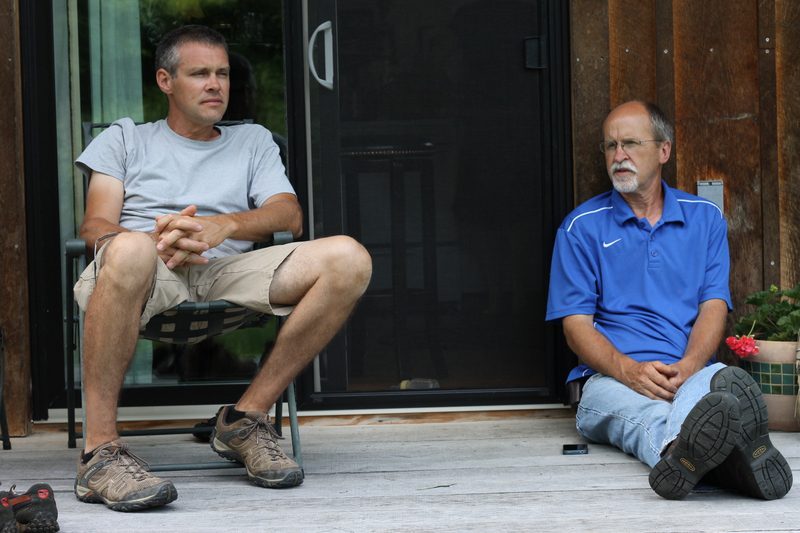 Activities are fun and all, but it's the togetherness that's the real treat. For twenty-four-plus hours, we shared meals, cleaned up, argued, chatted, slept. That—simply being in each other's space—is the heart of a gathering. It makes all the effort—the planning, cooking, cleaning, and traveling (I hope!)—worth it.
This same time, years previous: let's revolutionize youth group mission trips! please!, French yogurt cake, butchering chickens, in their own words, raspberry lemon buttermilk cake, and angel bread.