You guys.
Never before have I experienced such a tidal wave of love, both from people I know and from people I've never even met. Y'all are doing me in, in the wonderful-est of ways. Most of the time since the accident, I've been focused, centered, even jolly, but then I'll open my computer to check email/Facebook/the blog and be totally overwhelmed by the outpouring of kindness. Those moments, I break down.
(Also, when I wake up in the morning. I cry then, too.)
The accident was nothing unusual really. Just a combination of teen-boy energy, riding fast downhill, clipping another bike (the other rider maintained control and was fine, thank goodness), a swerve that took him over a five-foot incline, and then a collision with a ditch in which the bike stopped and he didn't. He flipped over the handle bars and landed on his head and back.
***
Public Service Announcement
People, listen up. When my son crashed, he landed on his head. His helmet cracked. We are fairly certain that we would be dealing with a horribly different situation had he not been wearing that helmet. Helmets are head-savers, brain-savers, life-savers. WEAR THEM.
End of PSA
***
The accident took place at a local park where our church was having a mentor-mentee ice cream social. A number of people saw the accident, including a nurse who took immediate charge and kept him still. The downside of crashing at a church event: this was distressing for the people who know and love us, particularly the children (including his sisters). The upside of crashing at a church event: being surrounded by loved ones, an immediate emergency safety net.
Neither my husband nor I were there when the accident happened. My husband was running errands, and I was, mostly likely, bowing after our final performance. I had about exactly fifteen minutes to come down from the show (thank you, my son, for waiting to crash and burn until after the show's run was completed) before my husband called to say our son was on a backboard and being loaded into an ambulance.
(Actually, the first thing he said was, "Don't panic," followed by, "Sorry, that's not what I should have said first." When he added, "He's conscious" and "he can move his arms and legs," I realized that if those were the markers he was looking at, then things might be serious. So I semi-freaked, naturally.)
(You know, I was super worried about the ravages of post-play depression but it hasn't even been an issue. A silver lining, perhaps?)
When I said the puke bags looked like giant condoms, the nurse busted up laughing.
"That's the first I've heard that one," she said.
Seriously? How could anyone NOT think that?

At the local hospital, the first CAT scans came back with the mild neck fracture—he would probably need a neck brace for six weeks, they said, but no biggie, really—but they wanted to do more CAT scans because they didn't get a good read on the thoracic.
My son was clearly in a lot of pain, but I downplayed it. From all the times I took my kids to the doctor thinking they were dying from pneumonia or appendicitis only to learn they had a stupid virus and there was nothing the doctors could do, I've learned to downplay all medical situations. Besides, my son has a flair for the dramatic (no idea where he gets it). His back was just sore from the fall, I told myself.
Then the kid started puking. Turns out, throwing up while in a neck brace is rather horrific to watch (not to mention experience). Wave after wave of vomit. No time to suction. Thrashing around. Projectile vomit. That was the only time I lost it with the medical staff. I think I yelled something profound and super effective, like DO something!



bright spot: his EMT instructors transported him to UVA
(and excused him from class this week)
At 10:30 that night, my friend popped in with burgers. My husband and I had just about finished scarfing our food, when the doctor came up and informed us that there were, indeed, breaks in the thoracic and that they would be transporting him to University of Virginia for more specialized care.
I lost it. I had so successfully convinced myself the whole event was no biggie, and here things were, spiraling out of control. The whole thing royally pissed me off. While I ranted and cried, my friend stayed steady, making me drink water, feeding me chocolate, and talking me through the necessary steps. (Nine years before, our roles had been reversed. She'd called me from the hospital in a panic—her baby just diagnosed with a tumor and ordered to UVA for treatment—and I had been the one doing the clear-headed thinking: pack your glasses and contacts, camera, insurance card, clothes, money, etc. And now she was returning the favor.)
He'll be a better EMT for this experience, I think.
When we arrived at UVA in the middle of the night, the ER lot was deserted, but once inside the pediatric ER, it was a completely different world. We were met by an entire trauma team.
The examining room was crawling with doctors and nurses—at one point I counted eighteen people, not including myself. I had my own social worker (I'm here for emotional support, she said gently while staring hard into my eyes as though assessing how close I was to becoming unhinged, and, inadvertently, making me wonder if I ought to perhaps succumb to histrionics to keep up with appearances), and soon after a chaplain popped by. The medical professionals seemed divided into groups. One team was suited up in face shields and surgical gear (they were working so quickly that I wondered if they were prepping him for surgery and had neglected to tell me). Over the hubbub, the EMS workers called out the relevant details. A man dressed in street clothes stood at the foot of the bed and called out orders. Other people stood at the head of the bed, announcing his information as it came up on the computer monitors. Within just five minutes, they had stripped off his clothes, slapped on leads, started IVs, done an ultrasound, log rolled and spine checked him, and taken x-rays. It was absolutely dizzying.
By the time my husband arrived, the room was nearly empty, the floor littered with trash. He had missed the whole show.
Things slowed to a crawl after that. We were moved to a room in the Trauma/Surgical/Burn ICU. There were more CAT-scans, many rounds of doctors (floor doctor, spinal doctor, trauma team), visits from social workers, and lots of nurses. There was no place to sleep, so my husband sat in a chair and rested his head on a trash can, while I went to the family lounge and draped myself over three hard chairs. We each slept about an hour.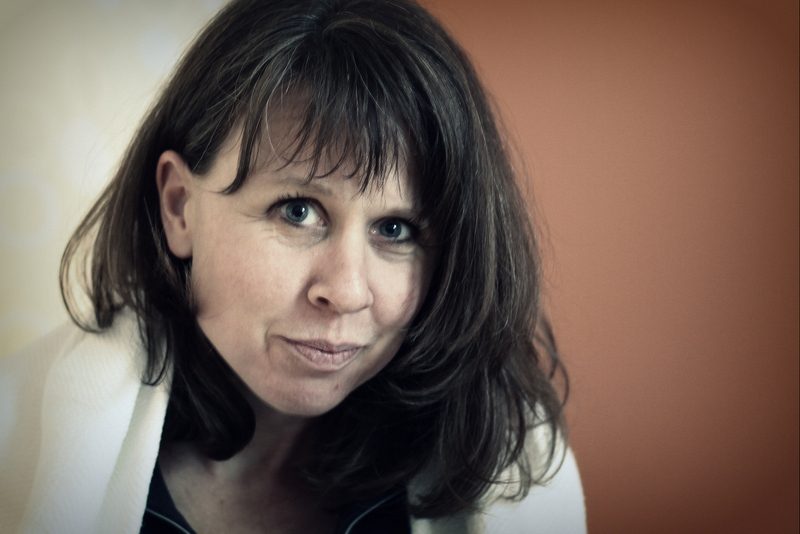 Yesterday afternoon, our nurse found us a bigger, better room with huge windows and a sofa for us to sleep on. It's not in the ICU section, but we are still under ICU care, so our nurses generously trek back and forth on our behalf. (The medical staff has been wonderful.)
"Look. The sky." (Name that play!)
downright luxurious
The medical staff has been wonderful. And looky here…..
Family!
Friends!
Food!
Flowers!
Diagnosis: A broken neck and back, whoo-hoo! (Okay, okay, so that sounds way worse than it is—but it's true! It's not every day you get to claim an actual, though ever-so-slightly, broken neck! Gotta live it up a little, I say.) Oh, and a concussion; his vision is still all screwy.
The Neck: tiny C5 fracture.
The Back: fractures in T7, T8, and T9. The T7 and T9 fractures are mild, nothing to be worried about, but the T8 one, while not terrible, is the problem spot. It's a compression fracture, and the vertebrae is 50% the size it should be. An MRI showed that there is also a torn ligament, which means that area is weaker.
The treatment plan, as of Tuesday noon:
A c-collar (neck brace) for the C5 fracture. A clam shell brace for the thoracic fractures. Right now he's wearing both braces and waiting to be taken to x-ray where they will stand him upright to see if the spine remains stable once gravity gets added to the equation. If so, we go to physical therapy and go home, maybe on Wednesday. If the spine is not stable, then we'll reevaluate, I guess.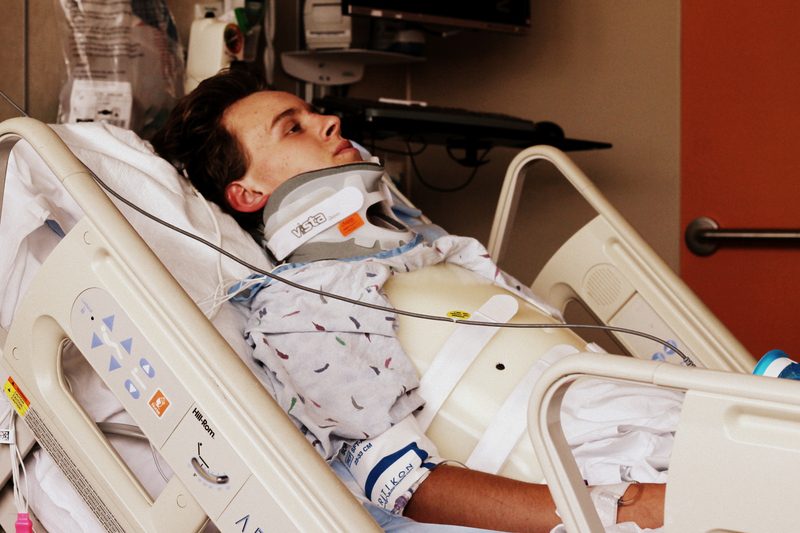 upright: for the first time in 40-plus hours
Thank you for holding us.