Back when I was overloaded with pork (still am, but I've acclimated), a reader pointed me to a recipe for homemade pepperoni. I haven't bought commercial pepperoni since.
The texture of the homemade pepperoni is different from the store bought stuff—it's not as greasy and it doesn't slice as smoothly (maybe if the meat was ground into a paste?)—but the flavor is fabulous. In fact, my children floored me by announcing they prefer the homemade pepperoni to the store stuff.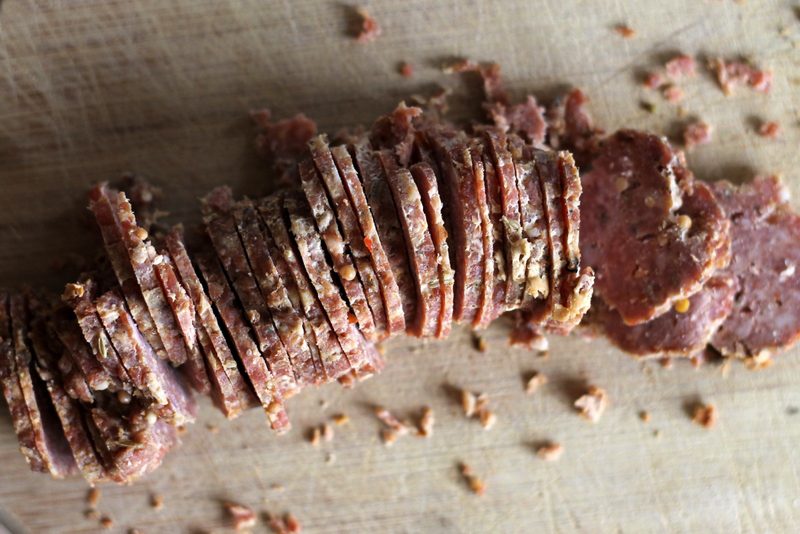 It's not complicated to make. Mix a couple pounds of ground beef (or pork, if, like me, you have a pig and a half sitting in your freezer) with a bunch of spices and then pop the meat in the fridge and forget about it for several days. One morning after breakfast, take the bowl of meat from the fridge and shape the meat into two or three logs. Bake the logs at low-low temps for the whole day, rotating the logs every couple hours or so. Cool the pepperoni, tightly double-wrap in plastic, and stick it in the freezer…until you get hit with a pizza craving. That's it!
Homemade Pepperoni
Adapted from Tammy's Recipes.
The original recipe says you can increase both the fennel and the red pepper flakes to 2 teaspoons. It also calls for 2 "heaping" teaspoons curing salt. I'm not sure what that means exactly, so, for simplicity's sake, I changed it to an even 3 teaspoons.
The meat is to be baked at 200 degrees, but my first batch of pepperoni cooked too fast and got a little dry. (Maybe my oven runs hot?) So I reduced the heat to about 150 degrees and the next batch turned out much better.
From now on, I'll always be doubling (quadrupling?) the recipe. If the oven's going to run that long, it only makes sense to fill it.
2 pounds ground beef or pork
2 teaspoons liquid smoke
2 teaspoons freshly ground black pepper
2 teaspoons mustard seed
1½ teaspoons crushed fennel seed
1 teaspoon crushed red pepper flakes
1 teaspoon smoked (or regular) paprika
½ teaspoon garlic powder
½ teaspoon sugar
3 teaspoons Morton's Tender Quick curing salt
Dump all the ingredients in a bowl and mash together with your hands. Cover the bowl with plastic wrap and store in the refrigerator for 48-72 hours.
Shape the meat into two or three long skinny logs and place on a parchment-lined, sided baking sheet. Bake the pepperoni at 150 degrees for about eight hours, rotating the meat every two hours (as you would hot dogs on a grill). Cool the meat and double-wrap in plastic before transferring to the freezer.
This same time, years previous: the quotidian (3.9.15), family weekending, the quotidian (3.10.14), work, adventuring, now, blondies and breakdowns, and we're back from seeing the wizard.