I bought a six-pack of Guinness today.
Because I want to make a Guinness chocolate cake. And maybe also, just a little, because it's St. Patrick's Day and the sun is shinning and the crocuses are up and the forsythia is blooming and the grass is greening. And also maybe because I'm listening to Irish radio, watching Irish movies, talking about white heather, and memorizing Irish phrases like "bad cess to yuh." When you luxuriate in all things Irish, having a Guinness on hand (do I even like Guinness? I have no idea) becomes a necessity. (I'm not wearing green though. So pinch me.)
Of course, there's a reason to all my Irish madness and it has nothing to do with Saint Patrick's Day, or the fact that my husband's middle name is Driscoll, or that I've always thought our family acted more Irish than Mennonite what with our hot tempers and bull-hornish voices and volatile moods. The reason for this sudden infatuation with all things Irish? I'm in an Irish play, a new one (2014) by John Patrick Shanley. Outside Mullingar is a love story between two 40-something neighbors: Anthony, a painfully shy cattle farmer, and Rosemary (me!), the woman who lives next door and is determined to have him. (To quote some sort of professional blurb:) "Their journey is heartbreaking, funny as hell, and ultimately deeply moving."
There are so many things I'd like to say but can't. Pushing myself to do something so completely out of my ordinary makes me feel incredibly vulnerable and exposed. When I feel like this, I've learned, I need to play it tough, a "fake it till I make it" kind of attitude. So guys, here's the deal. I'm totally chill. Memorizing miles of lines and hanging out on stage for long periods of time with just one other actor? Piece. of. cake.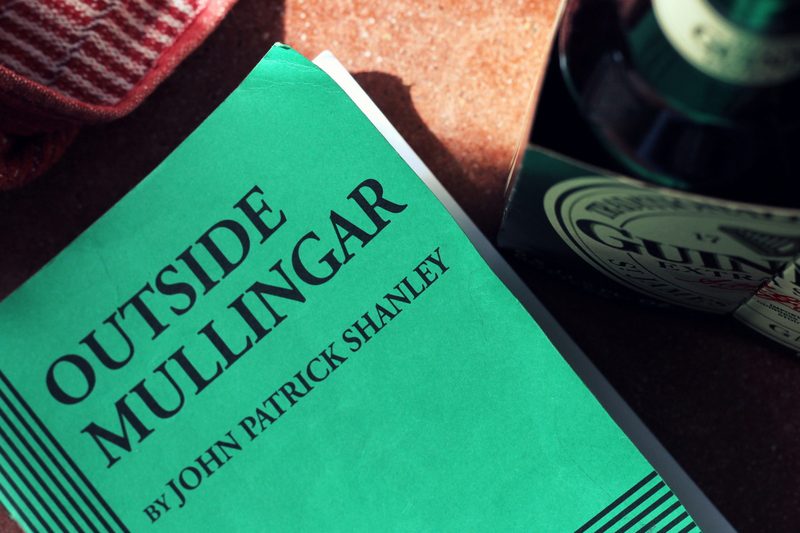 Speaking of cake, I ran out of time to make it! Right now I need to make supper (sweet potato fries and broccoli) and then rush out the door to rehearsal. I guess the cake—and any accompanying beer drinking—will have to wait for another day. Cheerio!
PS. The show runs April 14-24. I'll have more details later.
This same time, years previous: the quotidian (3.16.15), a good reminder, smiling for dimples, the quotidian (3.17.14), warmth, bedtime ghost stories, oatmeal pancakes, and butterscotch pudding.