When my younger brother was in high school, he did a sculpture of my older son (then just a toddler) for his art class. Eventually, he passed it on to us. Normally the bald-headed baby sits buried in a closet, but every now and then it rears its head (ha), appearing unexpectedly on someone's pillow or as a prop for some imagined play. Lately, it's taken up residence on my older son's dresser.
Last week, my younger kids set the bust on a stool, plopped a wig, sunglasses, and headphones on his bald head, and turned him into a punk-rock chorister, Christmas caroler, or something.
Then they moved on to some other game and left the bust standing in the middle of the floor. When my older son walked into his room a few hours later, his marbled mini-me gave him quite a start.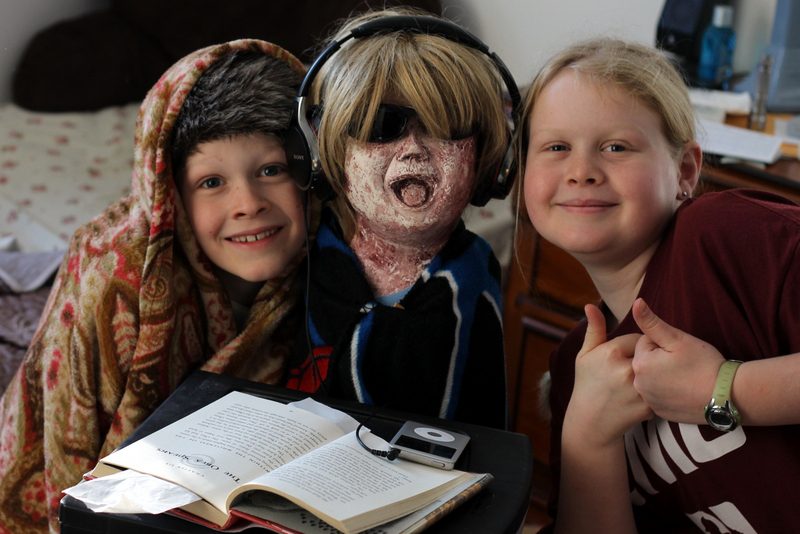 That evening while my older son was at his EMT class and the rest of us were downstairs, my older daughter went upstairs to get a shower. A couple seconds later, we heard an ear-splitting scream, followed by running footsteps and loud gasping breaths.
Ha, I thought. She must have found the bust.
But then I realized the gasps weren't laughter, but racking sobs. What in the world? Had my son crossed the line and created some grisly scene? I tore upstairs, pissed off in advance. At the top, my daughter was wailing, hands over her face, shoulders heaving.
"The shower," she sobbed. "Behind the curtain."
I gave her a quick hug before stomping down the hall to investigate. Senses tingling, I pulled aside the shower curtain.
Oh good grief. No wonder! Not one bit grisly, sure, but deeply disturbing nonetheless. The statue was terrifying in its innocence. How perfectly, delightfully creepy.
Back to my daughter I went. I wrapped my arms around her, buried my face in her hair, and exploded with laughter.
"I'm sorry I'm laughing." I could barely choke out the words. "But, oh, honey, he got you good."
My daughter cried for another couple minutes, but then her shoulders started to tremble—her sobs were turning to giggles.
"I thought it was an alien and it was going to kill me!"
The bust has now been relocated to our bedroom floor and the children have been strictly forbidden from playing with it. My son's creativity may have been highly entertaining once, but I think that was enough trauma-humor to last us a good while.
This same time, years previous: the quotidian (2.2.15), wheat berry salad, and moldy beans.