The evening Molly posted this recipe for applesauce cake, I had to talk myself out of starting a baking project at bedtime.
I'm not exactly sure why I was so completely smitten. I already have an applesauce cake on this blog. Plus, applesauce cake isn't the most thrilling-sounding recipe. It reminds me more of a practical-scuffed-up-shoes cake than a flashy-fancy-heels cake, and I've always had this (perhaps unfounded) assumption that cake ought always be a flashy heels sort of venture. But this recipe disregarded my uptight notions, wiggled into my brain with an upturned kettle and a wooden spoon, and started pounding away on the kettle while screeching, Make me! Make me!
By the next morning, my intense desire for applesauce cake RIGHT NOW had not waned in the least, so I made it. I had a piece with my coffee after lunch. I thought it delicious, but my husband was all like, Yeah it's fine. It doesn't taste like much, though. I decided he was being obtuse and that his opinion didn't count.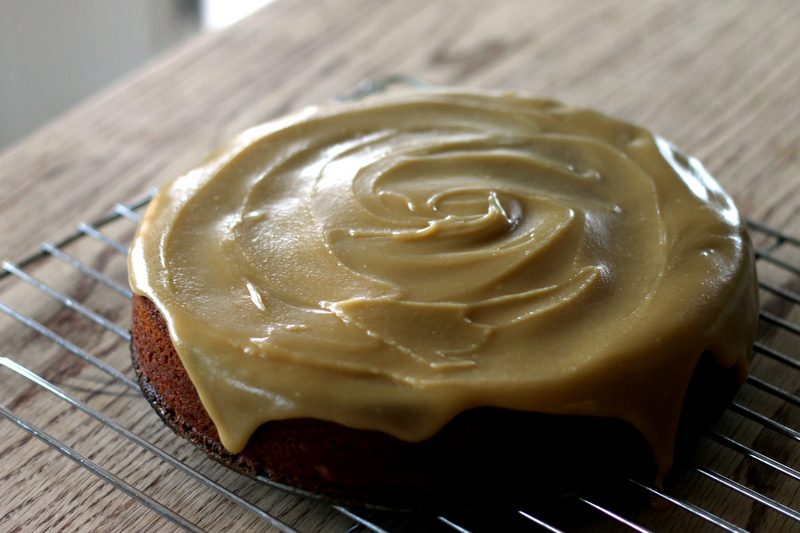 About an hour later, I covered the cake with plastic wrap and drove over to my parents' house where they were (again) in the midst of hosting out-of-town guests that I, too (again), wanted to visit. When I arrived, everyone was still gathered around the table. My mother placed the cake on the table beside the partially-eaten lemon poppy seed cake, and set about brewing another pot of coffee.
"There's a secret ingredient in this cake," I said. "See if you can guess."
Out of curiosity and politeness (because it certainly wasn't hunger), they all helped themselves to small slivers. Some of them started guessing ingredients before they even tasted the cake. I forget who guessed black pepper, but winning ended up being kind of underwhelming. The exotic bite from the pepper is so gentle that it went unnoticed by some.
But the icing, now. That's what got their attention. Soon they were all reaching for the knife to cut another slice. And then the coffee was ready and of course you must have another slice to go with your coffee…
By the time I was ready to leave, there was just a small piece of cake left on the plate. Back home, I divided it among the kids. Less than six hours after I had first cut into it, the cake was gone, gone, gone.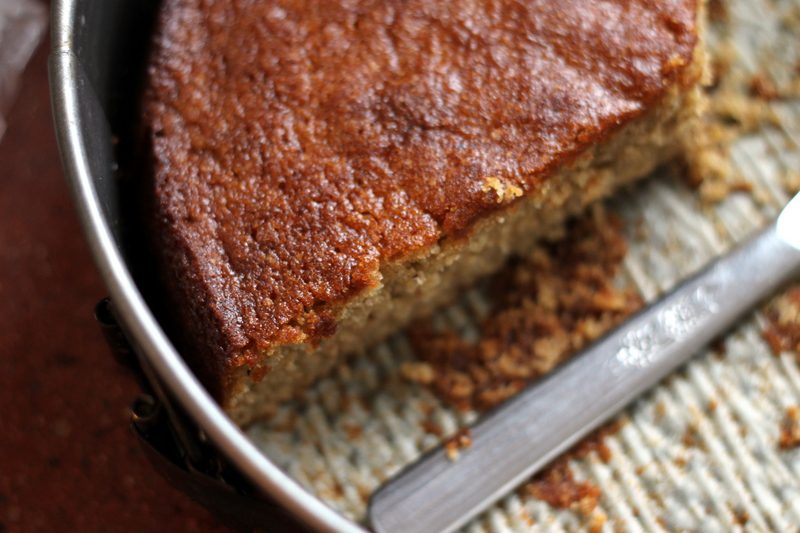 I made the cake again, just the other day. This time I swapped half of the white flour for whole wheat, and I used a heavy hand when grinding in the pepper. Right after I pulled the cake from the oven, we had to leave for a church supper, so I didn't get around to making the icing. And then later that night, after we tucked the kids into bed, I didn't feel like making the icing. Anyway, it was the soft, spicy cake that was calling my name. Turns out, I loved the cake plain.
The next morning I served it for breakfast along with oatmeal and fresh fruit. My husband packed some in his lunch (he reported it was good and was surprised to learn it was the same cake as the first one he didn't like!), and that afternoon I doled out the remaining pieces to the children for their snack. Wouldn't you know, less than 24 hours after making the cake, it was gone. Funny how that happens.


Spiced Applesauce Cake with Caramel Glaze
Adapted from Molly Wizenberg's blog Orangette.
The glaze is similar to this brown sugar icing, but this version has less butter and brown sugar, and more cream. It is really good.
for the cake:
2 eggs
1 cup sugar
½ cup dark brown sugar
2/3 cup oil
1½ cups applesauce
1 teaspoon vanilla
1 cup flour
1 cup whole wheat pastry flour
1½ teaspoons baking soda
1 teaspoon salt
2 teaspoons cinnamon
1 teaspoon ginger
¼ teaspoon nutmeg
¼ ample teaspoon freshly ground black pepper
Beat together the eggs and sugars. Beat in the oil, applesauce, and vanilla.
In a separate bowl, mix together the dry ingredients. Add the dry ingredients to the wet ingredients and stir to combine.
Pour the cake batter into a greased baking pan. (Molly used a bundt pan or loaf pans; I used a springform pan, greased and lined with parchment paper.) Bake at 350 degrees for 40-45 minutes or until the cake is pulling away from the sides of the pan and a toothpick inserted in the middle comes out clean. Cool to room temperature. (If turning the cake out of its pan, allow it to cool for just ten minutes before doing so.)
for the glaze:
4 tablespoons butter
½ cup brown sugar
1/3 cup cream
¼ teaspoon salt
¾ cup confectioner's sugar
Combine all the ingredients but the confectioner's sugar in a pan and set over medium high heat. Bring it to a boil, stirring constantly, and let it boil for one minute. Remove from the heat and stir in the confectioner's sugar. Let it rest for a few minutes to thicken before pouring over the cooled cake.
This same time, years previous: the quotidian (11.17.14), in my kitchen: noon, lessons from a shopping trip, the quotidian (11.18.13), the quotidian (11.18.12), red lentil soup with lemon and spinach, three things, orange cranberry bread, Swiss chard and sweet potato gratin, and brownies.