This year we celebrated Thanksgiving in Chattanooga at my husband's sister's family's house.
My husband's brother's family from Upstate New York also made the (grueling) trip down. So we were three families, eighteen people in all.
Our hosts knocked themselves out making us comfortable. They gave up all their bedrooms, and each family got their own bathroom. There was a hot beverage bar complete with hot chocolate mix, mini marshmallows, flavored creamers, and a steady supply of candy canes. All mugs, wine glasses, and regular drinking glasses were labeled with each person's name. The whole setup was the epitome of thoughtfulness and efficiency.
Our three families were among the thousands participating in
Chattanooga's Grateful Gobbler Run
on Thursday morning. I've never run with that many people before, and it was so entertaining that it felt like the race was over before it even started. The race was a great introduction to the city—such a friendly, active, and community-oriented town!—and a fun way to kick off Thanksgiving. I'm thinking a Thanksgiving 5K is a tradition worth keeping.
The next day we walked a few miles on the Tennessee River Walk, roasted hot dogs, and then the adults went out while the kids stayed home and texted us pictures of them icing cookies (and themselves) and cleaning some random bloody liver out of the fridge while wearing gloves to prevent a possible Ebola contamination. We first went to
The Southside Social
for the long-promised whiskey slushies (and then we noticed the staff was wearing WTF shirts, so we asked, "Um, WTF?" and they were like, "Where's the
fireball
, dude," so then of course we
had
to try the Fireball whiskey, too). After that, we hit up
a lovely sushi bar
before heading to the
Flying Squirrel
for their award-winning cocktail that tasted like shellac and was about as drinkable. Too bad we ordered five of them.
Other things that happened: multiple sessions of Take One, a speaker phone conversation with The Grands, a simultaneous skype session with the West Coast and Hong Kong families, front-yard sports, movies, card games, and lots of eating, cooking, and cleaning up.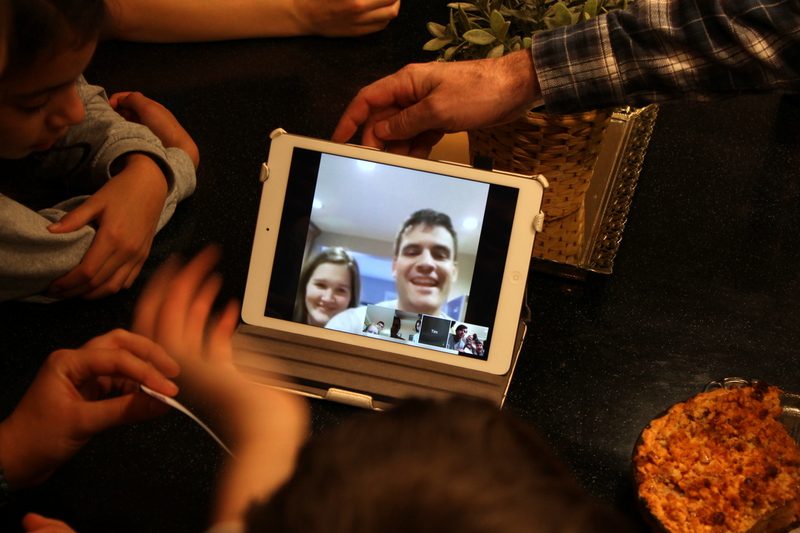 Saturday morning on our way out of town, our family stopped at Krispy Kreme to goggle at the production line, sip the free mocha shots, and order a bunch of donuts for the trip back. Four hundred and seventy-five miles, multiple bathroom stops, and a bunch of hamburgers later, and we were home.
The end.
This same time, years previous: in my kitchen: 7:35 a.m., the day before, the quotidian (11.25.13), a treat, kale pomegranate salad, Thanksgiving of 2012, monster cookies, pot of red beans, Thanksgiving of 2011, peppermint lip balm, butternut squash pesto cheesecake, Thanksgiving of 2010, and apple chutney.