Really, people. I'm not sure where this recipe has been all my life. It's a classic, because Ruth Reichl found it in an old issue of Gourmet, and because it's French and everything French is classic, right?
I made it for supper Wednesday night, along with salad and fresh bread. It's simple—just tomatoes, butter, and cream—and the prep is leisurely, making it the perfect accompaniment to a pre-dinner glass of wine while listening to NPR (and shouting orders at everyone to fold the laundry, empty the compost, check the animals, shower, put away their shoes, set the table, etc). The family ate it politely—no raves—but I more than made up for their apathetic and uncultured natures with my joyous exclamations and multiple servings.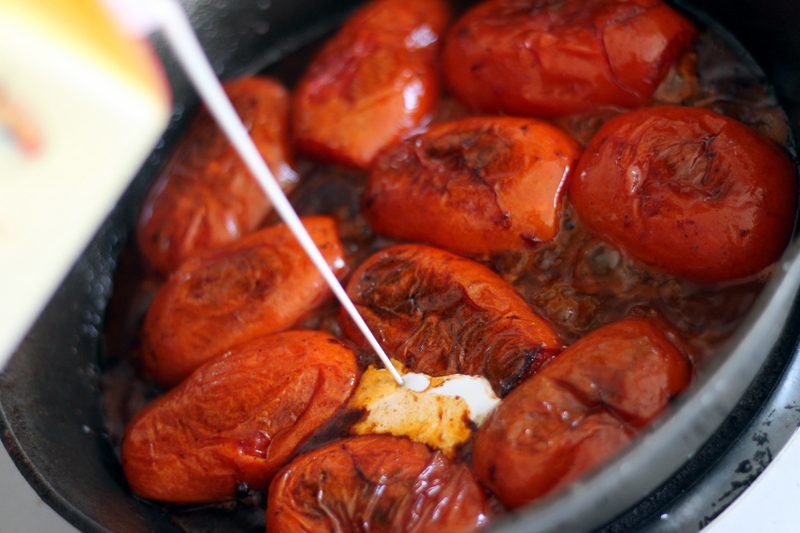 I had the leftovers for lunch the next day. It was even better the second day, perhaps because there were an abundance of juices. My adjectives of choice: creamy-rich, silky, thick and meaty. I ate it from a bowl, transporting it to my mouth via a spoon and buttered piece of fresh sourdough.
If you have any doubt as to the integrity of this dish, please take a minute to ponder tomato soup. Milk, butter, and tomatoes, right? Tomatoes in cream is tomato soup, but in a more noble form. This is the real deal. It's tomato soup not being blended into oblivion, and it's lovely.
Tomatoes in Cream
Adapted from Ruth Reichl's blog, and, in turn, from the 2001 issue of Gourmet, and, in turn, from Elizabeth David, a contemporary of Julia Child and the author of French Provincial Cooking, a book I do not own but am thinking I should perhaps purchase.
Like all great simple recipes, the measurements are estimates. Some versions of this recipe call for minced garlic and/or onions. I'm sure that would be delicious, but I like the simplicity of just tomatoes and cream. The original recipe doesn't even call for salt and pepper, but I think the salt, at least, is crucial—don't skimp on it.
5 Roma tomatoes
1-2 tablespoons butter
1/3– ½ cup cream
salt and pepper
Melt the butter in a skillet over medium heat. Once the butter has melted—let it brown a little, for extra flavor (or because you forgot about it)—place the tomatoes in the skillet, cut side down. Poke the skin-covered backs with a knife. Sprinkle with salt and set the timer for five minutes.
Cooking process, short version:
Simmer for 20 minutes, flipping every five minutes.
Cooking process, long version:
When the timer bings, flip the tomatoes and set the timer for another five minutes. Again, timer bings, flip, another five minutes. And again, bing and flip.
Now they are cut-side up. It's been fifteen minutes and the tomatoes are collapsed and wobbly. If there isn't much tomato liquid, poke their innards with a knife until the juices flow. Sprinkle the tomatoes with salt and simmer for another five minutes. Bing! Add the cream and gently shake the pan to incorporate the cream with the buttery tomato juices.
Serve hot, with plenty of fresh, buttered bread to mop up the juices.
This same time, years previous: peach crisp, it all adds up, Bezaleel scenes, they're getting it!, the quotidian (8.27.12), pasta with lemon-salted grilled zucchini and onions, fresh tomato salad, 2011 stats and notes, roasted tomato sauce, topping for apple crisp, and pasta with sauteed peppers and onions.