My mother used to despise red raspberries but now she loves them. I don't know what changed her. Maybe she just got smart? Anyway, now she and Dad are going to plant a raspberry patch at their new house, so they need starts from our plants. Every couple weeks they check in to see if they can come dig starts and every time they call I have to break the bad news that it's still March (or April or whatever) and the starts aren't up yet so they'll have to wait a little longer. When my mother changes her tune, she really belts it out.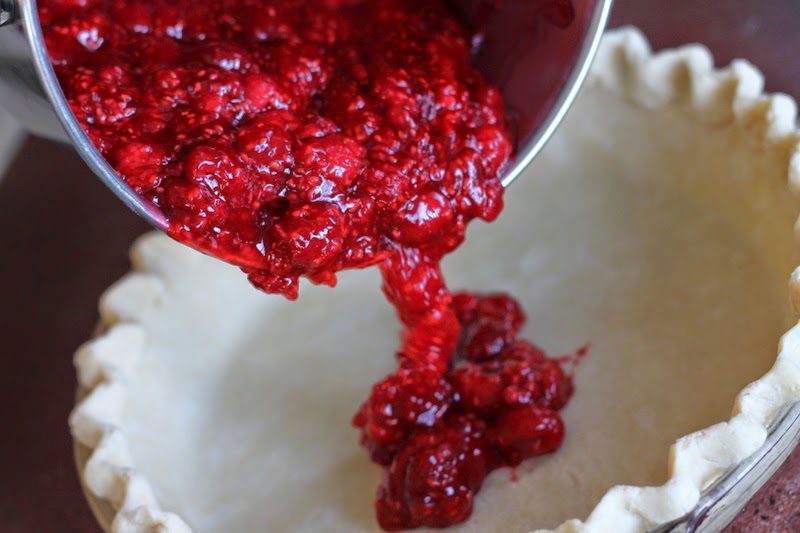 During one of these we-need-raspberry-starts conversations, my mother mentioned that my sister-in-law made them the most incredible red raspberry pie. My mother is a pie-pick, so a recipe that makes her voice turn sticky-sweet in the recalling is worth pursuing. Plus, I still have a ton of red raspberries cluttering up my freezer— THIS IS NOT A PROBLEM—and then I agreed to take dessert to our small group meeting. The scene was set.
Monday morning I emailed my sister-in-law for the recipe and then banged out two pies. What with their golden crust, butter-crunchy crumbs, and the vibrant, burbling, sweet-tart filling, I could hardly contain myself. Would it be so bad if I took a partially-eaten pie to small group? I wondered. But somehow, in spite of myself, I remained firm.
But then the meeting got postponed! Suddenly the pies were mine for the having! I quick made a batch of vanilla ice cream to go with. Dessert that night was spectacular. (And then, when small group was rescheduled for two nights later, I made a blueberry cobbler and another red raspberry pie.)




Certain family members have made numerous requests for a repeat performance, and soon.


Red Raspberry Pie
Adapted from my sister-in-law's recipe.
This pie is intense. It's not terribly sweet, and the tart berries pack a punch. A small sliver goes a long way.
for the crust:
½ recipe rich butter pastry
for the filling:
6 cups red raspberries (I used frozen), divided
½ cup water
¾ cup sugar
¼ cup thermflo (or clear gel or cornstarch)
1 tablespoon fresh lemon juice
Put 4 cups of berries into a saucepan. Add the water. Cook over medium-high heat until bubbling.
In a small bowl, stir together the thermflo and sugar. Add to the cooking berries and stir steadily until nice and thick. Remove from the heat. Stir in the lemon juice and the reserved berries. (Because the cooked berries disintegrate completely, I add some berries at the end, just for aesthetics.) Pour the berry sauce into the pie shell.
for the crumb topping:
¾ cup flour
½ cup brown sugar, packed
¼ teaspoon salt
1/3 cup butter
Using your fingers, cut together the ingredients until you have a sandy, crumbly mixture. Sprinkle the crumbs over the pie.
Bake the pie at 425 degrees for 10 minutes and then reduce the heat to 375 and bake for another 30 minutes, or until the filling is bubbling and the crust is golden brown.
Cool completely and serve with vanilla ice cream.
This same time, years previous: sun days, working lunches, the quotidian (4.2.12), now, chickpeas with spinach, and spinach cheese crepes.