Remember my vodka cream sauce and how I got the recipe from a guy that posted to Facebook? That vodka cream sauce is now MY VERY FAVORITE SPAGHETTI SAUCE IN THE WHOLE ENTIRE UNIVERSE, so when Mr. Foodie posted again, I was all ears. This time he wrote about one-pot macaroni and cheese.
Boring, right?
Um, no.
See, my friend's mac and cheese called for a special ingredient: sodium citrate. I had never heard of the stuff before, but after only a few minutes of web research, I ordered it. It's inexpensive, and there's nothing more effective than firsthand learning.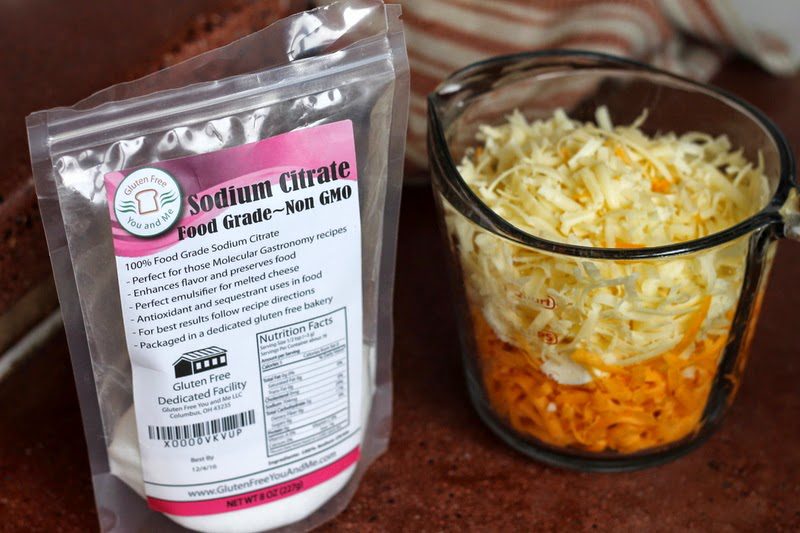 I've only used the sodium citrate to make mac and cheese twice, and each time I've done it differently. I'm still experimenting (I have questions! I have ideas!), so maybe this post is a little premature. But I can't help myself! With this magical stuff, macaroni and cheese has never been so fast, easy, and creamy-lush. It's a game changer, and I want you all in this game with me. Let's go!
First, about sodium citrate. Sodium citrate is an emulsifier. Dissolve a teaspoon of the white powder in some water or milk and then heat it up, mix in a bunch of cheese, and you have the creamiest of cheese sauces ever. It seems weird to cook with a mystery powder, but best I can tell, it's really no different from using citric acid (not the same thing) in canning or baking powder in baking.
Second, about the one-pot part of the mac and cheese. My friend's method involves adding the dry macaroni to a pot of simmering milk, and then allowing it to soak, burner off, for twenty minutes. Voilà, perfectly cooked macaroni! Then add the dissolved sodium citrate and stir it into the cooked macaroni. Add the cheese, stir until creamy, and dinner is served. Bonus, since the sodium citrate eliminates the need for a thickening, flour-based roux, you have (as long as you use a gluten-free pasta) gluten-free mac and cheese. Brilliant!
After twenty minutes in a pot of hot milk, perfectly cooked pasta.
Three cheeses: sharp cheddar, fresh mozzarella, and extra-sharp white cheddar.
Mixing it in.
I still prefer my baked mac and cheese. I think it's more flavorful (butter!) and complex-tasting. Plus, it has those toasty edges from the hot oven. But compared to the instant mac and cheese, I suspect this stuff is leagues ahead. And when it comes to quick lunches and hot summer days when the oven must stay off or I'll die, this version definitely has the upper hand.
Creamy-dreamy!

Ideas for future experimentation:
*perfect nacho cheese sauce without the Velveeta
*creamier cheesy potato and broccoli soup
*fondue
*other ideas?
One-Pot Macaroni and Cheese
All the flavor comes from the cheese, so choose accordingly. The sharper, more flavorful (smoked gouda! extra-sharp cheddar! blue! Parmesan!), the better.
1 pound dry macaroni
5 cups milk
4 cups grated cheese
1 teaspoon sodium citrate
2/3 cup water
freshly ground black pepper
In a large kettle, bring the milk to a simmer. Add the macaroni and stir well. Turn off the heat, smack on a lid, and let sit for 20 minutes.
Dissolve the sodium citrate in the water. Add to the cooked macaroni and stir well. Add the cheese, a handful at a time, stirring well after each addition. Add a couple grinds of pepper and serve immediately.
Optional method: cook the macaroni according to package instructions. In a saucepan, dissolve the sodium citrate in the 2/3 cup milk. Bring to a simmer. Add the cheese and stir to combine. Mix with the cooked pasta and serve.
Note: I made the cheese sauce as in the optional method and poured it over steamed broccoli. The cheese sauce got watery, but I'm not sure why. Too much moisture in the broccoli, perhaps? I mashed up the leftovers and served it as a sauce for fried potatoes.
For further reading on sodium citrate in macaroni and cheese, check out this and this.
This same time, years previously: and then I turned into a blob, how we do things, a roundabout compliment, life, interrupted, potato gnocchi, and mocha pudding cake.