"When I learn to read, I'm going to read every book in the library!"
My daughter was nine or ten when she said this. Or maybe she was twelve. I don't remember. Either way, she was far beyond the normal age at which children are expected to read.
We had experimented with phonetics and word memorization, a variety of curriculums, special flash cards, and spelling programs. She learned keyboarding, and even spent nine months immersed in a second language. When we worked closely with her and slowed everything way down, she could figure it out, but hand her a cereal box or a Berenstain Bears book and she hadn't a clue. Letters held no meaning. It was like she was blind.
Sometimes I pushed her and for short periods it'd feel like we were making progress. Eventually, though, she'd hit a wall and the lessons would erupt with yelling, torn pages, and stormy tears. Each time this happened, I was forced to re-evaluate. Was all the frustration and pain really necessary? Was there a better way?
There is more to reading than just 'knowing how,' I'd chant to myself. Be patient. Wait.
And to my daughter, I said (over and over and over again), "You're smart. People learn at different speeds and at different times. The reading part of your brain needs to do some more growing. You'll get it."
In my gut, I believed this. Eventually, she would learn to read because that's what people do and because it's what she wanted.
But, but … what if I was wrong? What if she was struggling because I wasn't teaching her right? What if she had issues that could only be resolved with the help of an expert?
"She's got to learn," my husband would say. "How much longer are you going to let this go on?"
He wasn't the only one worrying. My friends were worried; I could sense the doubt and concern lurking behind their hearty encouragements. My mom was worried. Heck, I was worried. I was worried sick.
By trying to let my daughter learn at her own speed, I was stepping so far out of the realm of normal that it smacked of stupidity, irresponsibility, and negligence, especially since it was clear she had some sort of disability. If my closest friends and family thought I was probably making a mistake, how could I open up to a wider circle? When stressed and insecure, it's more important than ever to be surrounded with supportive people, so I kept my mouth shut. The isolation was piercing.
In spite of my intense self-doubt and constant wavering, I couldn't bring myself to change course. See, I had a bunch of questions—questions so basic they seemed naive—that had no answers. For example:
*With a reading specialist's assistance, how much earlier does the child actually learn to read?
*Does the child learn to read because of the extra help or because the brain is developmentally ready?
*Do the extra weeks, months, or years that are gained through the tutoring really matter all that much?
*Might the time spent struggling to read be better spent doing something the child is cognitively ready to do?
*When we "help" in the name of earlier and faster, what is sacrificed? What happens to the child's joy, curiosity, confidence, interest, and self-esteem?
I read blogs and combed the library and the internet in search of my answers, yet all I discovered were all the usual professionals pounding out the same old freak-out-and-do-something-now-before-it's-too-late routine. I did glean a handful of stories of people who learned to read late and are now doing well, and, while nice to read and rather encouraging, they weren't the scientific studies I was looking for. Without answers, I couldn't see the value of pushing my daughter to read before she was ready. Nor could I completely cave to my rising panic.
Off and on, my husband and I debated whether or not to get her tested. I discussed my anxieties with another mother of a late-reading daughter who had undergone extensive testing and tutoring.
"Would you say her reading has finally clicked?" I asked the mother. "I mean, does she read chapter books for fun?"
"She can read, but she only does it when she has to. It's not something she really enjoys."
Oh.
If the girl didn't enjoy reading, where was the victory?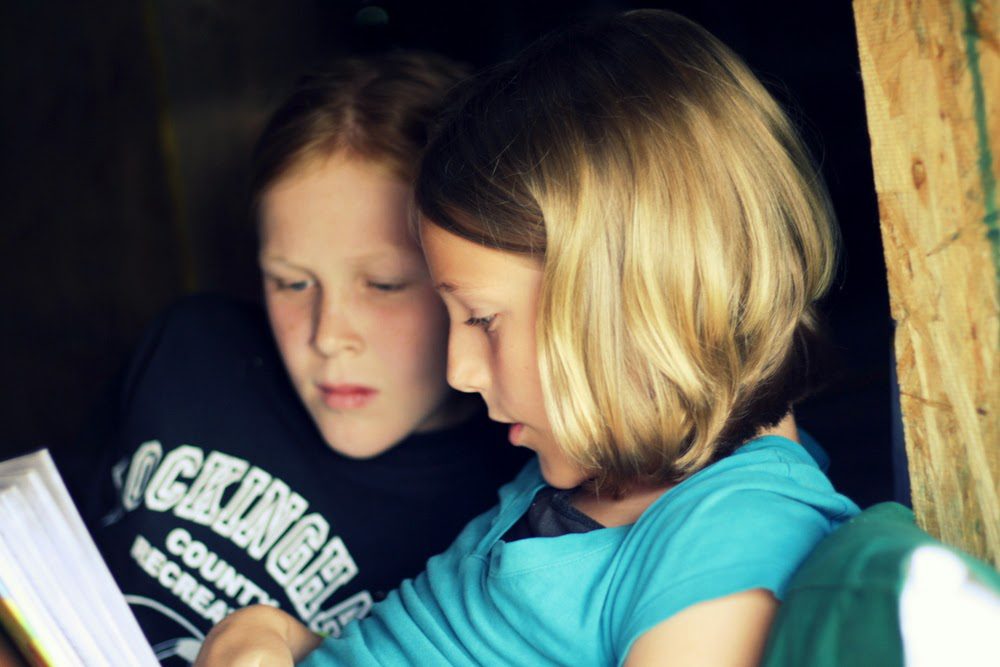 Then all on her own my daughter started reading young adult fiction: some Emily Windsnap books, The Coming of the Dragons, Peter and the Starcatchers, etc. I watched her mounting enthusiasm from the corners of my eyes, hardly daring to breathe. We had waiting so long. Was this for real?
Best I could tell, she only understood 60-70 percent of what she read. I'd offer to read the first chapter of a new book out loud so she could get a grasp on setting and characters, but she only let me do that a couple times. Once in a while she'd ask for help with a particularly troublesome word or name, but again, she preferred to puzzle it out on her own. Or skip it. She could still wring out enough of the plot to enjoy the story.
It was weird. We'd just received test results (we'd finally taken her for an extensive evaluation) which indicated that she had extremely low reading ability. But here she was holing up in her room reading for hours on end. How was this possible?
Over the last number of months, she has plowed through dozens of books. In fact, she has become such a voracious reader that we have resorted to confiscating her books when she has jobs; otherwise, she disappears so soundlessly it's like she's been raptured. Some mornings she sets her alarm as early as 5:30 so she can read before going to work. And after the family evening read-aloud, she rockets off the couch and takes the steps two at a time to her room so she can squeeze in as much reading as possible before lights out. For her, books are magnets; their pull is a force to be reckoned with.
My daughter has a long way to go before she will be fully literate. We have a lot of work to do. Her learning approach will continue to deviate from the traditional path that's always made sense to me. But I am not worried. My qualms have evaporated. I am giddy with relief, thrilled to the tippy-tips of my toes.
She reads.
This same time, years previous: the quotidian (11.4.13), awkward, chatty time, posing for candy, cheesy broccoli potato soup, piano lessons, why I'm spacey. sweet and sour lentils, Greek yogurt, oatmeal bread, and blessing hearts.