When I'm my best self, I keep a container of cooked grains—quinoa, bulgur, wheat berries, brown rice, etc—in the fridge for fast lunch salads. When I'm my even better self, I turn the aforementioned grains into an enormous salad that lasts for an entire week of pious noontime feastings.
Note: these noble lunches are often followed by coffee and still-frozen chocolate chip cookies while slouched on the sofa writing braggy posts about righteous lunches.
Farro is sort of hard to come by. After an active search yielded nothing, I settled for Keeping My Eyes Open and occasionally thinking about ordering it from Amazon. Finally, months later, the stuff showed up at Costco (though I think it was a temporarily stocked item because I haven't seen it in a while) and I pounced.
I pronounce farro like the title of an Egyptian king, but really it's pronounced like I've-got-FAR-to-go-O. Either way, farro is a kind of wheat grain, similar to spelt and emmer, though its exact identity is unknown. It looks like wheat berries, but a bit larger. When cooked, the texture is chewy-soft, and the flavor is a mix between a hearty pasta-slash-brown rice. It's easier to cook than quinoa (no rinsing) and rice (no tricky steaming). Also, it's good for you.
This is the salad I ate this week: cider-simmered farro in an olive oil and cider vinegar dressing with black olives, apples, celery, parsley, etc.
It's shockingly simple.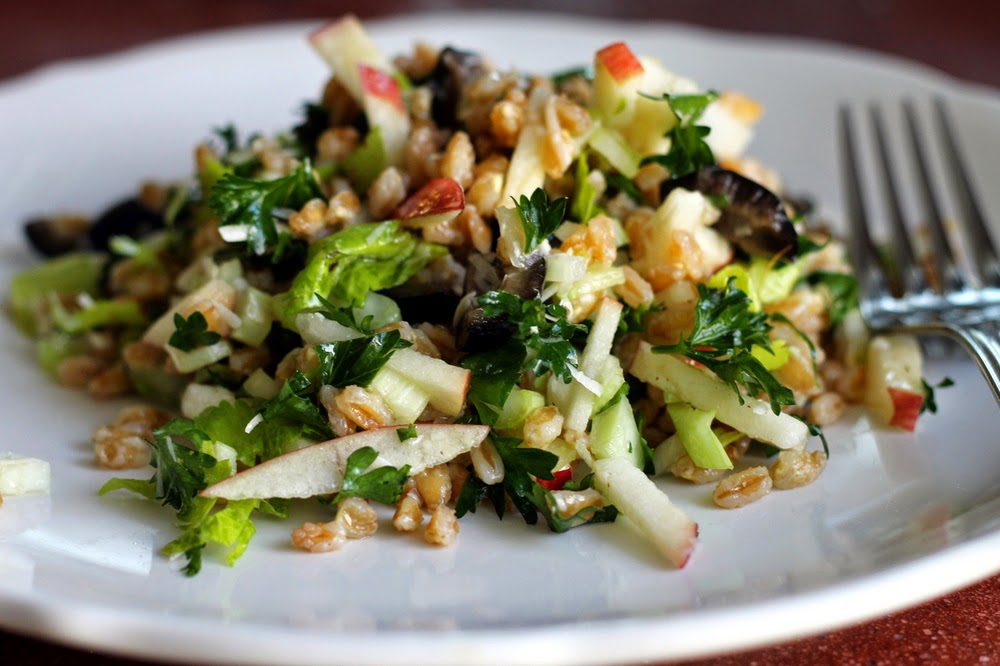 As most noble things are.


Apple Farro Salad
Adapted from the November 2014 issue of Bon Appetit
The recipe called for 1 part farro to 2 parts cider and 2 parts water. I thought it sounded excessive, and I was right—I ended up draining off lots of excess liquid. So I've amended the recipe. There's no need to waste good cider.
1 cup farro
1 bay leaf
2 cups apple cider
1 cup (maybe less) water
2 tablespoons apple cider vinegar
2 tablespoons olive oil
1-2 ribs celery, leaves included, diced
1 small apple, cored and diced
1/4 cup minced onion
½ cup chopped fresh parsley
1/4 generous cup chopped black olives
1/4 cup Parmesan cheese, coarsely grated
black pepper and salt
Combine bay leaf, apple cider, some salt, and water in a saucepan. Boil, reduce heat to medium, add farro and simmer, uncovered, for 20-30 minutes. Drain. Spread the cooked farro on a baking sheet to cool.
Combine the remaining ingredients before adding to the cooked farro. Mix well.
This same time, years previous: stuffed peppers, quiche soup, how to bake pie on the stove top, apples schmapples, hamburger buns and sloppy joes, and roasting pumpkin.