Thursday, the play opens. Which means I've been gone from home nearly every evening for the last two weeks. I'll be gone even more this week, my husband is about up to his eyeballs with my wacko schedule, and I'm about shot.
In my lab coat.
(Ignore the weirdly positioned hand.)
But right about now is when things start to get fun. For the first month of rehearsals, we met in a little church. The going was tedious: line memorization, getting accustomed to the other actors, interpreting the director's directions, puzzling through the play's nuances, etc.
Then last week we moved into the theater and added costumes, props, music, and lights.
View from the wings.
Now the lines flow without thought (almost) and the focus is on nailing the transitions and getting comfortable in the new space. I have an actual desk to sit behind and a swivel chair with wheels from which I dispense sage medical advice while hoping I don't roll backwards off the stage.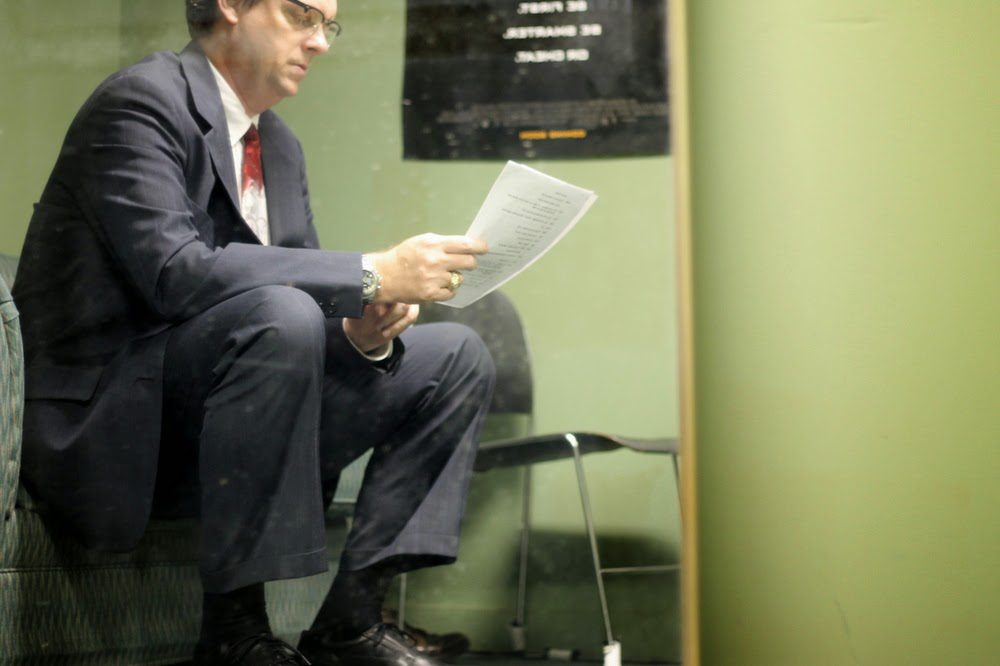 Running lines.
I like this play. It's funny, poignant, and earthy. The characters have depth, the set is minimalistic, the dialogue is punchy (in other words, PG 13). The plot line is this: 1) a single woman finds herself pregnant and alone, 2) she becomes friends with an intellectually-challenged young man, 3) life happens. The first time we ran the whole play off-book, back in that little church, I cried (watching it, not acting—the doctor doesn't cry). It's good stuff.
Doing what I do for most of the play: sitting on the red sofa waiting for my two little scenes.


***
Showtimes are Thursday – Saturday, August 7-9 at 8:00 pm; Thursday – Saturday, August 14-16 at 8:00 pm; and Sunday, August 10 and 17 at 3:00 pm at Court Square Theater in downtown Harrisonburg. Get your tickets here!
This same time, years previous: babies, boobs, boo-boos, and bye-byes, the end, a birthday present for my brother, gingerbread, dam good blackberry pie, caramelized cherry tomatoes, dimply plum cake, Indian-style corn, tomato bread pudding, down in the peach pits, hamming up Luke, and seasonal regret.