August is the season where I serve supper and my husband weeps.
I'm not trying to make him cry. I'm actually being a conscientious, upright, in-tune-with-mother-earth-type person. In other words, I forage in the garden for what's ripe and then slap it on the table. One night there was a delightful bulgur salad along with corn on the cob. The next night I served a mountain of corn on the cob and leftover peas.
The food was delicious—people pay big bucks for fresh veggies, you know—but throughout the meal my husband wore an aggrieved expression. Sure enough, a couple hours later I found him with his head in the fridge, rooting around for something to more to eat.
Me: You hungry?
Him: I need food, Jennifer. Food! I already made three eggs and I'm still famished. I! Am! Hungry!
And then he whimpered.
So the next day I went shopping for food. I bought snacks and apples and ham. I made big, husband-pleasing plans for pizza and pastas and taco salad. (The tomato sandwiches, pesto with candied cherry tomatoes, and roasted beets I'll slip in around the edges.)
In the meantime, the leftover bulgur salad is all mine. I've been eating great mounds of it for my lunches. It makes me feel virtuous, energetic, and only a wee bit resentful that my husband isn't as nuts about it as I am. Because it is the perfect lunch salad.
Also, regarding this food preference difference: is there actually a gender-based divide in taste preferences? Is there truth to the stereotype that (more) men like wings, burgers, and pizza and (more) women like mushrooms, blue cheese, and kale? Is it sexist to even raise such a question?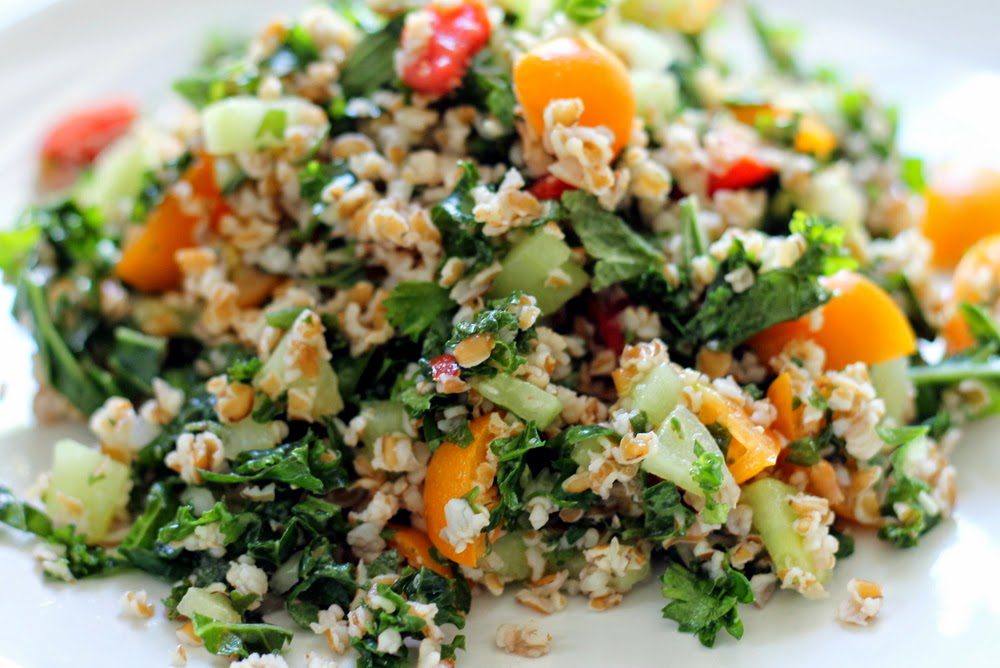 Kale Tabbouleh with Tomatoes and Cucumbers
Adapted from Aimee of Simple Bites
for the salad:
1 cup bulgur
8-10 leaves of kale
1½ – 2 cups chopped tomatoes
2 medium cucumbers, peeled and chopped
1/4 cup minced onion
½ cup fresh parsley, chopped
½ cup mint leaves, chopped
for the dressing
2 tablespoons olive oil
1/4 cup fresh lemon juice
½ teaspoon balsamic vinegar
½ teaspoon salt
freshly ground black pepper
Put the bulgur in a bowl and cover with two cups of boiling water. Let sit until the bulgur is soft and the water is absorbed. (If there is any extra water, drain it off.)
Whisk the dressing ingredients together in a small bowl. Set aside.
Wash the kale, remove the tough stem, and mince the leaves. Drizzle the leaves with 1 tablespoon of the dressing. Using your hands, massage the dressing into the kale leaves until they are glossy and soft.
Add the kale, tomatoes, cucumber, onion, mint, and parsley to the bulgur. Toss with the rest of the dressing. Serve at room temperature.
Leftovers can be refrigerated for several days. They make perfect lunches (for the non meat-eaters among us).
This same time, years previous: the quotidian (8.19.13), basic fruit crisp, and thoughts on nursing.