All week long I've been sitting on a best-ever recipe, itching to share it with you but hesitating because it's so good that I'm afraid I won't be able to do it justice with the written word. It'd be better, more persuasive, if I could give you a sample straight up—just stick my arm through the computer screen and into your house and hand you a little piece of edible heaven. But I'm no Willy Wonka, so words it is.
Remember that scene in Julie and Julia where Julie fries thick slices of bread in lots of oil and then mounds the pieces with cubes of juicy tomato? While she stews over what sort of project she can take on in order to have something to write about, her husband takes bite after enormous bite of the bruschetta (CHOMP, chew, CHOMPchew, CHOMPCHOMPCHOMP) interspersed with moans of deliciousness while juice dribbles down his chin. It's a glorious scene.
That's what I made. Except, I made it better.
That's right: I'm one-upping the Julias and blogging about it. Aren't I classic.
A couple years ago, a friend told me about a fresh tomato salad she makes. Basically, it's tomatoes in a brine of olive oil and balsamic vinegar with garlic and fresh basil. I made it and liked it, but I didn't swoon.
But then the next year when the tomatoes were ripe, I called her up for the recipe because, well, it was kinda good. Fast forward to this year: I called her up (yet again) for the recipe and served it to my mom. Then my mom called me for the recipe and I had to call my friend back because I had already misplaced it. Since the recipe was fresh in my mind, I was all like, Oh heck, why not?, and made the salad again. And then, with the Julie and Julia scene playing in my head, I served it up as bruschetta and—CHOMP chew CHOMP chew—the rest is history.
The Actual History
Chapter One: I serve the bruschetta on Saturday noon and act like I've struck gold. My husband says it is good.
Chapter Two: I make bruschetta, just for myself, that night for supper.
Chapter Three: We eat more bruschetta for Sunday lunch. I use the leftover tomatoes that have been marinating in brine since the day before. My husband comes close to raving.
Chapter Four: On Monday I make a skillet of bruscetta for lunch and share it with my older son. Upon discovering there are no seconds, he is crushed.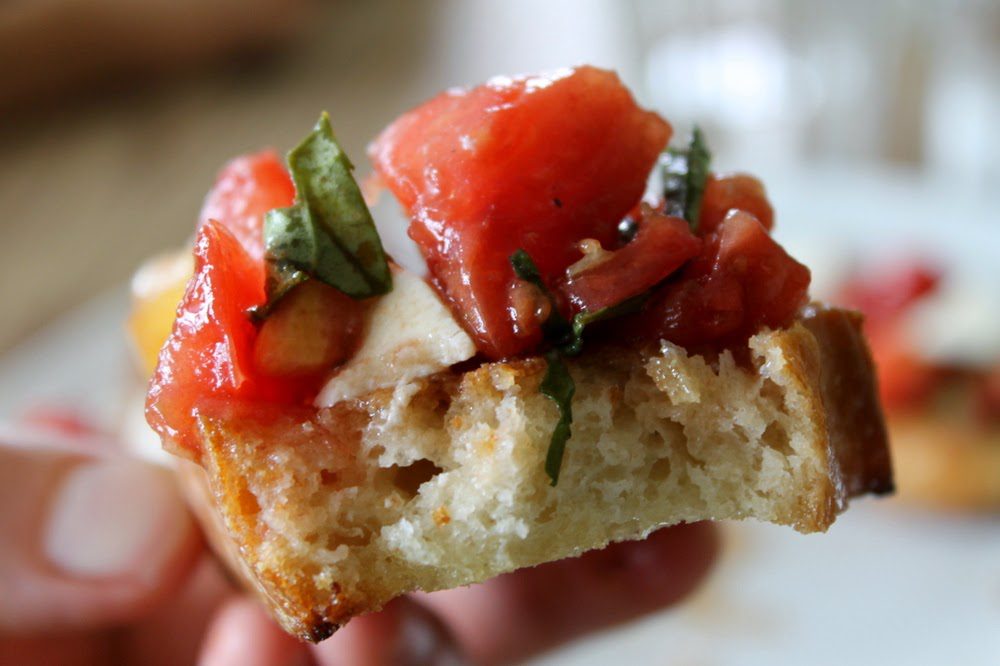 Bruschetta
For the tomatoes:
4 cups of juicy ripe, multicolored (if you have them) tomatoes
½ cup minced fresh basil
½ cup olive oil
1/4 cup balsamic vinegar
3 cloves garlic, minced
1 tablespoon salt
1 tablespoon sugar
1/4 teaspoon black pepper
Put the tomatoes and basil in a bowl. In a small bowl, whisk together the remaining ingredients. Pour the dressing over the tomatoes and stir. Let sit at room temperature for one hour before serving. Leftovers keep for a couple days in the fridge. (As the tomatoes get eaten up, freshen up the salad with a new tomato. You can only do this once or twice, though, before the brine's strength diminishes.)
For the bread:
a bunch of slices of thick, chewy bread
olive oil
1 garlic clove, cut in half, optional
Heat a skillet on medium-high. Drizzle olive oil on the pan to cover the same area as one piece of bread. Quickly slap the bread over the oil. Repeat the drizzle-and-slap method until the pan is full of bread slices. Reduce the heat to medium.
Once the bread is golden brown and crunchy, flip and fry on the other side. Except you need to add more olive oil at this point, so it's a bit of a juggling act. Sometimes it's easier to remove several pieces of bread and then drizzle and flip-slap. When both sides are golden brown, remove the pieces to a plate. Important tips: be quite generous with the olive oil and get the bread as crunchy toasty as possible.
Brush each piece of grilled bread with a garlic clove, if desired. (Since there is garlic in the tomato salad, this isn't a crucial step.)
To assemble:
toasted bread slices
tomato salad
fresh mozzarella, chopped or torn into small pieces
Put two or three pieces of mozzarella on each piece of toast. Spoon some briny tomatoes onto each piece. Top with two or three more pieces of cheese. Serve immediately. CHOMP chew.
This same time, years previous: photo shoot, two minute peanut butter chocolate cake (I don't recommend it), red raspberry ice cream, whole wheat buttermilk waffles, earthy ponderations, part two, oven-roasted Roma tomatoes, grape jelly, and cold curried corn soup.