Ever since she bought Charlotte, my older daughter has been planning for puppies. She carefully tracked Charlotte's heat cycles, keeping her kenneled for the full amount of time and then some (about a whole month total). It was a botheration (and my husband tried to convince her to spay the dog and be done with it), but our daughter remained unmoved. She wanted puppies.
According to the pet shop where my daughter slapped down the big bucks, Charlotte is a beagle-Jack Russell Terrier-border collie mix. We can't see any traces of the collie in her, but the other two shine through loud and clear. Because our daughter is fairly obsessed with beagles, she wanted to breed Charlotte with a beagle. Her determination led her to do bold (and uncharacteristic) things, such as making me stop the car so she could ask a random woman out walking her beagle about whether or not she knew of any good beagle males in the area.
Turns out, we didn't need to look very far to find a stud dog. Our neighbor had connections to a beagle breeder, so when Charlotte went into heat at the end of March, my daughter called up the neighbor to make the arrangements.
I was a little concerned that this dog would be too big. Charlotte is so small and I was nervous about getting her into a fix. When I mentioned my concern to the neighbor, he said, "Oh, he's small all right. His name is Tiny." Which doesn't mean anything. Some people name their dogs "Bear."
Ten days after Charlotte went into heat, Tiny showed up at our house. And he was, indeed, tiny! In fact, though he was heavier and more solid than Charlotte, he was smaller than her by a good inch. I started to worry that he might not be able to … you know, um, reach.
Charlotte was excited. She flagged without ceasing, so eager for his services that she sat on his head: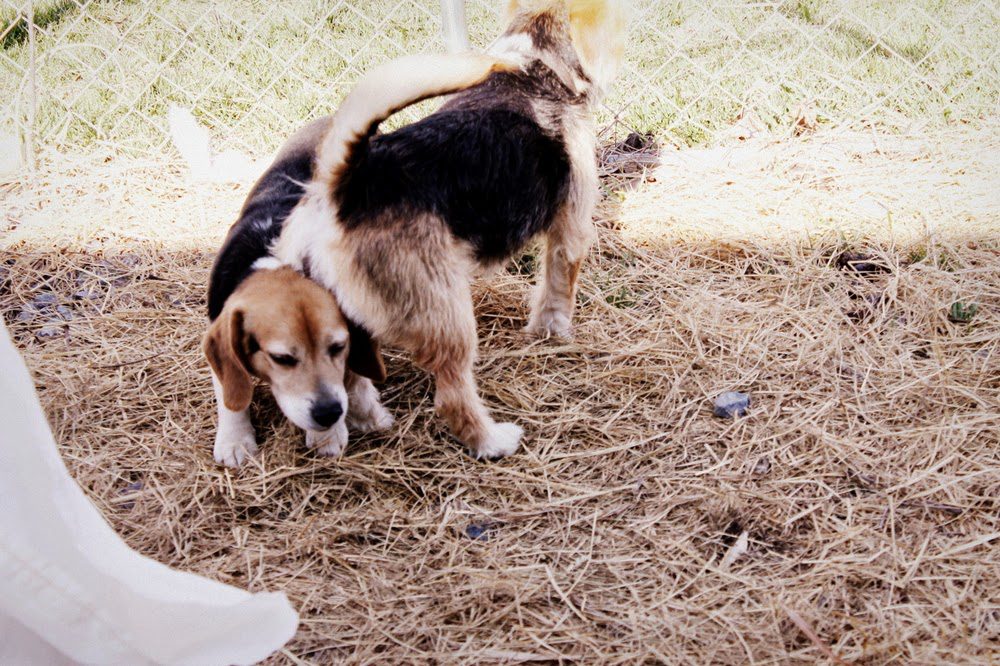 But Mr. Tiny was timid, shy, and in no hurry. (And cuddly! He's like a cat, the way he snuggles up in your lap.) He spent the first few hours focused on other matters—mainly, spraying scent and/or peeing on everything. Even the water dish.
We ordered the children to leave the dogs alone, so the younger two kept watch from the porch steps. After awhile, only my younger daughter was keeping vigil.
I was in the kitchen, cooking and watching from the window. Right around the time my daughter got bored and turned away to watch other things, the dogs started making their moves. For the next ten minutes they took turns jumping on each other. My daughter never once looked over at them and eventually wandered out to the driveway where the guys were fixing a water pipe. After a bit she came back to check on the dogs. They had just officially hooked up. She stared at them for a couple seconds and then comprehension hit. I watched it dawn on her face like the sunrise.
She yelled for the rest of the family. By then, the dogs were panicked and yelping. My husband went into the pen to calm them, and when my older daughter hesitatingly appeared on the scene, my husband called her in to help out.
Is there anything more awkward for a pre-teen girl than caring for coupling dogs alongside her father? The poor child was bashful, but hey, this is how puppies are made, so buck up, buttercup. She rose to the occasion and stood by her pet.
We kept Mr. Tiny for three days. The second day we were in town, so we weren't able to keep track of the stats. But day three they hooked up three times. My younger son kept a running count. He said funny things, too, like, "Charlotte's standing still but Tiny is fidgeting!" and "Well, I guess they figured out it feels good!"
By the end, the kids were matter-of-fact about the whole situation. They were interested but casual, without a trace of embarrassment anywhere. Tip: if you're having trouble broaching the sex talk with your children, breed dogs. It kinda forces the issue.
So, assuming Mr. Tiny's visit amounts to anything, we should have a passel of pups in about 60 days. A few weeks more, and they'll go up for sale. Stay tuned!
This same time, years previous: an evening walk, deviled eggs, the things that go on around here, new territory: grief, cream of tomato soup, and my pregnant boyfriend.