My sister-in-law (and someone else but I can't remember who) gave me a huge bag of peppers. I'm still not in the mood to put food up—for all I know, there's a million bags of peppers in the bottom of my freezer—and there were too many to eat up fresh, so I decided to make a new-to-me recipe: stuffed peppers.
Stuffed peppers have always seemed like:
a) an elitist, stuffy (ha!) dish, and
b) a taboo,
because:
a) hello, who spends time hollowing out peppers and making them stand on end? and
b) soft, cooked peppers and kids don't mix.
But I did a little research and figured that at least I'd like them. And because I'm not adverse to letting my taste preferences override those of my family, I took the stuff-the-pepper plunge.
The verdict?
a) No, stuffed peppers are not pompous. Especially when you cheat by cutting them in half and laying them out flat on their backs. A belly-up pepper is decidedly not as intimidating as a standing one.
b) Yes, the kids will probably turn up their noses, but they are so incredibly delicious that who gives a fig. I happily ate all the leftovers and then felt sad when they were gone.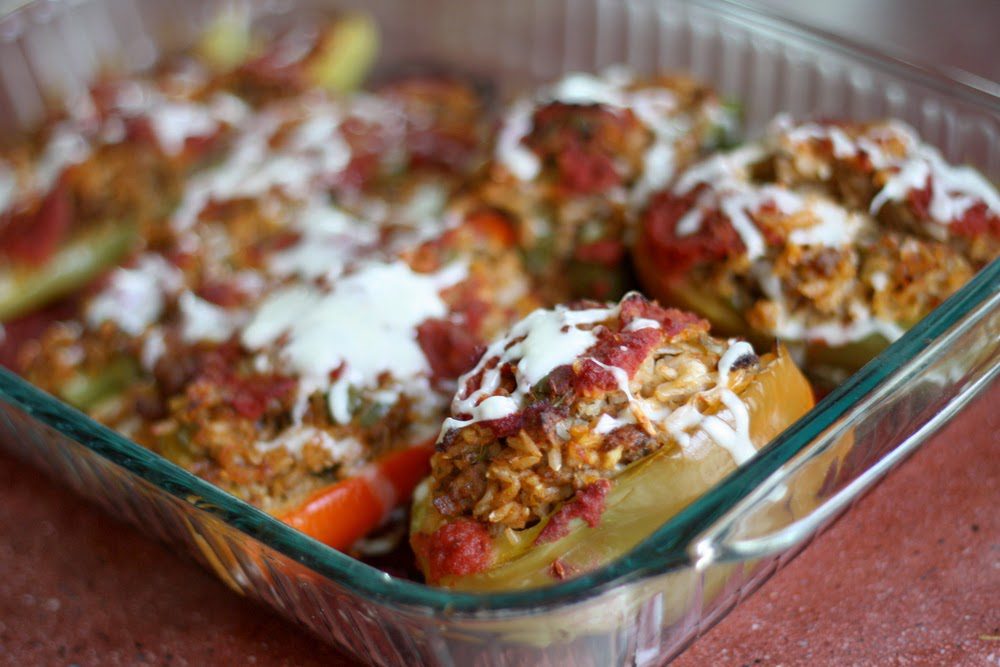 Stuffed Peppers
With inspiration from: Epicurious (Bon Appetit, another Bon Appetit, and Gourmet) and Finding Harmony.
This is a formula, not a recipe—I didn't measure a thing. Which proves, once and for all, that stuffed peppers are nothing to fear.
I used sweet peppers and banana peppers. I loved the bite and texture (thinner and less mushy) of the banana ones, but both were excellent.
8-10 gnarly peppers, halved and cored
2-3 peppers, diced
2 tablespoons olive oil
1 generous pound bulk sausage
2 onions, chopped
5 cloves garlic, minced
1 tablespoon smoked paprika
1 tablespoon dried parsley (fresh would be best!)
1 teaspoon black pepper
1/8 teaspoon chipotle pepper (or chile cobán)
salt
2-3 cups cooked brown rice
2½ cups tomato sauce, divided
1 egg, beaten
1 cup shredded mozzarella cheese
Arrange the pepper halves in two 9×13 glass pans and set aside.
Put the chopped peppers, sausage onions, and garlic, along with the olive oil, in a large skillet and cook over medium-high heat for about 15 minutes until the meat is cooked through and the vegetables are tender. Add the paprika, parsley, black pepper, chipotle pepper, and salt, and cook another minute. Stir in the brown rice, ½ cup of tomato sauce, and the egg and stir well. Remove from heat.
Spoon the rice and sausage mixture into the pepper halves, pressing it firmly into the cavities—you want as much filling as possible per pepper. Spread/sprinkle the remaining two cups of sauce over the peppers.
Bake the peppers uncovered at 350 degrees for 30-45 minutes or until the peppers get slightly brown around the edges and look weary. Remove from oven, sprinkle with the cheese, and return to the oven for another 5-10 minutes to melt the cheese.
Leftovers make superb lunches.
Have you taken the stuff-the-pepper plunge? Any tips and/or fabulous recipes to share?
Also, do cooked stuffed peppers freeze well?