I've been meaning to tell you about this recipe for a couple weeks now.

Now that their growing season is over (or something), broccoli and cauliflower have been woefully absent from market. This is a travesty; broccoli is my green vegetable crutch: fast, simple, nutritious (or it would be if it weren't coated in a slick of pesticides), and everyone loves it. But now it's gone. So the other day (er, week) when I walked through the market and spied some gorgeous heads of cauliflower, I snatched one right up. It would be the next best thing to broccoli.
It sat in my fridge for a couple days while we ate through our supply of carrots and cucumbers and green beans until there were no vegetables left but the single white head of cauliflower. After some thought, I decided I'd cook it till it completely collapsed and then add a bunch of butter and maybe some cheese and serve it over pasta for some white-on-white yum.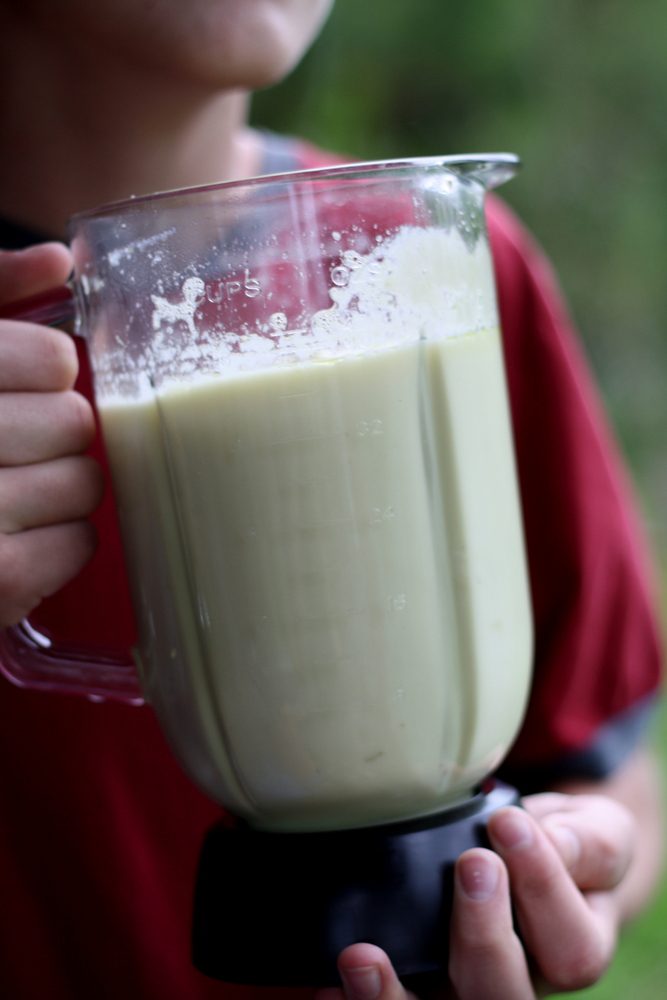 But at the last minute, I decided to quick check the web: was there such a thing as cauliflower sauce? Why yes, there was! I skimmed through a few recipes, made a couple simple changes to my plan (I added garlic and pureed the sauce) and voila! I had a creamy pasta sauce! I had planned to add cheese and maybe some milk, but after tasting the
sauce, I couldn't bring myself to add a single thing.
Upon serving him a heaping plateful of saucy pasta, this is the conversation I had with my lactose-intolerant husband:
Him: Do I need to take a pill with this?
Me: There's only a little butter, so you'll probably be okay.
Him: Then what makes it creamy?
Me: (secretive smile)
Him: Seriously! What's in this!
Me: Eat it and then I'll tell you.
Him, after a few bites: There's got to be cheese in here. You're lying to me.
Me: (giggle) Am not.
Him, after a few more bites: Oh, I get it now!
(Pause.)
Him: Wow. That's really amazing.
The kids ate it without fussing, though they confessed (the notion
that I had to pull teeth to get their opinion is hysterical) they prefer
a dairy-based mac and cheese. My husband thinks it needs a bacon kick. Even though I omitted the dairy, if I had Parmesan and cream in my kitchen, I would've added them both. Also, I think the sauce would be wonderful with roasted tomatoes, olives, and parsley (and cream, oh how I miss cream!). Fresh rosemary would be nice, too. And one more idea: this would make an excellent soup, maybe with some garlicky croutons atop.
No matter how you decide to enhance it (or not), this is a delicious sauce. Every cook should know about it.


Creamy Cauliflower Sauce
Adapted from The Hungry Couple, who, in turn, got it from Pinch of Yum (their blog server is down so I can't link, sorry). I also looked at Chocolate-Covered Katie's version.
I used powdered bouillon instead of chicken broth.
2-4 tablespoons butter
4 cloves garlic, minced
1 large head of cauliflower, cut into chunks
2-4 cups chicken broth
salt and pepper
olive oil, optional
Melt the butter and add the garlic. Simmer over low heat until the garlic is tender—but not browned—and the whole house smells like heaven. Remove from heat.
Simmer the cauliflower in the broth until it's meltingly soft. Add the garlicky butter. Puree vigorously. Season with lots of salt and pepper. Serve over pasta with a drizzle of olive oil to finish.