Tayuyos: stuffed tortillas
This is the Guatemalan version of the Big Mac. In fact, people call them MacTayuyos.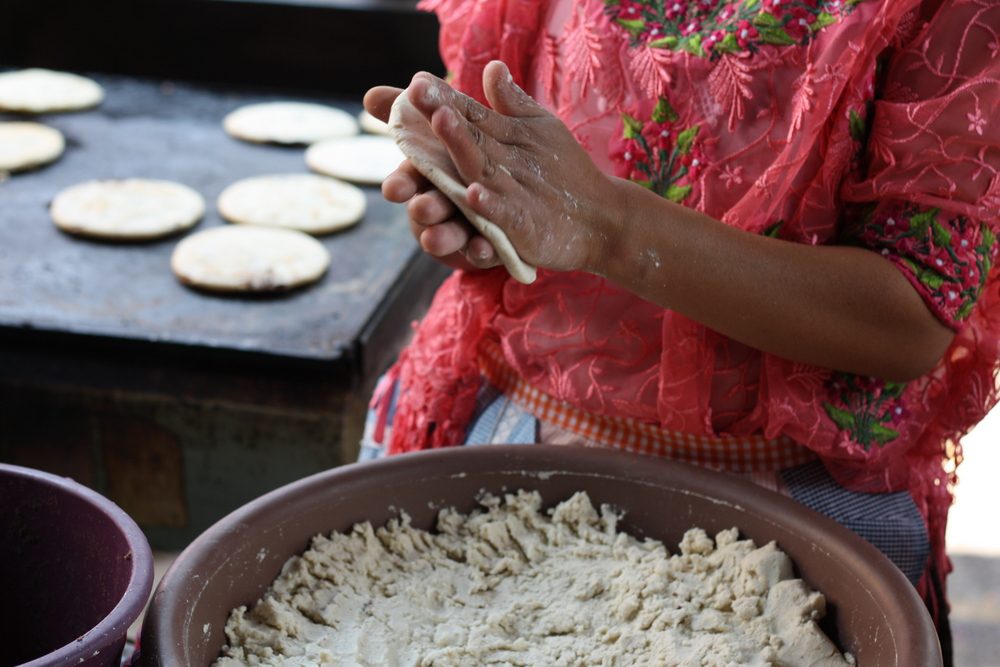 In the Chamelco market, there is a woman who makes fresh tayuyos. She's there every day (except Sunday, maybe?) patting stuffing the masa with cheese, potatoes, pork, or refried beans and then patting them into tortillas. They cost one quetzal each, except for the pork ones which cost a little more. She puts the hot tayuyos into a plastic bag and then ladles chili sauce directly onto them. I like mine a little less soggy and spicy, so I always ask for my chili in a separate bag. A bit of sour cream with the potato tayuyos is absolutely divine.
Churrascos: grilled beef
One Sunday on our way home from church, we stopped at a food cart in Chamelco. The guy was selling grilled liver and onions. Because no one but me likes liver, I ordered one meal, just to try it. Back home, we opened the bag and promptly devoured every last morsel. The next Sunday I was all eager to buy six liver and onion lunches, but the guy wasn't there. So we bought churrascos instead.
For ten quetzales, less than a dollar and a half, we get a styrofoam plate of grilled beef (marinated in a parsley-garlic-oil type sauce) with slaw, refried beans, lots of onions (the best part), and three tortillas layered across the top in lid-like fashion, hot sauce on the side.
While I wait for our order, I sit on one of the little stools by the cart. The women are in constant motion, cutting more onions, scooping mounds of raw meat out of a kettle and slapping it on the grill, basting, filling plates, fanning the coals, adding another bag of charcoal to the fire (literally: they burn the plastic, too), turning the meat, etc. The raw meat touches the cooked meat and they never wash their hands. The food is delicious.
The liver-and-onion guy has yet to reappear, but we're pretty content with our Sunday churrascos. They've become such an integral part of our weekend that last Sunday when we didn't go to church, I hiked into town for the sole purpose of fetching lunch.
Elote Loco: crazy corn (i.e. field corn on a stick)
'Tis the season for fresh corn, and this delicacy is everywhere. My kids have been begging me to buy them some, so the morning of the race, I did.
It's simply (field) corn-on-the-cob, smeared with mayonnaise, squirted with red ketchup and green hot sauce (which my kids said no thank you to), and then sprinkled with salty cheese. It's surprisingly good, and very filling.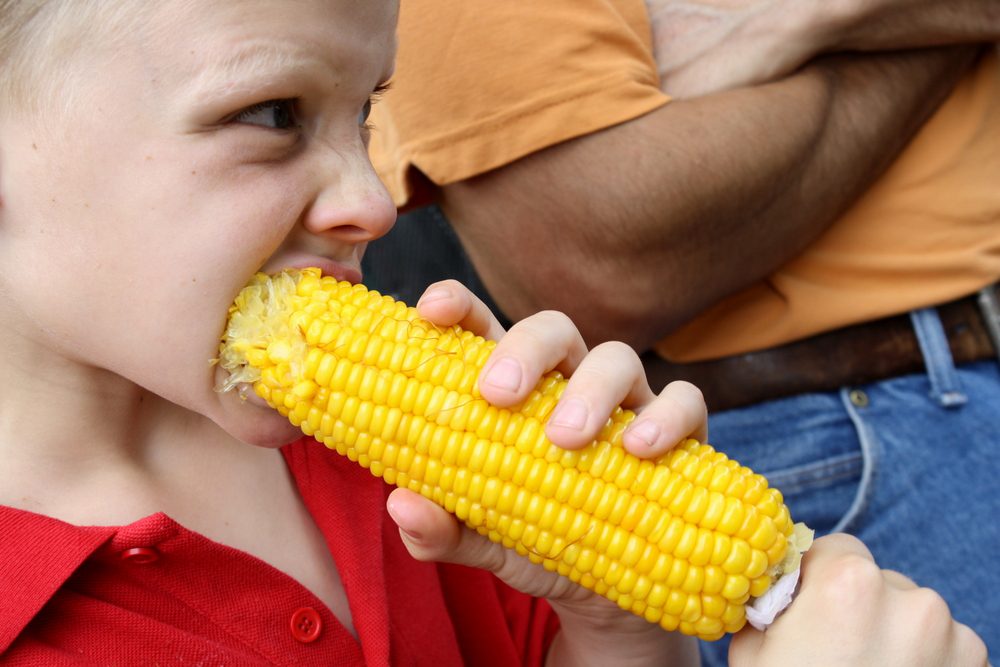 He wanted his plain.
This next week is the Chamelco fair. The next week it's the Carchá fair. The following is the Cobán fair. Something tells me there is a lot of street food in our future.