After many discussions and much gentle prodding, the school has finally agreed to let me teach a baking class to the 10th grade girls! (!!!!)
Every Tuesday morning, the twelve girls and I meet for two hours in the panaderia (bakery), a little room at the top of the outdoor stairs above the kitchen.
The main idea is this: I teach them a recipe and then they sell the product to the other students and teachers. With the money that we earn, we buy the next week's ingredients. This isn't how it goes exactly—sometimes the cakes burn or come out undercooked—but so far we've managed to cover the ingredient costs. With a bit of practice, there is the potential for some substantial, or at least satisfactory, earnings.
Last week I taught them how to make banana cake. This week, it was nutmeg coffee cake. My husband came along and played the role of paparazzi. (He teaches carpentry to the 10th grade boys on Wednesdays—this way he's freed up on Tuesdays to be my number one assistant.)
the metal pans: handmade by my husband's carpentry students
The morning proceeds like so:
1. We arrive early to open up the panaderia. We scrub the tables—the room is infested with mice and flies, so we disinfect everything at the last minute, work quickly, and then clean up ASAP. (Starting next week, I've asked the girls to come at 7:30 so they can do the prep work and we can get started sooner.)
that's the oven over yonder
2. We hunt down the ingredients. This can get sort of tricky because even though I submit my ingredient list ahead of time, I never know if I'll get exactly what I asked for. There is always a moment of panic when I first arrive and no one seems to have any clue where the ingredients are stored and whether or not anyone actually purchased them. But then, somehow, miraculously, everything comes together.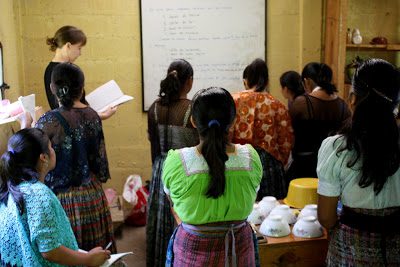 3. I start the class by briefly explaining the recipe and then we jump right in. Once the cakes are in the oven, we clean up and then gather around the tables to talk. The girls copy down the recipe in their notebooks, we calculate the costs and how much we need to sell the cake for in order to make a small profit, and I drill them on measurements and fractions (something they are deplorably weak in. If anyone has links to some good fractiony worksheety websites—basic addition, multiplication, division, etc—I'm all ears).
4. When the cake comes out of the oven, we cut them up and the girls take trays downstairs where they promptly get mobbed by all the students having their mid-morning break and looking for something to eat along with their corn drink (or whatever beverage the kitchen is serving that day).
Except this week, the girls never even made it downstairs to sell. As we were pulling the cakes out of the oven, the teachers flooded the room. They bought entire pans. Within minutes, all the cake was sold. My husband didn't even get a taste.
eager teachers
I'm a little surprised by all the cake-loving enthusiasm. I figured people would be happy about it, but to snap it right up? That I did not expect.
This eagerness is good, wonderful even, but I have to figure out how to handle it.
*Maybe we should raise the price? (But I don't want to exclude the poorer students…)
*Make more cake and make it more often? (I'd love to have another class with a different group of students, but that all depends on the director…)
*Limit purchasing power? (But I hate withholding cake from anyone!) (I think one student bought an entire pan with the intention of selling it at an increased rate to make a profit. That, while admirably entrepreneurial, will not be happening again.)
And now, for all you bakers, a request. I'm looking for simple recipes with the following limitations:
*Must not call for butter. Or if it does, it must taste good with a margarine, vegetable shortening, oil, or lard substitute.
*Does not call for cream or any fancy ingredients such as chocolate, cheese, or nuts.
*From start to finish, the recipe must take no more than two hours.
*The finished product must be easy to divide up and eat out of hand.
cleaning up at the outdoor pila
The ingredients that are abundant and which I'd like to incorporate include: cardamom, cinnamon, limes, mangoes, pineapple, bananas, corn, mayonnaise, powdered milk, etc.
Some ideas that I'm already mulling over:
*mango-cardamom coffee cake
*cardamom-lime scones (I'm a little nervous about working with cardamom as I've heard that no one likes it or eats it, despite the fact that it is everywhere here, raised for export)
*cornbread made with maseca flour (or better yet, their homemade corn masa)
*a cake made with mayonnaise in place of some of the shortening (because it worked so well with this recipe)
*cinnamon cookies (made these tonight with margarine instead of butter; they were a hit)
*peppernuts?
*a good icing using shortening and a somewhat grainy confectioner's sugar
Nutmeg Coffee Cake
Adapted from the More-With-Less Cookbook (I think).
This nutmeg coffee cake (torta de nuez moscada) is something I taught to the Nicaraguan women that I worked with many years back. It's super simple to make and pairs very well with a cup of coffee. To fancy it up, serve it with sweetened fresh fruit and a bit of whipped cream. (Here, we make it with vegetable shortening, not butter, sob.)
4 cups four
½ teaspoon salt
2 cups sugar
1 cup butter
1 teaspoon baking soda
1 cup sour milk
2 eggs, beaten
nutmeg, freshly grated, if possible
In a large bowl, mix together the flour, salt, sugar, and butter until the mixture resembles pebbly sand. (I use my fingers, but you could use a food processor.) Remove 2/3 cup of the mixture and set aside.
Add the baking soda, milk, and eggs. Mix lightly to combine.
Pour the batter into a greased 9×12-inch pan. Sprinkle the reserved crumbs over the batter. Sprinkle the whole thing with lots of freshly ground nutmeg.
Bake the cake in a 350 degree oven for about 30 minutes, or until golden brown and puffy.