Last Sunday when the kids were decorating the tree, I made a cheese spread to eat with our one and only pack of crumbling crackers. I also dipped some hard pretzels into the cheesy wonderfulness and that worked, too.
My parents stopped in after the tree was up and we were watching our Sunday night movie. I had left the bowl of dip on the table for them to eat. My mom sank down on a stool and started eating it straight out of the bowl with a spoon, groaning with pleasure.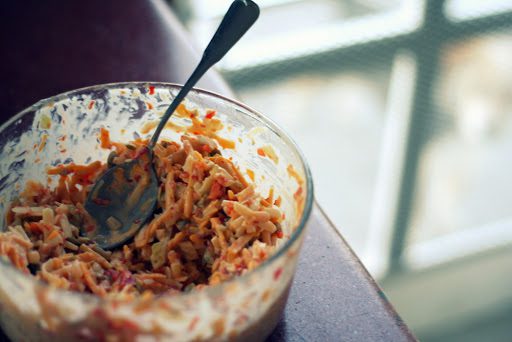 All week long I've been eating the leftovers wrapped in a warmed corn tortilla.
The recipe and home-canned jar of pimentos came from Margo. The little recipe card has been floating around on my desk and kitchen counters ever since she gave it to me when her family came for a visit back in October. Once I got around to writing "green olives" on my grocery list, the recipe came together in a flash.
Margo's Pimento Cheese Spread
I used a combination of regular sharp cheddar cheese and some smoked cheddar. Some cream cheese would be nice, too, I think.
½ cup mayonnaise
3/4 pound cheddar cheese, shredded
1 small onion, minced very fine
1 cup pimentos, drained
½ cup green olives, chopped
hot sauce, to taste (I used Sriracha)
Mix together. Serve with crackers, rolled up in tortillas, in sandwiches, or just eat it straight up, with a spoon.