We just got back from a long weekend in upstate New York. While we were there, we visited a piece of heaven.
New York is filled with all sorts of beautiful places—lakes, gorges, wineries, etc—but when we are there, we tend to hang out with family and not do much else. Which is fine with me because I'm not a touristy, go-go-go sort of person.
But my husband's sister suggested that we take the cousins to a park for a picnic lunch. The park was close and we could just sit and visit while the kids played, she said. It was no big deal.
"Sure," I said. "Sounds like fun," though I was probably thinking something along the lines of, Can't the kids just have a picnic lunch in the back yard out under the trees? I mean, how great is this park anyway?
Well. It turns out the park is really, really great.
It's only about ten minutes from my in-law's house. Ten minutes! In all my years of visiting upstate New York, not once have I been to this park! Heck, my husband had never been to that park!
Once we were there, it was only a five-minute walk up a rocky gorge to get to paradise.
A waterfall! A swimming hole! A creek! Smooth rock ledges! Blue sky! Moss! Ferns! I was dumbfounded. The kids were not. They shrieked and stripped down to their swimming suits and jumped in the icy water and shrieked some more.
We ate our sandwiches and potato chips and peaches. We visited. We wandered around with our cameras and took pictures. We dipped our piggies in the cold water. We sat quietly, just studying the tumbling water, the floating leaves, the gorge's walls, the rocky formations.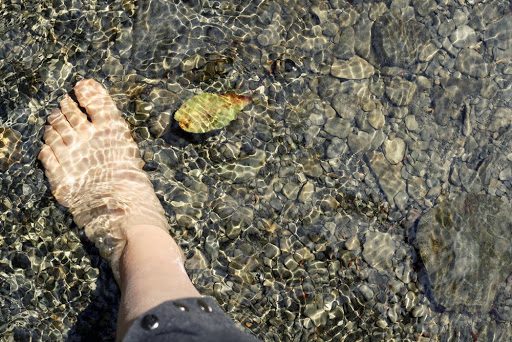 My husband told his niece some tall tale about a thief who snatched away little girls who wouldn't stop eating peaches.
She didn't buy it, not for one minute.
My daughter stole my sunglasses.
And then she put them on my husband.
Eventually the children got brave and started jumping off the rock ledges into the deeper water.
And soon after that they turned blue, and we packed up and headed back down the gorge.
"We are going to come here every single time we come to New York," I informed my husband. "This is the best place ever."
This same time, years previous: lately, our life, washing machine worship and other miscellany, apples, kill a groundhog and put it in a quiche, SOS!