One late afternoon last week, my husband called me.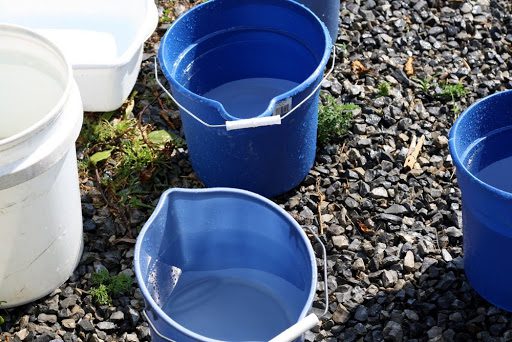 "We're on our way home. If the kids want to get buckets of water and soak us when we get out of the truck, they can."
My husband had been working on my parents' house all week long in the broiling heat, and this particular day, my son had been helping him, too.
Usually my husband gets semi-sick when he works in hot-hot weather, but my parents were up at the property, too, and my mother spent her days pumping everyone full of liquids—mint tea, iced coffee, juice, water—the end result of which was that my husband didn't spend his evenings suffering from headaches and nausea and being a bear to live with.
My younger daughter was at camp—her first, week-long camp—so she missed the wet homecoming.
I stayed on the porch where it was safe and dry. And hot.
Always, always hot.
The water party didn't last for very long. My husband said the water felt good at first, but soon the extreme cold on his extremely hot (eh-hem) body turned from refreshing to painful and he had to call it quits.
Water is amazing. Did you know that:
*even when the house is still 91 degrees (in the cooler parts), a ten-minute soak in a tub of nearly totally cold water provides at least 30 minutes of reprieve, maybe even longer if you are willing to sit motionless in front of a fan.
*swiping your skin with a cool, damp washcloth and then lying under a fan actually gives you goose bumps.
*a watermelon, when properly gorged upon, will fill you up to the brim so that no supper is necessary.
Now that the heat wave has finally broken (and I spent the night shivering!), this post feels out of place and kind of useless.
Then again, August is coming.
Do you have any Staying Cool Tips to share?
This same time, years previous: rain (well now, isn't that appropriate!)