We are still eating our "curses" and I'm loving it. My meals are more creative and, subsequently, more fun to make. We are all eating a wider range of vegetables and more of them.
Last night while my husband and I were cleaning up the kitchen together, I started going on and on (yet again) about why I'm loving our new style, and he said, "Yeah, it's growing on me. The meals feel lighter. I like it."
What we had for supper:
a) roasted carrot and beet salad with avocado
b) tostados
c) crushed meringue cookies with strawberries and leftover whipped cream.
I was pretty pumped about that salad. The elegant combination made me feel classy, and the fact that the kids ate most of their servings helped to make me feel even classier.
When my younger son ate just the beets out of his salad and announced he was done, I said, "Oh, you have got to try the carrot with avocado! Avocados are like butter and you love butter." (Which is true. The kid would spread a whole stick of butter on his toast if I let him.) "When you eat the avocados with carrots, it's like eating buttered carrots. It's just that the butter is green!"
I speared a bit of avocado with carrot, popped it into his mouth, and kept talking.
"Did you know that people make cakes with avocados? And icings? Green icing! And they put them in smoothies, too, I think. Avocados are very rich and so good for you, too."
He ate every last bite of that salad.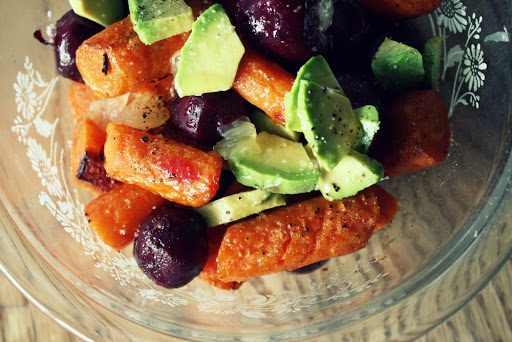 Roasted Carrot and Beet Salad with Avocado
Adapted from Deb of Smitten Kitchen
Deb's recipe didn't call for any beets. But I had some in the fridge, already roasted and peeled. When the carrots were nearly finished roasting, I added a handful of the smallest of the beets—I didn't want to add them sooner because I was afraid they would color the carrots.
1 pound carrots, peeled and chopped into 1 to 2-inch chunks
½ to 1 avocado, sliced
3 tablespoons olive oil
1/4 teaspoon cumin
salt and pepper
1-2 tablespoons fresh lemon juice
a small handful of baby beets (or 1 large beet cut into chunks), already roasted
Toss the carrots with 2 tablespoons of olive oil, cumin, and lots of salt and black pepper. Put them in a sided baking dish, cover with foil, and roast at 400 degrees until fork tender, about 30-60 minutes, depending on size. Add the beets for the last five minutes, just long enough for them to heat through.
Tumble the carrots and beets into a serving bowl. Drizzle with the lemon juice and remaining olive oil. Add the sliced avocado and toss gently. Serve immediately.
This same time, years previous: vanilla buttercream frosting, tangential thoughts, strawberry cake