The family reunion was this past weekend.
People camped out on the floors and on
sofas and on air mattresses and in beds. We made food and ate food and
washed up the dirty dishes that held the food. We played in the rain and
tracked in grass and swatted flies. We talked and sang and twanged
strings. Kids had meltdowns and squabbles and dirty diapers and migraine
headaches and fevers and rashes. There were birthday candles and water
balloons and trampoline jumping and basketball games and finger rocket
battles and sewing parties.
Babies.
Mamas.
My uncle built this little man. It's actually an instrument. The musician sits on the handle of the wooden paddle and hits it with a fist while holding the wooden man right above it. The paddle strikes the bottom of the man's feet. The man dances wildly, his feet clicking and clacking merrily along.
Mr. Wooden Man was the hit of the show.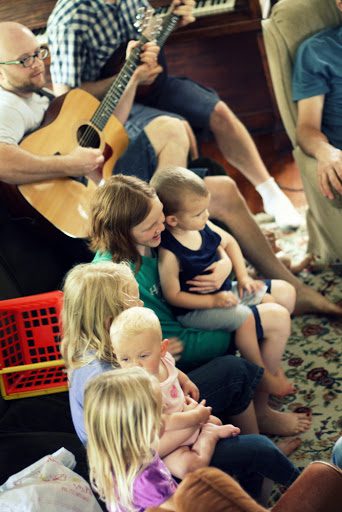 The children loved him.
(Actually, there were two of them. The other one had clothes and hair and was named Titus, I think.)
Singing his heart out.
My mother read us a poem about my Grandfather.
Little Willie bit his fingers.
Little Rachel chewed her hair.
Neither one could look at Russell,
Brother Russell, Russell Baer.

and so on.
Donuts, of course!
My aunt brought me this wire ladle (two of them, actually) for a hostess gift. It's expressly for making donuts and other deep-fried goodies—the oil runs easily off the wires. It works like a charm.
Right now I want a donut so bad I can taste it!
I did not make enough. We devoured the entire recipe and kids were crying for more. And to think that I had considered not making any because I thought people might not really want to eat them!
Finger rockets—they are now, like the donuts, a new tradition.
Hello, dear brother!
Why, pray tell, are you taking my children on the roof in the heat of the battle?
Are you insane?
A bouncing break.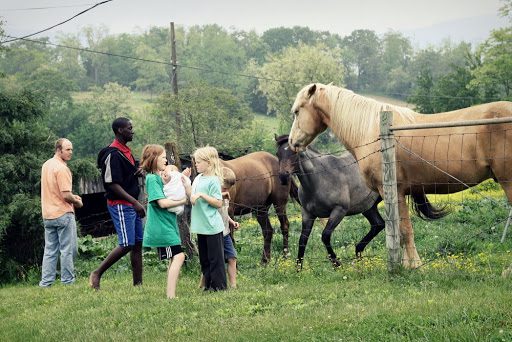 Neigh-eigh-eigh-borly horses.
(Sorry.)
Water balloon volleyball.
I think you should be able to rent four-week-old babies for parties.
They add so much to the ambiance.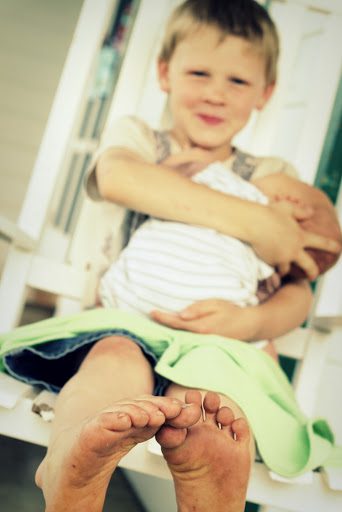 Proud.
Taking it all in.
Singing siblings.
Cousins.
Lunch prep.
Digging in: spaghetti with creamed asparagus, ham, and boiled eggs.
We got a family picture. There were better ones—meaning, there were ones where we were all looking at the camera and smiling. But I like candids better.
Meltdown!

And then they all went home and I fixed myself a drink (just with the Triple Sec) and put my feet up.
The end.
This same time, years previous:
rhubarb daiquiri
,
classy rhubarb pie with cream cheese pastry
,
my boy
,
roasted rhubarb
,
I have nothing to say
(ha!),
pounding the pulpit
,
rhubarb smothered chicken
,
chicken with mushrooms
,
the bike question revisited
,
baked macaroni and cheese
,
rhubarb cream pie
,
naked pita chips
,
"That's the story of Mom and us."
,
warts and all