"Buttercup Cake" was the name of the yellow cake that I grew up making and eating and enjoying. It was nice, but that was the problem, see. It was just…nice.
"Nice" is friendly, "nice" is good, "nice" is innocuous and sweet and actually kind of boring. I wanted my yellow cake to be a little more…energetic. A bit more definitive. "Stellar," maybe, or "tiptop." If I was lucky, "striking" and "luscious" would be appropriate adjectives, too.
This week I found the yellow cake recipe I have been yearning for. I wasn't looking for it, mind you, but Wednesday morning it arrived in my mailbox nonetheless. A couple hours later a gorgeous yellow cake was cooling on the table.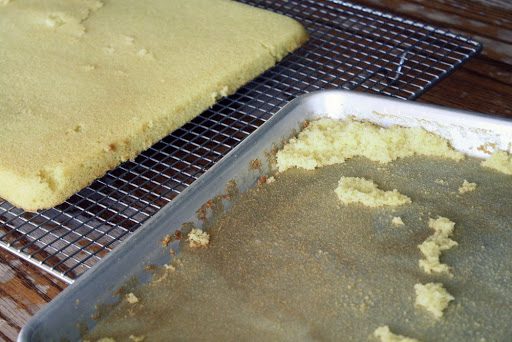 Then I made it again. And again—the last time in the form of cupcakes (that are waiting to be iced with this frosting and then sprinkled with coconut and topped with marshmallow peeps and jellybeans). I have the recipe memorized.
What makes this cake so special?
1. The flavor: mild and sweet with a good hit of vanilla and some depth from the buttermilk.
2. The texture: moist, non-crumbly, tender. It's kind of a cross between a pound cake and a sponge—the perfect cake to cut and layer and carve and shape…if you're into that sort of thing. Which I'm not. But at least now I have the option.
3. The method: no beaters! Just a whisk. So simple and whippy-ippy-fast.
Do you have a favorite yellow cake recipe?
Yellow Cake
Adapted from the Amish Cook's weekly newspaper column.
If using unsalted butter, increase the salt to a scant ½ teaspoon.
2 2/3 cups flour
2 cups sugar
pinch of salt
1 cup water
1 cup (2 sticks) butter
2 eggs, beaten
2/3 cup buttermilk
2 teaspoons vanilla
1 ½ teaspoons baking soda
Whisk the first three ingredients together in a large bowl.
In a small saucepan, bring the water to a boil and add the butter. Simmer until the butter is melted. Stir the hot water-butter mixture into the flour mixture and whisk well.
Combine the remaining four ingredients in a small bowl and whisk into the flour-butter mixture.
Pour the cake batter into a greased pan (jellyroll, 9×13, 2 round 9-inch, muffin tins, etc) and bake at 325 degrees for 20-30 minutes or until a toothpick inserted in the thickest part of the cake comes out clean.
Cool the cake for 10 minutes before inverting onto a rack. Cool to room temperature before frosting (I used this classic chocolate frosting).
This same time, years previous: daffodils and horses, my baby's faces, writing it out, in regards to marriage, cardamom orange buns