Quotidian: daily, usual or customary;
everyday; ordinary; commonplace
After snapping a few pictures, I nipped this creative endeavor in the bud.
The children were not happy with me.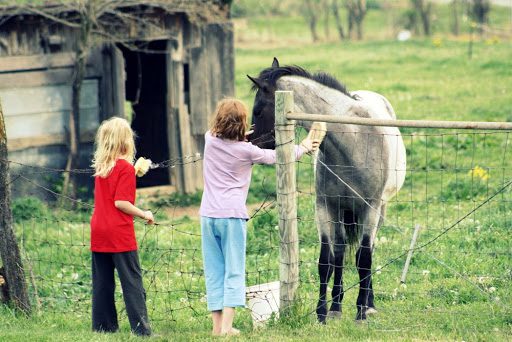 The girls like to pretend this is their horse. And the horse doesn't seem to mind—she's always eager to meet up with them for a free grooming session and complimentary bucket of water.
Wikki Stix
: can you see the person filling a bucket of water at the stream? The apple tree?
The picnic table in the background?
Dear Bon Appetit,
I have issues with you. Those sticky buns on the front cover? They were not good. I like my sticky buns to taste like sticky buns, not sticky, honey cake. And three sticks of butter for and an 8 x 8 pan worth of buns? Are you kidding me? Even I, butter queen extraordinaire, find that to be excessive. And speaking of the 8 x 8 pan—I put my buns in a larger pan and they still bubbled over. What do you guys do in those fancy test kitchens of yours anyway?
Sincerely,
A picky sticky bun eater
One farmer's excess is another (non) farmer's boon: a bushel of delicious, sweet spinach blanched and in my freezer.
Green smoothies
, here we come!
Water, sun, and a new (used) trampoline! Now the kids can bounce around to their heart's content.
Sleeping with the orange his grandmommy brought him: he was too sick to eat it, poor kid.
PS. Have you seen this talk by John Cleese on creativity? I've watched it twice now. He perfectly articulates how I experience the writing process (though he wasn't specifically speaking about writing).
This same time, years previous: wild hair, cereal worship, and other sundry tales, flour tortillas, chocolate-covered peanut butter eggs, the value (or not) of the workbook, asparagus-walnut salad, asparagus with lemony crème fraîche and boiled egg