I felt kind of puttsy this morning. The kids were up earlier than usual, so we whizzed through their studies and then there was nothing to do. I didn't know what to cook, nor did I want to get into a big project. So I wandered listlessly around the downstairs, obsessively checking email and all the time feeling guilty for not being incredibly productive on such a gorgeous day.
And then I remembered a video I had watched a few days ago. It's about how to prepare all your vegetables for the week in just a few hours. Mostly, it involves roasting all sorts of veggies and washing a variety of lettuces. There's nothing earth-shattering about the idea (and one oven-load of vegetables doesn't make enough to last us a week), but it was rather inspiring in a gentle sort of take-it-or-leave-it way.
So, with nothing better to do, I set about peeling a bunch of carrots and potatoes, both sweet and white. I chopped them roughly, drizzled them with olive oil, sprinkled them with coarse salt, and then popped them into a 400 degree oven.
That little burst of productivity was like a shot of adrenaline. While the veggies roasted, I loaded three-fourths of my chillens into the car and zipped over to the greenhouse where I bought two six-packs of lettuce.
I have lots of lettuce coming up in the garden, and the spinach is just beginning to sprout, but with this 75 degree weather we've been having, I'm starting to crave salad something fierce. The greenhouse lettuces were about 6 inches high—a lot higher than the pinky fingernail-sized leaves of my lettuces—which means that now my salad craving is just that much closer to being satisfied.
I also bought a six-pack of tomatoes. Yes, I know it's March and that our frost date is still two months out. However, it's easy to cover a half dozen tomato plants should the frost decide to nip, and I'm squirreling away gallon milk jugs, holey bed sheets, and tablecloths for this express purpose. I think we'll be okay.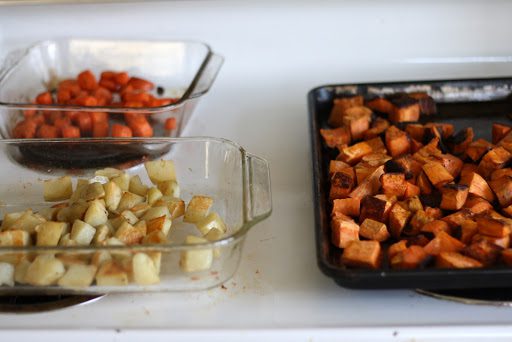 Back home again, the veggies were starting to burn. Which isn't really a problem when it comes to roasted vegetables—a bit of black is a bit of yummy, I think. I stirred them, put them back in the oven to roast a bit longer, and told my son to pull them out of the oven when the timer binged. Then I headed back outside to plant the lettuce and tomatoes, dig thistles, and transplant a bunch of strawberries.
We ate the potatoes and carrots for lunch with scrambled eggs (turns out, the kids aren't too keen on roasted carrots, silly critters), and I stuffed the roasted sweet potatoes into a half gallon jar for later. Maybe to eat with black beans and sour cream?
Roasted Vegetables
olive oil
salt
black pepper, optional
herbs, fresh or dried, optional
roast-able vegetables, such as potatoes, carrots, turnips, beets, asparagus, cauliflower, broccoli, green beans, onions, squash, etc.
Prep the vegetables (wash, peel, roughly chop, etc). Toss with olive oil and sprinkle with seasonings, if desired.
Spread the vegetables in a single layer in large, sided baking sheets, using a different pan for each kind of vegetable (unless you want to mix, which is fine, too). Roast at 400 degrees until the vegetables are fork-tender and caramelized around the edges.
Eat immediately or refrigerate for later. Suggested uses: in quiches, lentil stew, fried rice, lasagna, spaghetti sauce, Alfredo sauce, enchiladas, quinoa salads, grilled cheese sandwiches, etc.
This same time, years previous: getaway, a fast update, a bad day