In yesterday's Kitchen Chronicles column, I mentioned corn flour and blueberry scone.
Corn flour is like cornmeal, but in flour form. I researched it to make sure.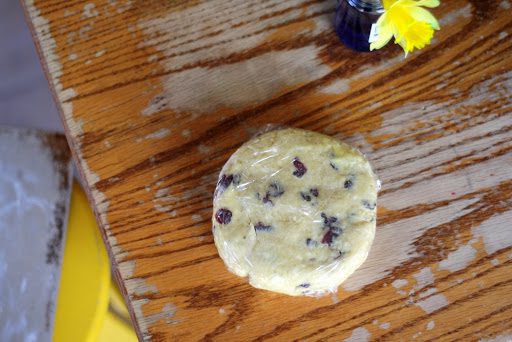 I used both cornmeal and corn flour in these scones. I wanted lots of corn flavor with just a little corn texture. It worked.
Dried blueberries are wonderful, did you know? I never buy them and was shocked at how delicious they were. I splurge on chocolate—why not dried blueberries?
As a final touch, I added lemon zest. Because yellow lemon and blue blueberries look and taste great together.
Cornmeal Blueberry Scones
Adapted from Good to the Grain by Kim Boyce and Bernard Clayton's New Complete Book of Breads (these cream scones)
3/4 cup corn flour
1/4 cup cornmeal
1 cup all-purpose flour
½ cup cake flour
½ cup sugar
1 teaspoon salt
1 tablespoon baking powder
1 cup butter
½ cup cream
1/4 cup milk
zest from 1 lemon, about 1 tablespoon
3/4 cup dried blueberries
cream and sugar, to garnish
Put the flours, sugar, salt, and baking powder in the bowl of a food processor and pulse to blend. Add the cold butter and pulse till the butter has broken down into smaller chunks but is not completely incorporated. Add the cream, milk, and lemon zest and briefly pulse.
Dump the contents of the bowl onto a work surface, add the dried blueberries, and quickly bring the dough together into one large ball with your hands—do not knead. If the dough is too sticky (mine wasn't), add a little more flour.
Divide the dough in half and shape each half into a 6-8 inch disk. Wrap in plastic and refrigerate for 4 hours or overnight.
Cut each disk into eight wedges. Before baking, brush the scones with a little cream and sprinkle with sugar. Bake the scones at 400 degrees for 15-20 minutes. The scones are very fragile when they come out of the oven, so let them set up on the tray for another 10 minutes or so before transferring to a cooling rack. Serve warm.
Yield: 16 scones
This same time, years previous: cherry pie