It's been a bugger of a week in the kitchen.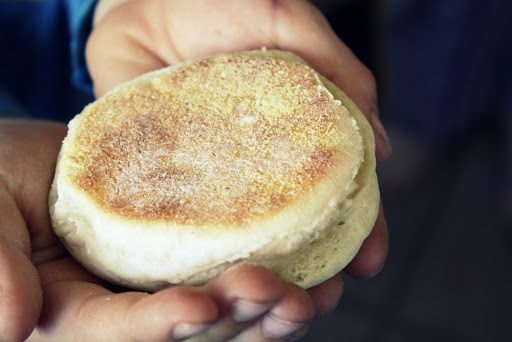 Several days ago I sent out (what I thought was) an innocuous-enough tweet/facebook message that read, "What should be my next cooking project? I want something new and exciting and delicious. Suggestions, please."
My sweet cousin tweeted back, "How about you perfect the art of the English muffin (preferably with some whole grains). Or have you tried that already?"
As of today, I have five failed English muffin recipes under my belt. Also, I no longer think my cousin is very sweet. In fact, I think she might be a little bit evil. She probably thought to herself, "She wants a project? Ha! I'll give her THE MOTHER OF ALL PROJECTS! Let's see how she handles this one!" and—ka-BAM!—she tossed me an idea and then sat back to watch the flour fly.
Or maybe that's just my tired, English muffin-overloaded brain running a-muck. At this point, I really have no idea.
I have one more variation to try later on today and then I'm clean out of ideas. Which slays me. I've figured out how to duplicate a number of (what I thought were) unduplicable foods—bagels! baguettes! flour tortillas!—and so I was quite hopeful that I could conquer the English muffin.
Maybe I was too hopeful. (In any case, if you have any English muffin-making advice to bestow upon my drooping head, then please do so, okay? And yes, I'm begging. Desperate times and all…)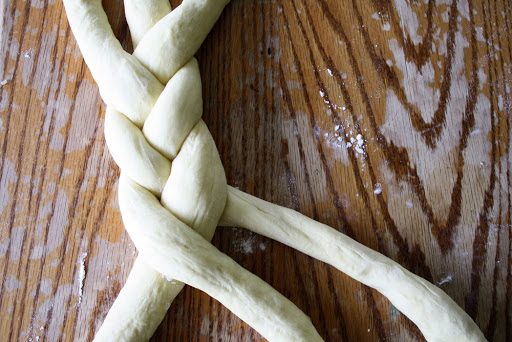 Because all my hard work was getting me nowhere, on Friday I decided to pour my energies into something more straightforward: braided bread. This egg bread is a piece of cake to make, looks fancy, and tastes delicious. Also, it has Easter written all over it.
The recipe first entered our family about 25 years ago. My family had moved to Leadmine, West Virginia when I was ten, and while the culture was shockingly different from our previous life in Lancaster, Pennsylvania (no Mennonites in sight, no running water at the church, bears in the woods, etc), there was one family in particular that went out of their way to make us feel at home. Judy was one of the daughters, grown and with children of her own, and, if I'm remembering correctly, she had us over for dinner one Sunday afternoon and served us this bread.
Judy's family lived in an underground house. The front part stuck out from the side of the hill, but the back rooms were completely underground—it was strange and fabulous. Every time I went to their house I was reminded of the cow that stuck its foot through the roof of Laura Ingalls' sod house. I kind of hoped that something similarly exotic would happen at Judy's house, but it never did.
Unless you count the braided bread. That was exotic and delicious. I thought it the most amazing bread ever and my mother must have, too, because she got the recipe and went on to serve it at a great number of our own company meals.
I didn't make this bread yesterday with the intention of serving it to company, but then my parents showed up so it was kind of a company meal after all. Except not really, because my parents aren't real company—you know, the kind that makes you spin into a tizz—and besides, all I served them was a big bowl of salad (store-bought greens with bacon and boiled eggs) and the fresh braided bread and jam. (And the not-good-enough English muffins. But we're not talking about them any more, now, are we.)
Braided Bread
Because of its fairly high sugar content, this bread gets dark quite quickly. Bake it on your best burn-proof baking sheet and cover it with foil if it gets too dark.
2 tablespoons yeast
½ cup warm water
½ cup sugar
½ cup (1 stick) butter, melted
1 tablespoon salt
1 ½ cups warm milk
3 eggs, beaten
7 cups flour, approximately
1 egg yolk beaten with 1 tablespoon water, for the glaze
Dissolve the yeast in the warm water and set aside.
In a large bowl, mix together the sugar, butter, salt, warm milk, and several cups of the flour. Stir in the dissolved yeast and the eggs. Add the remaining flour, a bit at a time, taking care not to add too much, until the dough is stiff enough to knead but still slightly sticky. Knead for five minutes until smooth. Set the dough in the floured bowl, cover, and let to rise until doubled.
Divide the dough in half and cut each half into three equal parts. Shape each part into a long rope, about 15 inches long, or several inches longer than the baking pan. Lay three ropes side by side and braid them together, pinching the ends together and tucking them under the loaf. Repeat with the other three ropes.
Lay the braids on greased baking sheets (I used two separate sheets but you may be able to fit them on one large one) that have been sprinkled with cornmeal. Cover and let rise for 30-60 minutes until puffy but not quite doubled.
Immediately before baking, brush them with the egg wash (I use a paper napkin to dab on the glaze). Bake at 350 degrees for 25-35 minutes.
This bread is best served warm. Tear off great hunks and slather with butter and jam. Leftovers make good French toast.
This same time, years previous: baby love, grape kuchen, coconut brownies