In the spirit of full disclosure, I wasn't making regular rice krispie treats. The ones I wrecked involved, along with rice krispies, marshmallows, and butter, potato chips and Rolos. They should have rocked my world, but alas, I didn't have enough marshmallows so I cut back on other ingredients to balance everything out. But my guesses were sloppy and harried because I was in a frantic rush to eat rice krispie treats now. The treats ended up being so hard and dry that they rubbed the skin off of the roof of my mouth and three days later I'm still in pain.
***
This warm weather is making me grumpy. It's stupid to gripe about the weather because I can't do anything about it, but it's not supposed to be 60 degrees in January!
When it's winter, I want winter. I want cozy fires and snow and lots of hot chocolate and thick sweaters.
Instead, my kids wear shorts and go outside in bare feet, and one evening we had strawberry daiquiris after the kids were in bed. It's just wrong, plain wrong (though the daiquiris were good). It makes me feel like the end of the world is nigh, which is not a pleasant feeling to have.
***
I must have a word with you about vacuuming and window washing. Perhaps it's a confession, perhaps it's a clarification, but:
a. I vacuum multiple times each day. The other day I vacuumed four times, I think. (Also, I can never spell "vacuum" correctly.)
Back when we were living in our small house in town, my husband and I argued constantly over sweeping the floor. I wanted it to be done every night—crunching on crumbs gives me the willies—and he thought I was obsessed and crazy. So, because neither of us had (has) learned the art of Giving In, we argued and fought until eventually, somehow, sweeping the floors became an evening ritual. It was beautiful thing.
Then we moved to our new house and my husband insisted on installing central vac. I thought he was going overboard, spending all that money when a broom and dustpan worked just fine, but he's the carpenter and so now we have central vac. And I love it. I just grab the hose off the hook in the hallway, push a button, and zip the pushy thing over my floors and, voila!, they're clean. It's addictive and simple and I vacuum all the time.
Note: The upstairs gets a thorough vacuuming every other week, if we're lucky.
b. A reader (Hi, Margo!) noted my obsessive window washing.
When we moved to this place, we—I mean, my husband—installed a lot of large, easy-to-open windows. Large, floor-to-ceiling windows let in lots of glorious light and attract sticky fingers, fly poop, and splatters (for those above the kitchen counters).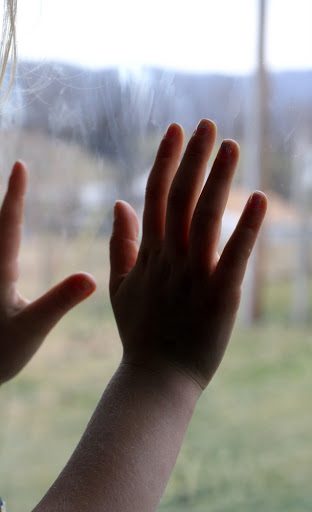 So, I've taken to washing them with some regularity. The ones in the kitchen get washed about once a week. Clean windows brighten the house and my mood, and furthermore, window washing is an excellent task for belligerent children, of which I have four. Yay, me.
Most days, I feel like my house is falling down around my ears. Clean floors and sparkling windows help me to pretend it's not.
What's your cleaning obsession? (Notice I did not say, "Do you have…" I'm on to you, so 'fess up.)
This same time, years previous: flourless peanut butter chocolate chip cookies (look at that! I just made these, adding chunks of the ruined rice krispie treats to the batter), random thoughts