We all went to West Virginia for the turkey (that was actually a chicken) this year. My brother came, and my perfect aunt from over the mountains, and some of the Pennsylvania cousins: uncle, aunt, and boy cousins one, two, and three. We got there on Wednesday night and Thursday morning, before everyone else showed up, I went for a walk.
A Medieval Walk
It's hunting season, so I put a florescent orange vest over my coat over my hoodie over my t-shirt and set off up the road. A gun banged in the distance, and I hadn't even crested the first hill before I spied a dead deer in the gutter (not a result of that banging gun). I started to feel like I was in a war zone and I took a closer look at my florescent orange vest. How many square inches did it cover? How many square inches do hunters have to wear? Did I have a sufficient amount of square inches? And while my front and back were draped in orange, I wasn't so sure about the side view. Would a gun-happy hunter mistake me for a walking deer in a blue coat? But then there was a lull in the shooting and dead deer spying and I kind of forgot all about how much I resembled a deer.
And then I ran into Eddie Murphy. I'm not sure which is which, but they both reminded me of Shrek's donkey, so I promptly named one Eddie and the other Murphy. I could practically hear the thoughts running through their heads.
Eddie: Oh, will you look at that! It's a person that's trying not to look like a deer! Dang, ain't she smart?
Murphy: I don't know about you but I think we need that orange thing a lot more than she does. Our owner is a total dumb ass leaving us outside this time of year.
Eddie: That's right, Murf. We are in constant danger of gettin' our behinds pinged. I just know, before this is over, I'm gonna need a whole lot of serious therapy. Look at my butt twitchin'.
By the time I got to the top of the hill, I was hot. I took off my coat and tied it around my waist. And then I looked over and saw my shadow walking along beside me in the ditch.
What with my hair in a ponytail, my hoodie up around my neck like a tied cape, the orange vest fluttering behind me like a fluttering cape, my coat tied around my waist like a short skirt and the sleeves poking up all sword-like, I looked exactly like a knight. (Or at least my noble shadow did.) I squared my shoulder and lengthened my stride.
When I was halfway home, I heard a gunshot in the direction of my house. My father had been out hunting when I left—perhaps it was him? Thirty second later another shot rang out and I gave a little skip of hopeful happiness. A minute later and there was another shot. Oh dear, I thought. Problems. And then, Or maybe I should think, 'oh deer'? (Turns out, it wasn't my father doing the shooting.)
At home I grabbed my camera and drove back up the road to take pictures for you since I almost never think to take my camera on walks with me.
And thus concludes the tale of a bright morning walk with guns, knights, two asses, and a dead doe. The End
Other things that happened:
Tools and guns…
The grownups sat around inside…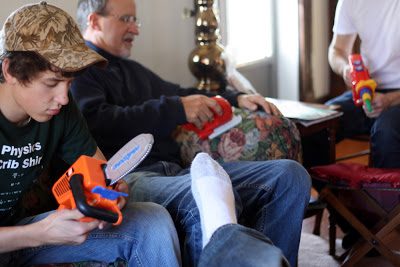 and played with plastic tools that my mother picks up at her local thrift store while the kids ran around outside…
and played with guns. (Yes, they were real, and yes, they had permission.)
(Overheard: "Don't shoot each other!")
Odd, manly rituals such as…
A. measuring each others arm spans. (Your arm span is supposed to equal your height, right? Well, not so for my husband. My husband is just a smidge shy of six feet tall but his arm span measures 6 feet 5 inches. So now we call him Gorilla Man.)
B. playing table football with money.
Actually, I don't know what that game was called. All I know is there was a bunch of yelling and quarters kept hitting people in the head.
The kids sat out on the porch and watched through the window.
Conversations…
around the table. We're big yakkers, all of us. Lively times, ya'll.
Sewing…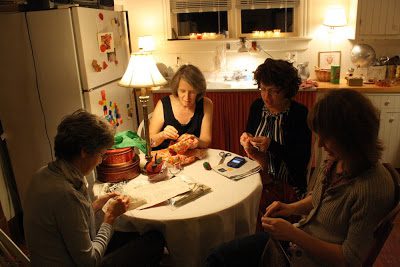 I learned how to purl and am immensely please with myself.
My brother…
played the mandolin and made lots of weird faces while I tried to take pictures of him.
What a dork.
Food (of course) …
We had Feast Number One at noon: chicken and stuffing, garlicky mashed potatoes, green beans, corn, turnips and greens, kale, applesauce, and cranberry salad.
Feast Number Two: A Supper O' Desserts. I ask you, can there be anything more glorious?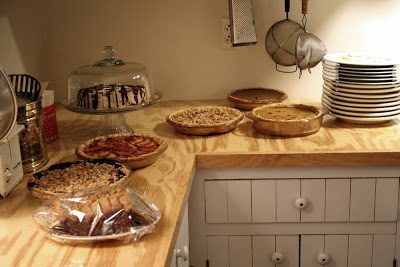 Nectarine tart, black raspberry pie, apple pie, two pumpkin pies, banana bread, chocolate cake with peanut butter frosting, vanilla ice cream, and coffee.
MY MOTHER MADE ALL THE BAKED GOODS ON HER STOVETOP.
Yesyoushouldbeimpressed. (Plus, the next morning we had gorgeous loaves of stovetop bread for our breakfast toast.)
This same time, years previous: Thanksgiving of 2010, Swiss chard and sweet potato gratin, pumpkin pie