Please tell me that you haven't made the pies for Thanksgiving yet? Please, please tell me you have a bag or two of unclaimed cranberries hunkered down in your freezer? Please, please, please tell me you're in the mood to make a pie today, right now, immediately, at this very minute?
Because, honey sugar, it's what I have on my agenda, for you.
[Ahem, cough-cough, much pompous throat clearing]
I hereby merrily (and joyfully and happily and ecstatically) proclaim the great news of November 23, 2011: I have discovered the new bestest ever pie in the world and it's totally perfect for Thanksgiving dinner or Christmas dinner or New Year's dinner or Three Kings Day or winter solstice day or the first big snow day or Sunday dinner or Monday dinner.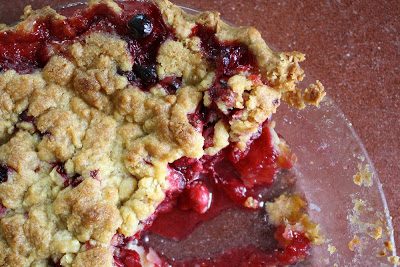 It's perfect, and it's perfect for whenever, is what I'm trying to say.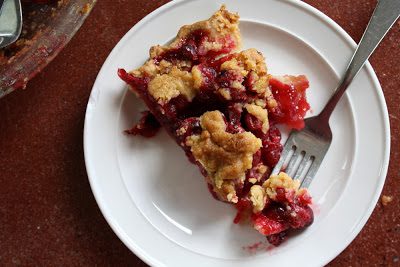 For quite some time, I've been on the lookout for a cranberry pie. I'd tried some mixed fruit cranberry pies, and while they were good—cranberries make everything good—they weren't pure cranberry. And then Aimee posted a cranberry pie and I got down to business lickety-split.
One bite and I was bowled over. It's potent, unlike normal pies. In fact, it's so dark and rich and strong that one small sliver carries you over the moon and back, no problem.
Cranberry Pie with Cornmeal Streusel Topping
Adapted from Aimee of Simple Bites
Aimee calls this a cranberry-orange pie, and while the pie contains both orange juice and zest, I found their flavors to play more of a supportive (but delicious) role, so I dropped the "orange" in the title. To me, this pie is all about the cranberry.
I used frozen cranberries instead of fresh, increased the amount to a generous 4 ½ cups instead of 4, used light brown sugar instead of Turbinado, and added one tablespoon of tapioca as thickener just in case. Not a hitch in sight anywhere.
This pie is best eaten the same day it is made.
1 unbaked 9-inch pie crust (I used this one)
4-5 cups cranberries, fresh or frozen
1 cup brown sugar
3 tablespoons butter, melted
zest of two oranges
juice of one orange (it looked like a lot—close to ½ cup, perhaps)
1 gently rounded tablespoon granulated tapioca
for the streusel topping:
½ cup flour
½ cup brown sugar
1/3 cup cornmeal
½ cup salted butter, cut in chunks
In a large bowl, toss together the cranberries, sugar, butter, orange zest and juice, and tapioca. Pour into the unbaked pie shell.
Measure all the streusel ingredients into the canister of a food processor and pulse to combine (it took quite a few pulses). (Or, rub together with your fingers. That will work too.) Sprinkle the crumbs over the top of the pie.
Bake the pie* at 375 degrees for 40-50 minutes, or until golden brown all over and the juices are bubbling madly.

Serve with vanilla ice cream.
*Important Pie Baking Note: Place the pie on the bottom rack of a very hot oven (about 425 degrees) and bake for 15 or 20 minutes or until the pie juices are starting to bubble. At that point, set the pie on a foil-lined baking sheet (to catch the juicy drips) and reduce the temperature to 350 degrees. This extra step helps to ensure a golden brown bottom crust.
This same time, years previous: apple rum cake (oh goodness, I want this NOW)